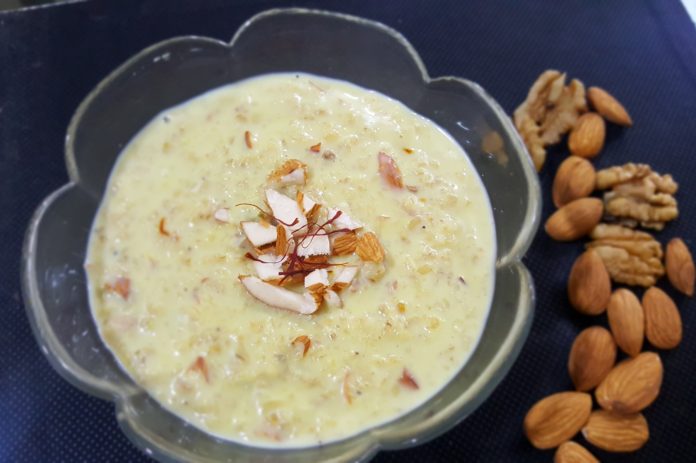 Oats are great source of vitamins, minerals, fiber and antioxidants. Begin your day with this healthy, tasty oats porridge.  In this recipe, I have added elaichi and saffron which makes it taste almost like kheer. Instead of adding elaichi and kesar, you can even top it up with fruits such as apple, strawberry etc.  Any which way, it tastes good . Here's the recipe for Desi style Oats Porridge.
Ingredients
½ cup Oats                                                         
½ cup Hot Milk                                 
Water as required
3 to 5 Almonds (chopped)         
3 to 4 Walnuts (chopped)           
½ tsp Cardamom powder (elaichi)            
1 tbsp Jaggery (grated)                                 
Few strands of Saffron (kesar)                   
Method
Add few saffron threads to one tbsp  of milk  and keep it aside.  

Heat a pan. Add the oats and saute for 2 minutes.

Pour the milk into the pan. 

Let it cook on a slow flame till it thickens. 

Add the chopped almonds and walnuts, jaggery, elaichi powder and the saffron milk.

Add water if it becomes too thick. 

Mix it well and cook for a few minutes.

Serve hot
Some other oats recipes : Oats Idlis, Oats Dhoklas, Oats Mango Parfait, Oats Strawberry breakfast bowl, Oats Palak Paratha etc.