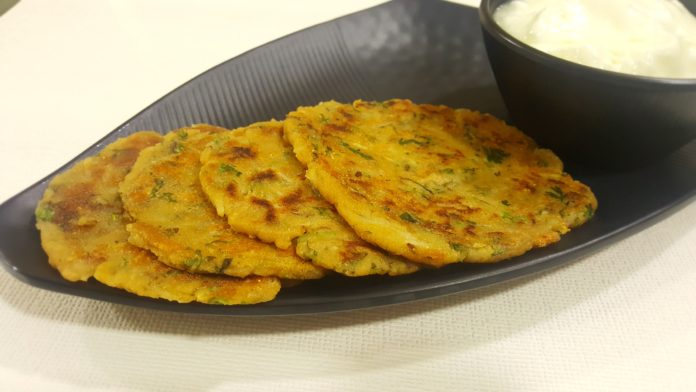 The benefits of incorporating  rajgira (amaranth) in our diet is far too many. Apparently, it is a powerhouse of nutrition, making it worth a place in our diet. Rajgira can be used to make porridge, chikkis, puris, laddoos, parathas etc.  Today, I am sharing the recipe of Rajgira Thalipeeth.
Ingredients
¾ cup Rajgira flour (Amaranth flour)
½ cup grated raw potatoes
2 tbsp roasted and crushed peanuts
1 tsp green chilly paste
1 tsp jeera (cumin seeds)
2 tbsp finely chopped coriander (optional)
1 tsp lemon juice
Salt as per taste
Oil for cooking thalipeeth
Method
In a mixing bowl, combine  rajgira flour, grated potatoes, roasted, crushed peanuts, green chilly paste, cumin seeds, chopped coriander, lemon juice, salt and mix well using little water. Knead into a soft dough.

Take a portion of dough and with the help of your palm and fingers, make a small roti.

Heat a pan. Place the thalipeeth on the pan.

Drizzle some oil on the edges of the thalipeeth.

Cook both the sides evenly.

Alternatively, heat a pan, add ½ tsp oil on the pan.

Place a portion of the dough on the pan and pat it evenly with greased fingers to form a small circle.

Cook using oil till brown spots appear on both the sides.

Serve Rajgira Thalipeeth with curds and green chutney.
Some other fasting recipes are :
Sabudana Thalipeeth, Sabudana Vada, Singhada Aata Sheera etc.