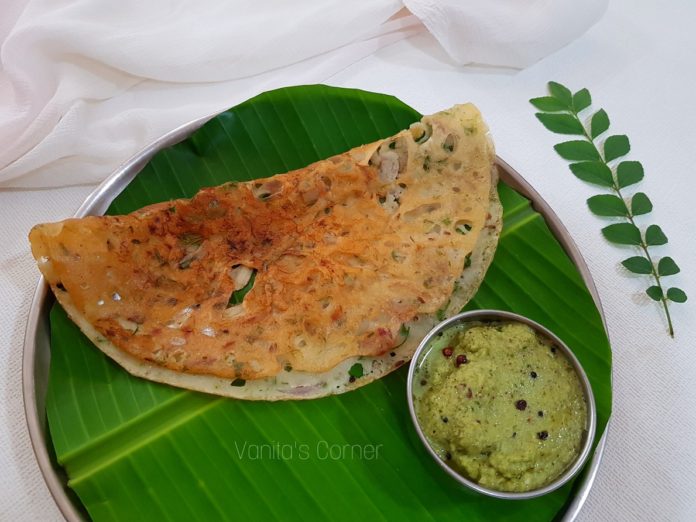 Rava Dosa is a fairly simple dosa which requires no grinding and no fermentation. You just have to mix a few ingredients and the dosa batter is ready. This is an ideal hassle-free breakafast recipe for me when I have not made any prior preparations for breakfast. This gets ready in minutes with just a few ingredients. Here's the recipe:
Ingredients
1 cup semolina (rava)
½ cup rice flour (chaval ka atta)
2 tbsp gram flour (besan)
1 medium sized onion, finely chopped (pyaaz)
2 tbsp chopped fresh coriander (dhaniya)
1 green chilly, finely chopped (hari mirch)
1 tsp cumin seeds (jeera)
4 cups water (paani)
Salt as per taste (namak)
Oil for cooking the dosas. (tel)
Method
In a mixing bowl, add rava, rice flour, besan, chopped onion, chopped coriander, chopped green chilly, cumin seeds, salt and water.

Mix all the ingredients well with a whisk. The batter will be very thin.

Keep this batter aside for a minimum of 10 to 15 minutes.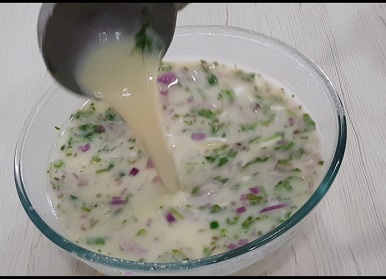 Heat a pan. When the pan is piping hot, pour a ladleful batter on the pan.

Start pouring the batter from the edges towards the centre of the pan.

Once you have poured the batter, reduce the flame to low.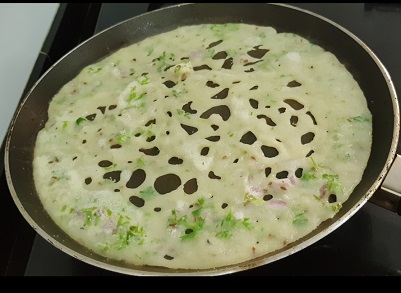 Let the dosa cook on a low flame.

Drizzle oil at the edges of the dosa and also few drops on the holes formed by the dosa.

When the edges of the dosa start getting crispy, gently loosen the edges of the dosa.

Flip the dosa and cook on the other side, still keeping the gas on low flame.

Once the dosa is cooked, remove and serve with green chutney or tomato chutney.
Note:
The batter should be very thin (pouring consistency). So, though 4 cups of water may seem more for the quantity of rava mentioned above, don't reduce the quantity of water. The dosas turn out perfect with the measurements given above.

The pan should be piping hot while pouring the dosa batter.

The batter has to be mixed well before making each dosa as rava has a tendency to settle at the bottom of the vessel.
WATCH RECIPE VIDEO:
Given below are some more dosa recipes. Click on the names of the dosas to read the recipe.
Saada Dosa, Mysore Masala Dosa, Sprouted Ragi Dosa, Ulli Karam Dosa, Moong Dal Dosa