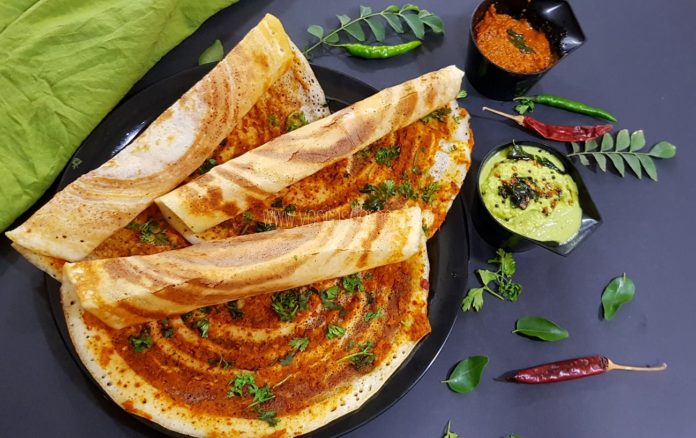 Recently, a friend sent me a picture of Ulli Karam Dosa and asked if I've ever had this dosa. I had never heard about Ulli Karam Dosa.  She too just had the picture with her and no recipe. That's when I googled Ulli Karam Dosa and learnt that Ulli Karam means Onion chutney in Telugu and Ulli Karam dosa is a dosa smeared with onion chutney.   I got the recipe of Ulli Karam Dosa from www.foodvedam.com . Dosa, being one of my favourite food, I had to try out this recipe at the first opportunity. I did make Ulli Karam Dosa…… and it was an instant hit with my family.  Here goes the recipe:
Ingredients
For Dosa
1 cup udad dal
2 cups rice
1 tsp methi seeds
2 tbsp chana dal
3 to 4 tbsp poha (soaked in water for 20 minutes)
Salt as per taste
Onion Chutney
2 large onions
2 to 3 dry red chillies
2 cloves garlic
1 tsp oil
1 tsp cumin seeds
A small piece of tamarind
Salt as per taste
Other ingredients
Ghee/Oil for cooking dosas
Chopped coriander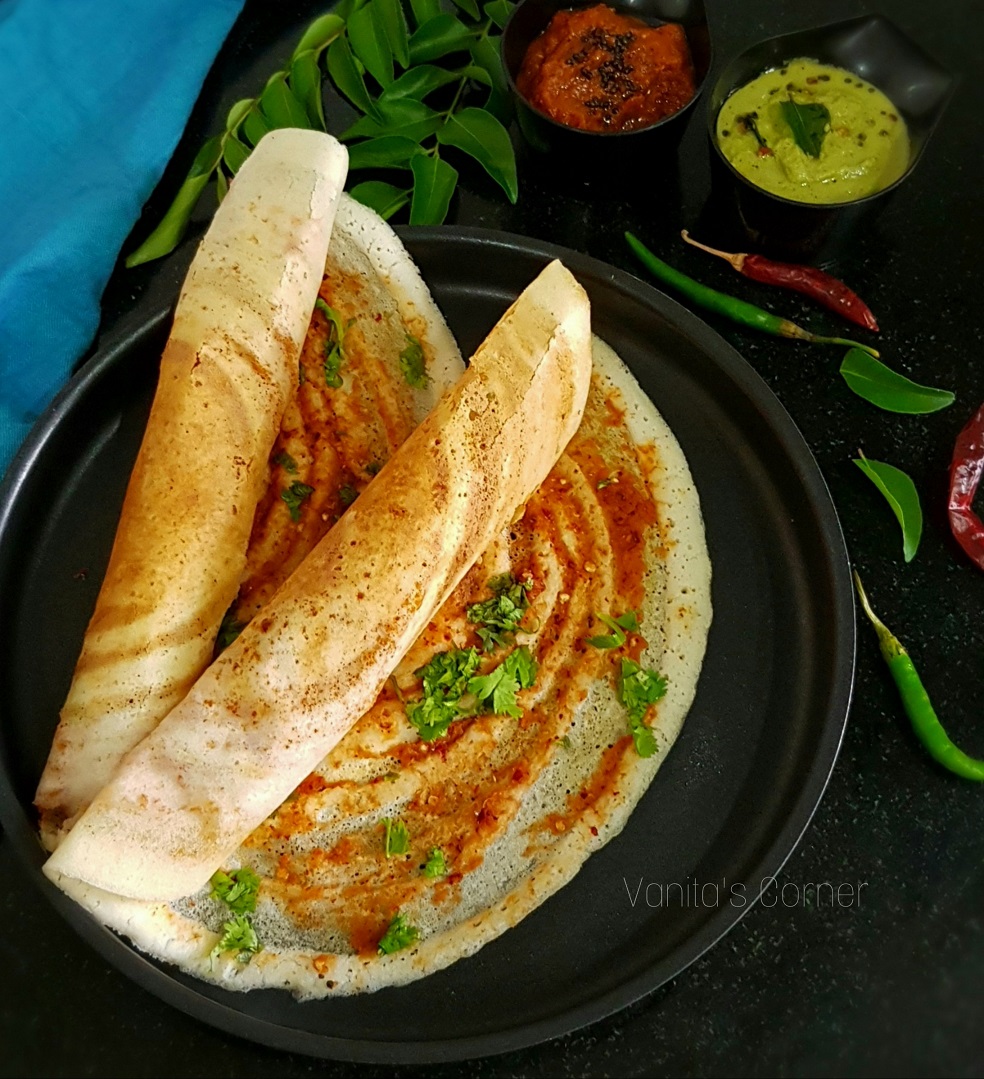 Method
For Onion Chutney
Heat 1 tsp oil in a pan.

Add cumin seeds, dry red chillies and saute for few seconds.

Add chopped garlic, chopped onions, tamarind and salt.

Saute till the onions turn translucent.

Allow this to cool down.

Blend all the ingredients to a fine paste. Keep this aside.
For Dosa
Wash and soak rice, methi seeds and chana dal  in water for 3 to 4 hours.

Wash and soak udad dal in water for 3 to 4 hours. 

Drain the rice, methi seeds, chana dal  add the soaked poha and grind using little water, to a smooth paste.  

Drain the udad dal and grind using  little water, to a smooth paste.

Mix them in a deep vessel.

Cover and keep the batter to ferment for six to eight hours in a warm place. 

Add salt to the fermented batter and mix well.

Heat a tawa.

Pour a ladle of dosa batter and spread it in a circular motion to form a thin dosa.

Drizzle a tsp of oil or ghee  around the dosa and cook till the dosa turns brown in colour and crisp. 

Take 2 tbsp onion chutney and spread evenly on the dosa.

Sprinkle chopped coriander leaves over the chutney.

Fold the dosa and serve hot with coconut chutney.
WATCH RECIPE VIDEO
Love Dosas? Have a look at the following dosa recipes:
Rava Dosa, Sprouted Ragi Dosa, Saada Dosa, Quinoa Dosa, Pesarattu, Neer Dosa, Moong Dal Dosa, Mysore Masala Dosa