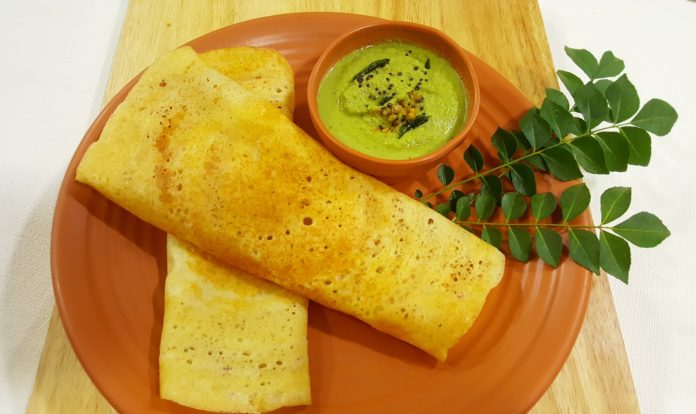 Moong Dal, one of the best vegetarian superfoods is  low  in carbohydrates as compared to the other dals. It is light and easy to digest and is a good source of protein for vegetarians. Moong Dal dosa is made with equal quantity of moong dal and rice. Moong dal and  rice are soaked, ground and fermented to make these dosas. Fermentation increases the nutritive value of food, improves digestion and builds immunity. Hence, these dosas make a healthy breakfast option.
Ingredients
1 cup moong dal (split green gram)
1 cup rice
½ tsp methi seeds (fenugreek seeds)
Salt as per taste
Method
Soak  moong dal in water for 4 hours.

Soak rice and methi seeds in water for 4 hours.

Grind moong dal using very little water to a fine paste.

Blend rice and methi seeds using very little water  to a fine paste.

Mix the ground moong dal, ground rice and methi seeds together in a deep vessel.

Cover and keep the batter to ferment for eight hours in a warm place.  

To the fermented batter, add salt and mix well

.Heat a pan.Pour a ladle of dosa batter and spread it in a circular motion to form a thin dosa.

Drizzle a tsp of oil or ghee  around the dosa and cook till the dosa turns brown in colour and crisp

Fold it to make a roll.

Serve Moong Dal Dosa  with green chutney.
Notes:
2 to 3 tbsp of cooked rice can be added while grinding. It gives a good texture and colour to the dosa and it also helps in fermentation.

While grinding the rice/ moong dal, add minimum water so that the batter does not become thin. Thick batter aids in fermentation.

If after fermentation, the batter is too thick, little water can be added to obtain the desired consistency.

While making the dosa, one can use either oil or ghee. But, I personally prefer using ghee as it enhances the taste of the dosa.
WATCH RECIPE VIDEO:
Further, I would like to draw your attention to other dosa recipes. Do, have a look at the following:
Neer Dosa, Mysore Masala Dosa, Saada Dosa, Kerala Appam