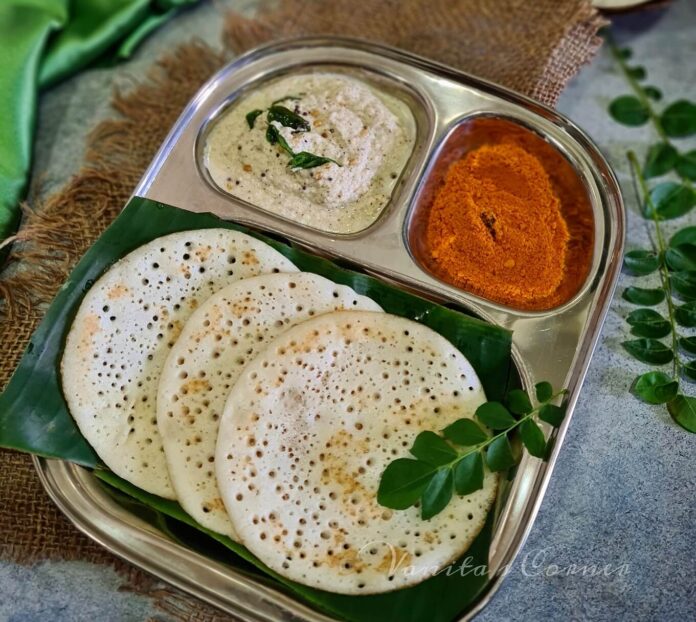 Set dosa – small, soft, porous dosas which is served in a set of three or four.
Set dosas are popular Karnataka style dosas which are soft, porous in texture and is served in a set of three or four.  It is generally served with sagu, a vegetable curry. It pairs well even with chutneys, potato bhaji and non-vegetarian curries.
If you love dosas and like to try different variety of dosas, here is a collection of dosas to choose from.  The recipe for Set dosa is as under:
Ingredients
1 cup split black gram (udad dal)
3 cups dosa rice (chawal)
3 tbsp flattened rice (poha)
1 tbsp fenugreek seeds (methi)
salt as per taste (namak)
Clarified butter (ghee) for cooking dosas
Method
Wash and soak udad dal in water for 5 hours.

Wash and soak rice in water for 5 hours.

Wash and soak methi seeds in water for 5 hours.

Soak poha in water for 15 minutes before grinding. 

Grind udad dal to a fine paste and keep aside.

Grind rice, poha and methi seeds to a fine paste and keep aside. 

In a deep vessel, combine udad dal paste and rice paste.

Add salt and mix well.

Add water if required to get the desired consistency.

The batter should not be very thick or very watery.

Cover and keep aside for 8 hours for fermentation.

After 8 hours, the batter would be fermented. 

If the batter is very thick, you can add some water and mix  to get the required consistency. 

Heat a pan.

Pour a small quanity of batter on the hot pan and spread to make a small sized dosa. 

Drizzle some ghee around the dosa.

Flip the dosa and cook on the other side.

Once cooked, remove from the pan .

Make dosas with the remaining batter.

Serve in a set of three or four with coconut chutney or sambar or vegetable curry.
Variation :
Another variation to this dosa is to cover the dosa pan after pouring the dosa batter on the pan.  Cook only on one side. Do not flip the dosa.  This is how the dosa looks when it is cooked only on one side.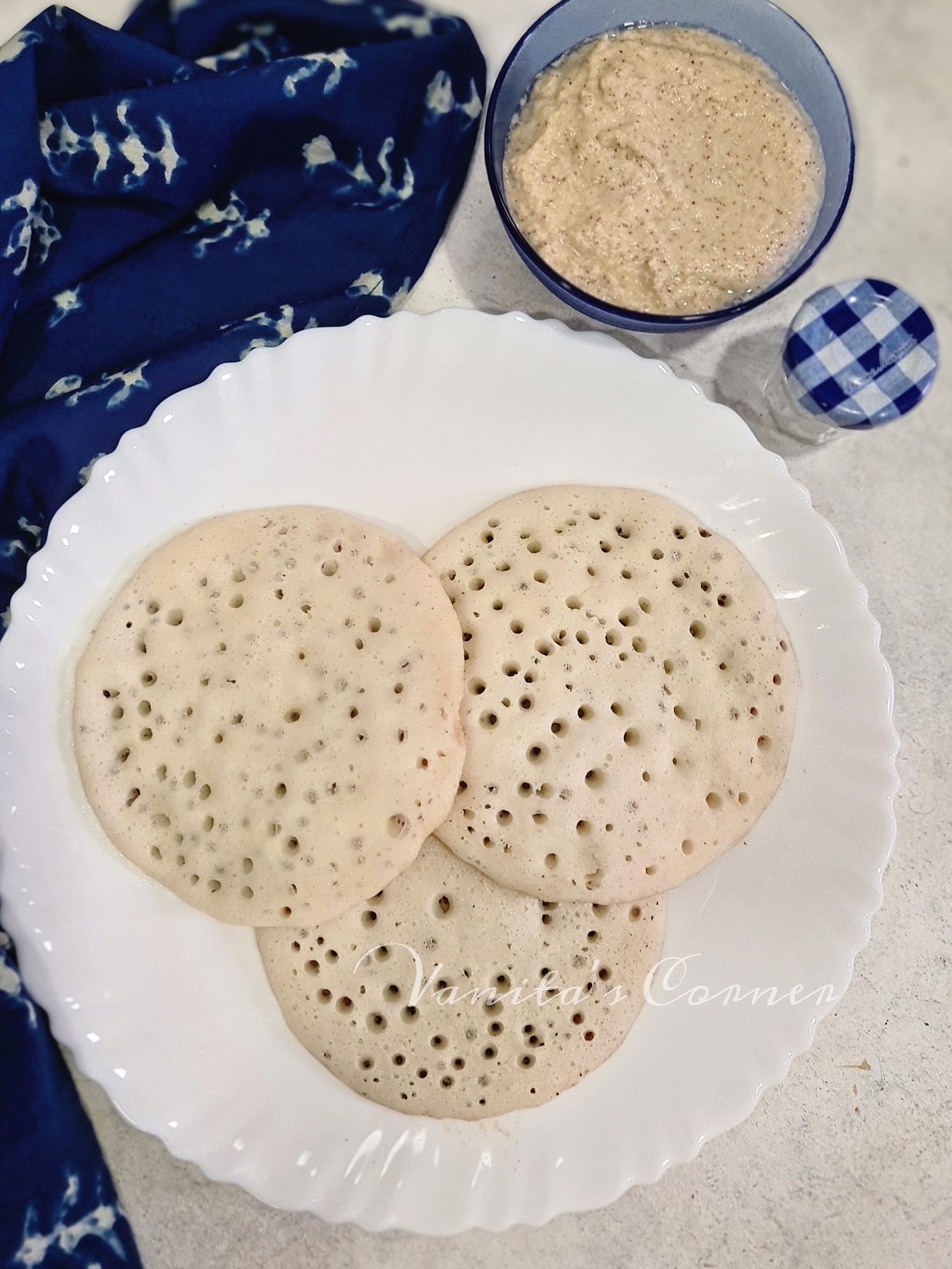 WATCH RECIPE VIDEO:
Thank you for stopping by. If you like/ tried this recipe, leaving a comment below the post will enable more readers and cooking enthusiasts to discover these recipes. Also, if you are on Instagram, do share a picture of the dish and tag @vanitascorner to be featured in my stories.
Do follow me on Instagram, Facebook and Pinterest.
Happy Cooking!!