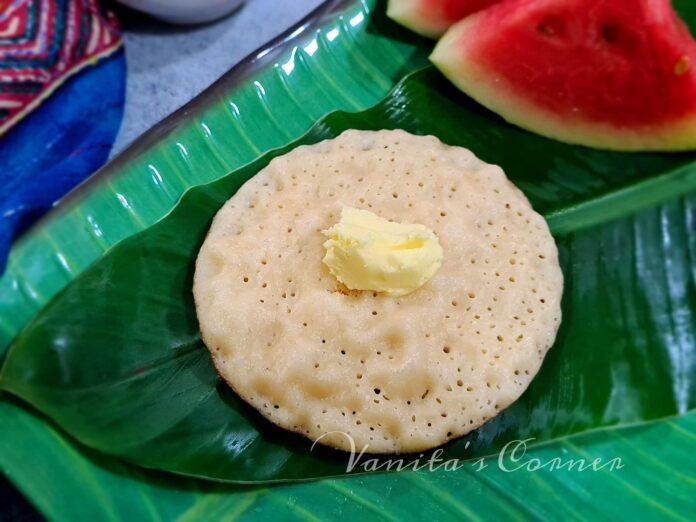 Watermelon Rind Surnoli – a spongy dosa made with rice and watermelon rind.
Surnoli is a thick, soft, spongy dosa from Konkani cuisine. It is a popular breakfast dish  in Konkani households. There are two versions of Surnoli – sweet and savory. The savory version is called Cheppi Surnoli and the sweet surnoli is called Godi Surnoli in Konkani.
Surnali is made by grinding rice, poha, coconut, curds and fermenting the batter for 8 to 10 hours. For the sweeter version, jaggery and turmeric powder is added while grinding the batter.  Surnali is a thick dosa with lots of holes on its surface. This dosa is cooked only on one side.
Watermelon rind Surnoli is another variant of Surnoli where watermelon rind (the white part of watermelon rind) is added while preparing the batter.  Watermelon rind gives good taste to the surnolis.
Ingredients
1 cup rice
1 cup white part of watermelon rind, chopped
½ cup flattened rice /poha (thick or thin)
¼ cup grated fresh coconut
¼ cup curds
salt to taste
Ghee for cooking surnolis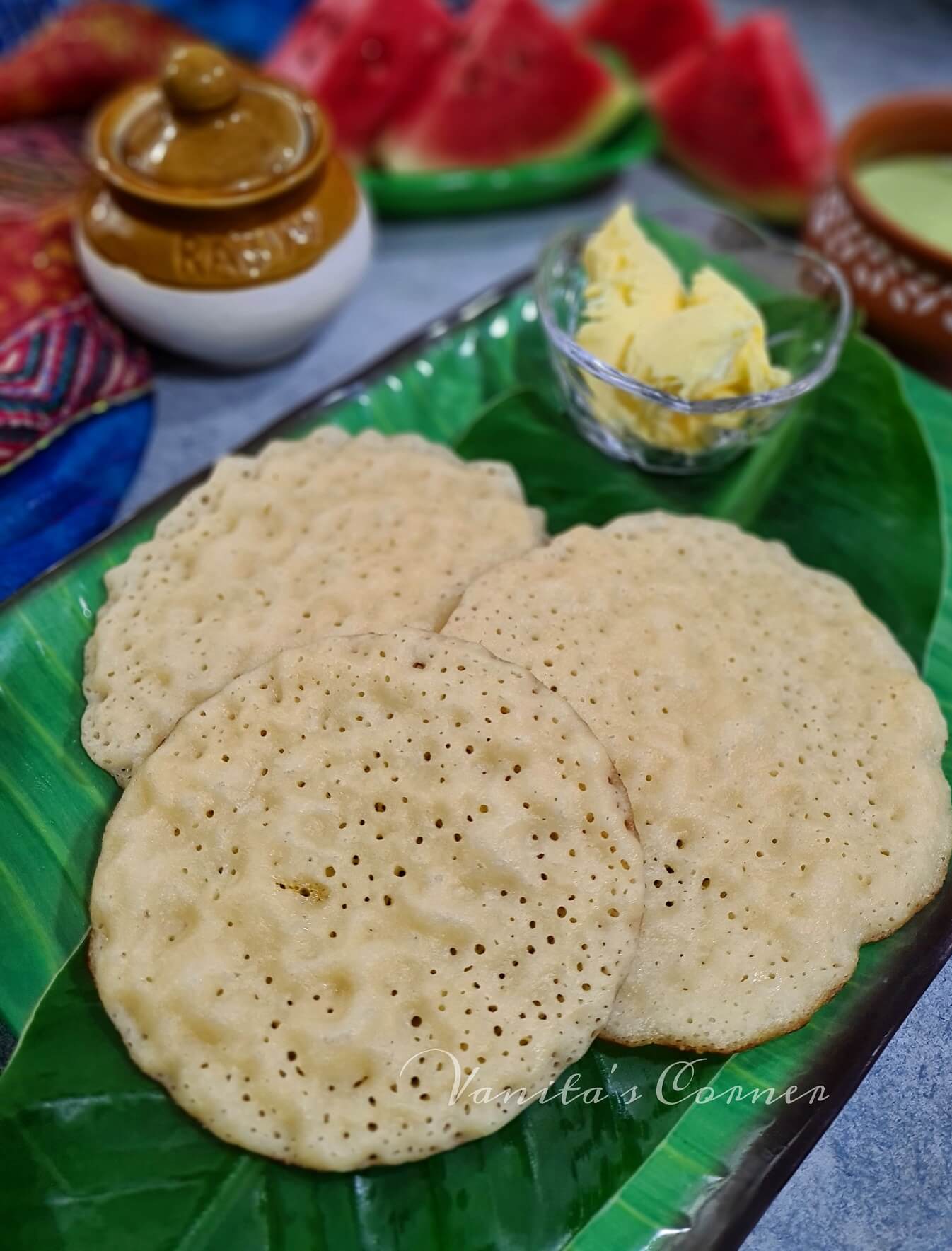 Method
Wash and soak rice in water for 3 to 4 hours.

Soak poha in water for 10 to 15 minutes before grinding the rice.

Chop white part of the  watermelon rind into small pieces.

Into a mixer jar, add 1 cup of chopped watermelon rind and blend to a smooth paste without adding water.

Next, add soaked rice, soaked poha, grated coconut and curds. Blend to a smooth paste.

The consistency of the batter should be that of idli batter.

Transfer the batter to a deep vessel.

Add salt as per taste  and mix well using your hands.

Cover the vessel and keep the batter for fermenting for 8 to 10  hours . In winters, the fermentation time may be longer (12 to 14 hours).

After 9 hours, the batter would be fermented.

Heat a dosa pan.

Pour a ladle of dosa batter. Do not spread.

Drizzle some ghee  on and around the dosa.

Tiny holes will appear on the surface of the dosa.

Cover and cook.

Do not flip the dosa,. Surnoli is cooked only on one side.

Serve watermelon rind surnoli with chutney/ homemade butter.
WATCH RECIPE VIDEO :
If you love dosas, do have a look at the following dosa recipes:
No-rice Dosa, Sprouted Ragi Dosa, Quinoa Dosa, Varai Sabudana Dosa and Rava Dosa