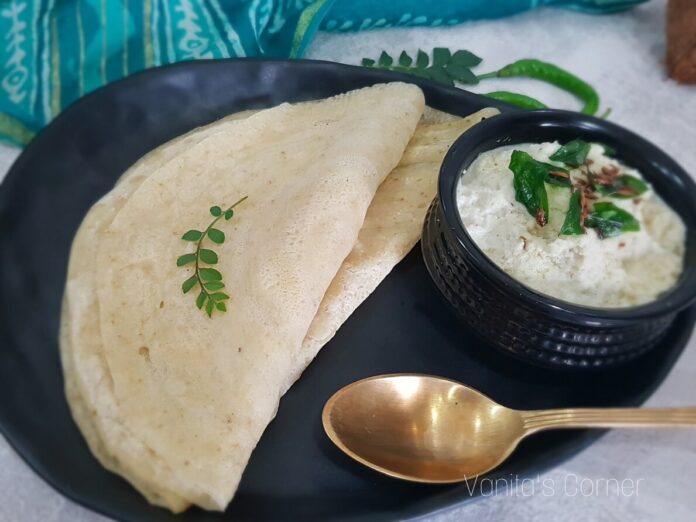 Barnyard Millet Sago Dosa  / Varai Sabudana Dosa  is a dosa made using barnyard millet (varai/bhagar) and sago (sabudana ) which can be eaten during fasting days. Dosa is one of my favourite breakfast  dishes and I keep trying different types of dosas using  different ingredients. Some of the dosa recipes on this blog are Saada Dosa, Moong Dal Dosa, Pesarattu, Sprouted ragi dosa, Ulli Karam Dosa, Quinoa Dosa, Neer Dosa, Mysore Masala Dosa, Rava Dosa etc.
I wanted to share the recipe of Varai Sabudana Dosa for a long time. But somehow, it was getting pushed back. But with Mahashivratri around the corner, this is the perfect time to share this recipe. Many people observe fast on Mahashivratri . Though some of them observe nirjal vrat, i.e. they do not consume water or food throughout the day, there are many who eat only phalahari dishes (food items eaten during fasting days) on that day.  This non-fermented, Barnyard Millet Sago Dosa with Coconut Peanut Chutney is a perfect phalahari dish for a fasting day.  Here goes the recipe:
Ingredients
½ cup barnyard millet (varai / bhagar)
¼ cup sago (sabudana)
1 tsp roasted cumin seeds (jeera)
1 green chilly (hari mirch)
½ tsp sugar (cheeni)
Salt as per taste (namak)
Oil/Ghee for cooking dosas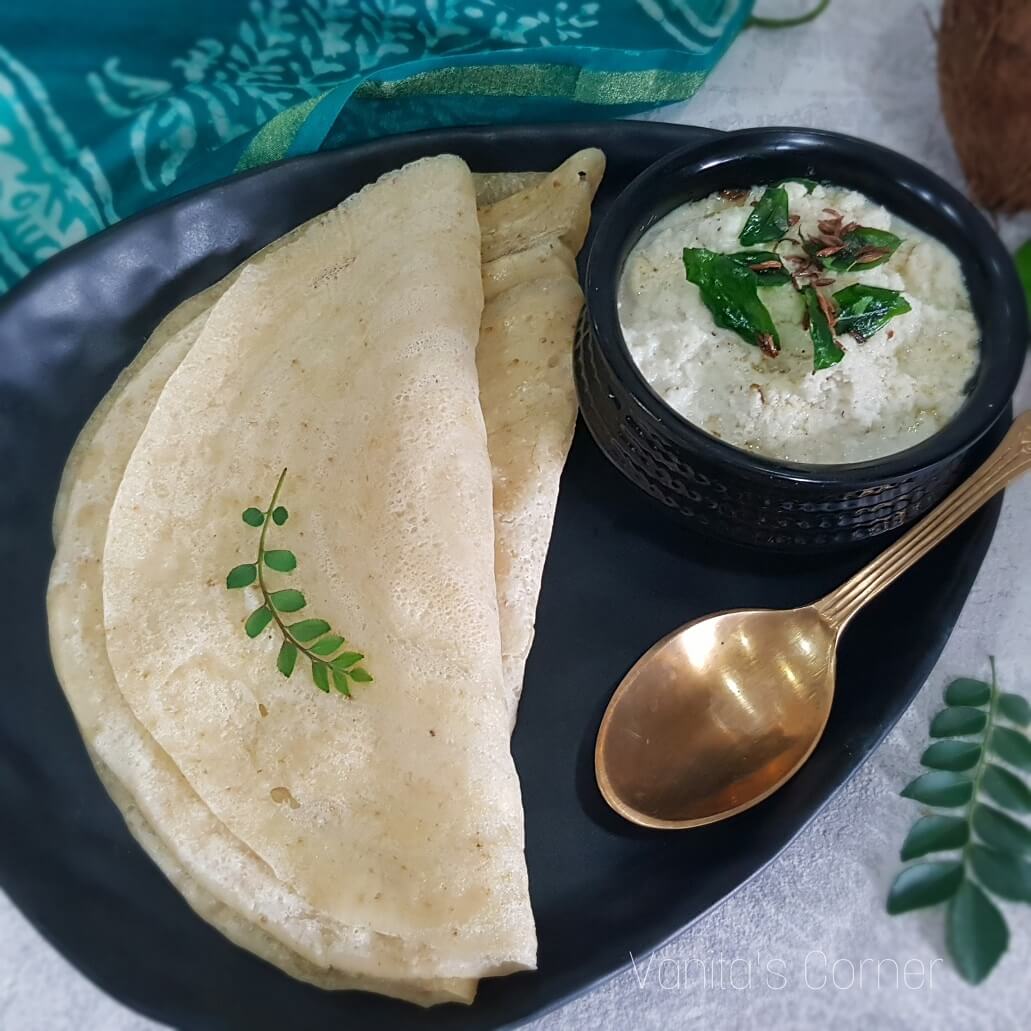 Method
Wash barnyard millet (varai / bhagar) and soak in water for 5 hours.

Wash sago (sabudana) and soak in water for 5 hours.

After 5 hours drain the water from sabudana and varai.

Transfer sabudana and varai  to a mixer jar.

Add green chilly, roasted cumin seeds, sugar, little water and blend to a smooth paste.

Add salt to the dosa  batter and mix well

Heat a tawa.

Pour a ladle of dosa batter and spread it in a circular motion to form a thin dosa.

Drizzle a tsp of oil or ghee  around the dosa and cook on a low flame.

Flip the dosa and cook on the other side, still keeping the gas on low flame.

Once the dosa is cooked, remove and serve with coconut peanut chutney.
WATCH RECIPE VIDEO: