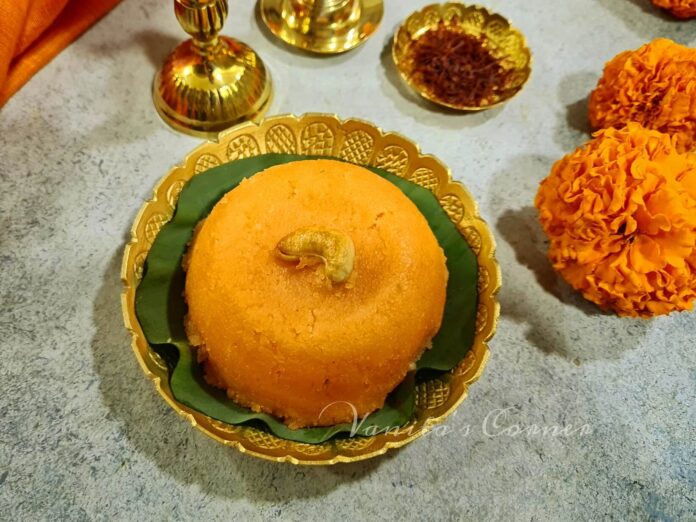 Rava Kesari – a much loved dessert in southern parts of India, specially Karnataka.
Rava Kesari or Kesari Bhat is one of the popular desserts of South India. It is prepared using rava, much like the sooji halwa. But rava kesari acquires a vibrant orange colour due to saffron or orange colour added to it. In South India this is a popular breakfast dish served alongside Khaara Bhat (upma) and is known as Chow Chow Bhat. Pineapple Kesari is another variation to this recipe where pineapple chunks are added.
Ghee and sugar are generously used while making rava kesari. Here is the recipe for Rava Kesari :
Ingredients
½ cup semolina/rava
6 tbsp ghee
¾ cup sugar or as per taste
6 to 8 cashew nuts
10 to 15 raisins
½ tsp cardamom powder
a tiny pinch of salt
few threads of saffron or orange colour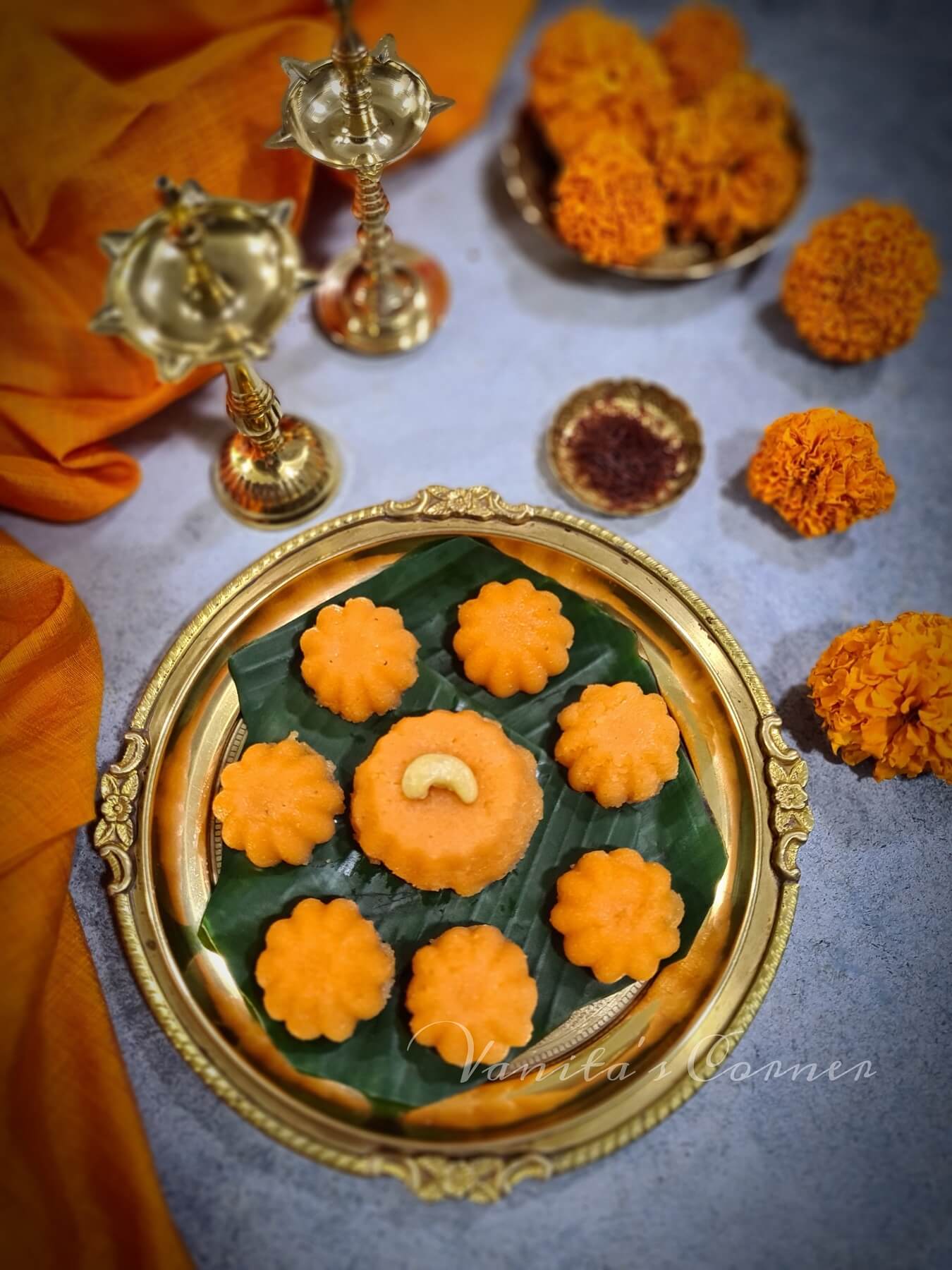 Method
If using saffron, soak few threads of saffron in 1 tsp hot water and keep aside for 30 minutes.

Heat 1 tbsp ghee in a pan.

Add cashew nuts and roast on low flame. Keep aside.

Add raisins and roast on low flame. Keep aside.

Add one more tbsp ghee.

When the ghee melts, add rava.

Saute on low flame till the rava turns aromatic.

Add 1 ¼ cup hot water and mix well.

Add saffron water or food colour. Keep stirring.

Add sugar and mix well.

Finally stir in the remaining ghee, salt and mix well.

Add cardamom powder, roasted cashews and raisins.

Serve hot.
WATCH RECIPE VIDEO :
Thank you for stopping by. If you like/ tried this recipe, leaving a comment below the post will enable more readers and cooking enthusiasts to discover these recipes. Also, if you are on Instagram, do share a picture of the dish and tag @vanitascorner to be featured in my stories.
Do follow me on Instagram, Facebook and Pinterest.
Subscribe to my youtube channel for easy video recipes.
Happy Cooking!!