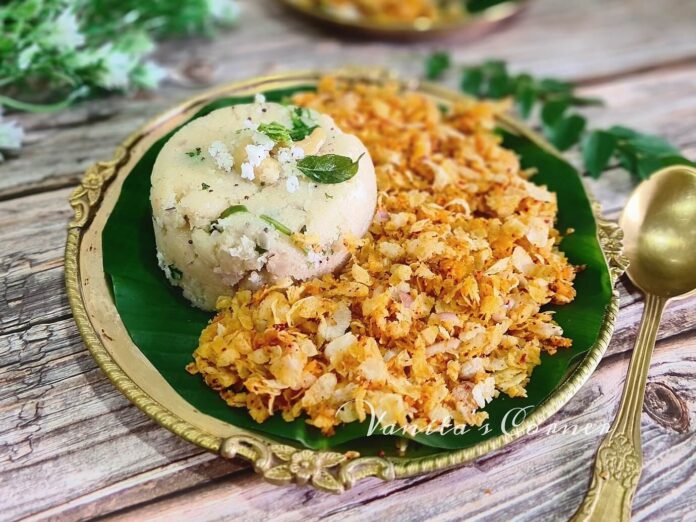 Sajjige Bajeel is a  typical Mangalorean breakfast dish. It is a combination of sweet and spicy poha served with upma. Sajjige and Bajeel are Tulu words for upma and poha respectively.
As I have mentioned earlier in this blog, Mangalore being a coastal town, rice and coconut are commonly used ingredients in most Mangalorean dishes.  Rice is used for making quite a few breakfast dishes. Poha (flattened rice) is served in different forms – sweet poha,  Kadle Bajeel which is a combination of sweet and spicy poha with chana upkari, Sajjige Bajeel and so on.
In olden days, Sajjige Bajeel used to be a common breakfast dish in most Mangalorean household. But today, it almost falls into the category of forgotten recipes.  Sajjige is a simple rava upma and bajeel is a no-cook recipe, except for the roasting of spices to prepare a spice-mix. Thin poha is mixed with coconut, jaggery, onions and  a spice mix, which in olden days used to be hand-pounded.   This is quite a filling breakfast and keeps you full for a long time.  Here is the recipe for Sajjige Bajeel.
Recipe
Ingredients
For the Sajjige (Upma)
1 cup semolina (rava)
3 cups water
2 tbsp clarified butter (ghee)
1 tbsp oil
1 tsp mustard seeds
1 tsp split black gram (udad dal)
few curry leaves
12to 15 cashew nuts
3 green chillies, chopped
1 tsp chopped ginger
1 large onion, finely chopped
1 tsp sugar
Salt as per taste
2 to 3  tbsp fresh coriander leaves, chopped
2 to 3 tbsp fresh, grated coconut
For the Bajeel (Poha)
For the spice mix
few drops of coconut oil
2 dry red chillies
1 tsp coriander seeds
½ tsp cumin seeds
few curry leaves
¼ tsp turmeric powder
For the Bajeel/Poha
1 ½ cups of thin flattened rice/ poha
¾ cup fresh, grated coconut
2 tbsp grated jaggery
a pinch of salt
2 tsp chopped onions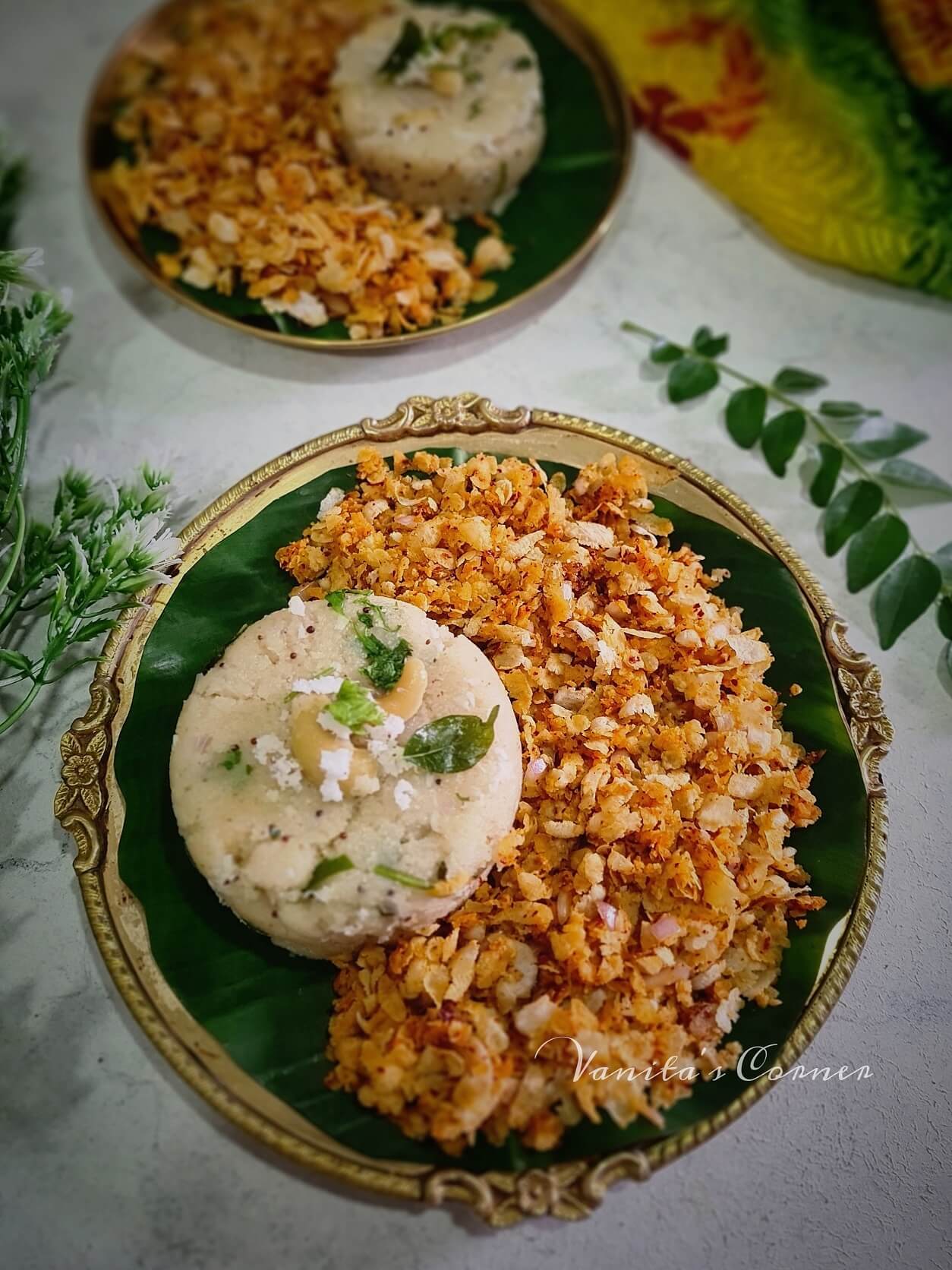 Method
For Sajjige (Upma)
Heat a pan and dry roast the rava till it turns aromatic.  Keep this aside. Heat another pan and add the ghee and oil. Add mustard seeds, udad dal, curry leaves, cashews and saute for few seconds.  Add chopped onions, ginger and geen chillies. Saute for a minute or so. Now, add  water. Add salt and sugar. Allow the water to boil. When the water starts add the roasted rava and keep stirring to avoid formation of lumps.  Cover and cook on a low flame. Rava will absorb the water and will get cooked.  Add chopped coriander leaves, grated coconut  and mix.  Sajjige /Upma is ready to be served.
For Bajeel (Poha)
For the spice mix
Heat few drops coconut oil in a a pan. Add dry red chillies, coriander seeds and  cumin seeds. Saute for few seconds. Add curry leaves and saute till the spices turn aromatic. Allow the roasted spices to cool completely. Transfer the spices to a mixer jar. Add turmeric powder. Blend to a fine powder. Keep this aside.
For making  Bajeel (Poha)
In a mixing bowl, add grated coconut, grated jaggery, a pinch of salt, spice mix and  chopped onions. Mix well using your hands. Add the poha and mix gently. The poha should be coated well with the coconut jaggery mixture.
For serving Sajjige bajeel, in a plate add sajjige (upma) and bajeel (poha). Serve hot with tea or coffee.
WATCH RECIPE VIDEO:
Thank you for stopping by. If you like/ tried this recipe, leaving a comment below the post will enable more readers and cooking enthusiasts to discover these recipes. Also, if you are on Instagram, do share a picture of the dish and tag @vanitascorner to be featured in my stories.
Do follow me on Instagram, Facebook and Pinterest.
Happy Cooking!!