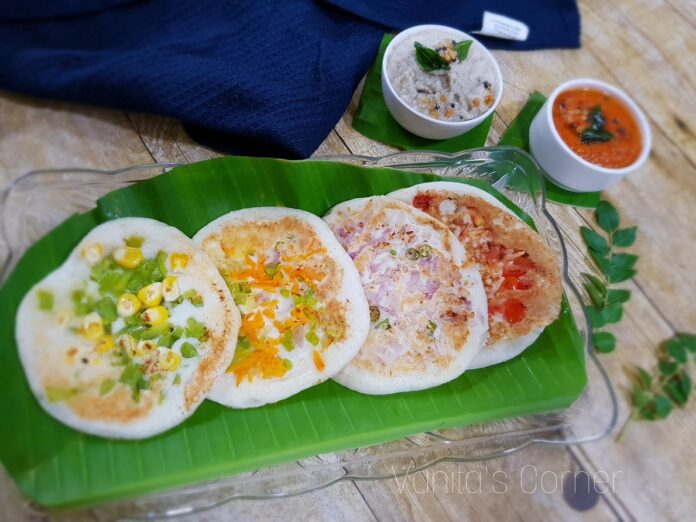 Uttapams are dosas with toppings. You can call them the Indian pizza. Uttapams are to the South Indians what parathas are to the folks from the North. Like paratha stuffings, you can get as creative or imaginative when it comes to uttapam toppings. The toppings can range from onions, tomatoes, mixed vegetables, cheese, mixed herbs and so on.  They can be made with simple dosa batter or with rava , millet flours, oats  etc.  
I have made mini uttapams with four different toppings – Onion, Tomato, Mixed Veggies ans Corn capsicum Uttapam . Lets take a look at the recipe
Ingredients
For the dosa batter
1 cup of split black gram (udad dal)
2 cups of rice (chawal)
1 tbsp fenugreek seeds (methi)
¼ cup of flattened rice (poha)
Salt as per taste (namak)
For the topping
Onions, finely chopped  (pyaaz)
Tomatoes, finely chopped  (tamatar)
Carrots, finely chopped (gajar)
Capsicum, finely chopped (Shimla mirch)
green chilly, finely chopped (hari mirch)
Sweet corn
Clarified butter (ghee) for cooking the uttapams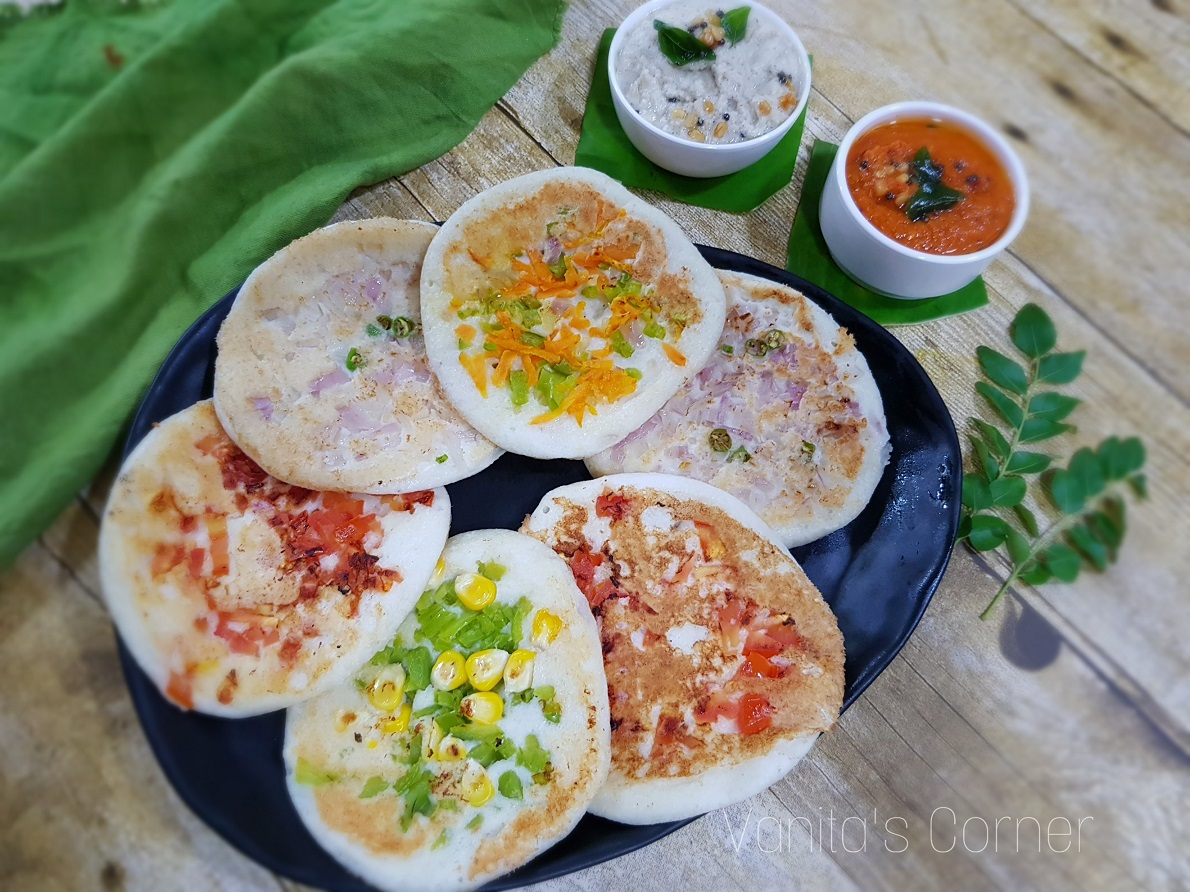 Method
Wash and soak udad dal for 3 to 4 hours.

Wash and soak rice and fenugreek seeds for 3 to 4  hours.

Soak poha for 30 minutes.

Drain the water and grind udad dal, adding little water to a smooth paste.

Remove and keep aside.

Drain the water and transfer rice and fenugreek seeds to the same mixer jar.

Add soaked poha.

Add little water and blend to a smooth paste.

Transfer rice and udad dal paste into a deep vessel.

Add salt and mix well.

You may add a little water to get the desired consistency. The batter should not be thin and should not be too thick. It should be of a dropping consistency.

Keep the batter covered for fermentation for 7 to 8 hours or overnight. 

After 8 hours, the batter would be fermented.

If the batter is too thick, you may add little water.  Give a good mix and keep aside.

Heat a pan.

Take a ladleful batter and drop as much batter on the hot pan as is required to make a mini dosa.  

Spread it in a circular motion to form a semi thick dosa.  

Similarly make as many mini dosas as you can fit on the pan.

Now, sprinkle the toppings of your choice on each uttapam. Here, the toppings are as follows

1 – chopped onion and green chillies

2 – chopped tomatoes

3 – a mixture of chopped carrots, onions and capsicum

4 – chopped capsicum and sweet corn

After having sprinkled the topping,drizzle a tsp of oil or ghee  around the mini uttapams.

Cover and cook for 3 to 4 minutes.

Further, flip the uttapams and allow them to cook on the other side.

When they are evenly cooked from both sides, remove and serve with coconut chutney and tomato chutney.
Note:
I have made mini uttapams in my regular dosa pan. But now, special mini dosa/ uttapam pans  with multiple depressions, are available in the market. 
WATCH RECIPE VIDEO: