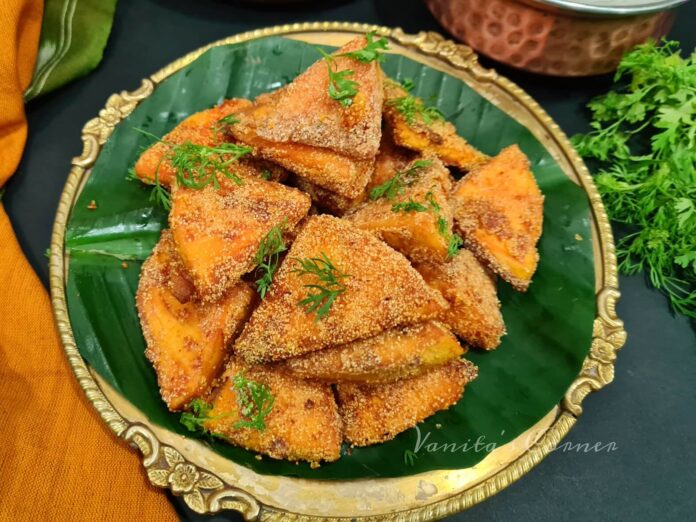 Breadfruit Rava fry – slices of breadfruit coated with spicy masala, dipped in semolina-rice flour mixture and fried.
Breadfruit, a member of jackfruit family has potato like consistency when cooked.  Breadfruit is abundantly available in summer season specially in southern states of India. On my recent visit to Mangalore, I got a chance to get some fresh breadfruits. Though it looks like jackfruit, it is quite different from jackfruit and is smaller in size. Raw breadfruit is used to make several dishes like stir fry, pakoda, chips, curries and so on.  Bread fruit is called jeegujje in Tulu/Kannada, Jeev Kadgi in Konkani and Neerfanas in Marathi. Jeegujje Phodi is Tulu name for Breadfruit fritters and in Marathi, it is known as Neerfanasache Kaap .
Breadfruit Rava Fry makes for a perfect accompaniment with dal rice or rice and tomato saar with mango pickle on the side.  These vegan fritters are crispy on the outside, soft and creamy on the inside. Breadfruit pieces are marinated in a spicy masala and then dipped in rava-rice flour mixture and fried. These fritters can either be deep fried or shallow fried.   The other way to make breadfruit fritters is to deep fry the breadfruit using a gram flour (besan) batter. These type of fritters make for a good tea time snack.  Either way, they taste absolutely delicious. Here is the recipe for breadfruit rava fry.
Ingredients
Half of medium sized breadfruit
3 tbsp red chilly powder
½ tsp turmeric powder
1 tbsp ginger garlic paste
½ tsp asafoetida (hing)
1 tbsp lemon juice
salt to taste
For the outer coating
1/2 cup semolina (rava)
¼ cup rice flour
a pinch of salt
Oil for frying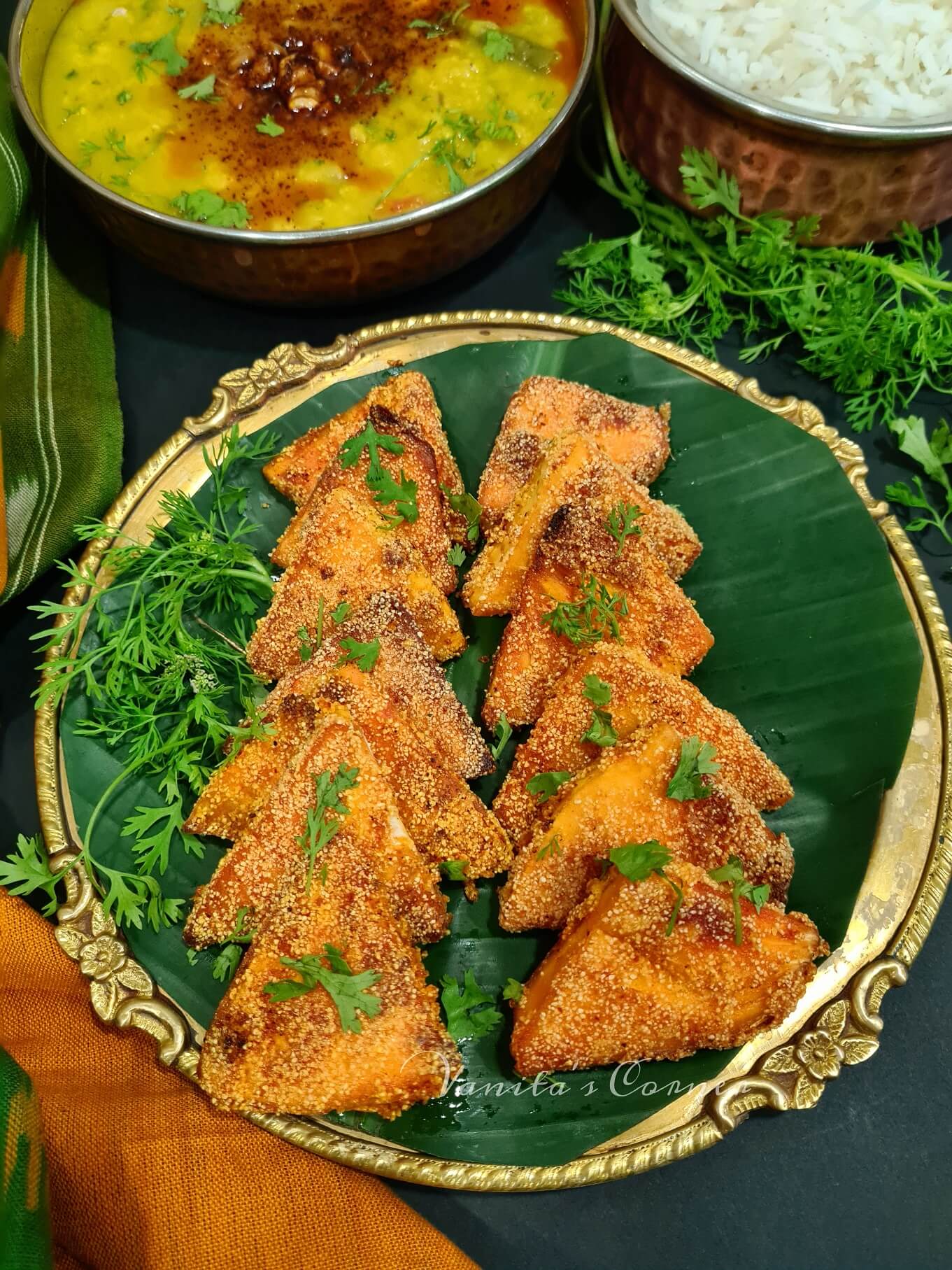 Method
Cut the breadfruit into half.

Further cut the half into quarters.

Remove the inner hard core and discard. Peel the outer green skin of breadfruit.

Cut the breadfruit into slices or traingles as per desired thickness. Thinner fritters turn out crispy. Thicker fritters are crispy on the outside and creamy and soft on the inside.  

Keep the breadfruit slices immersed in water.

In the meanwhile, in a bowl, add red chilly powder, turmeric powder, asafoetida, ginger garlic paste, salt and lemon juice.

Add around 2 tbsp water and make a thick paste.

Add breadfruit slices and coat them evenly with the masala paste.

Keep this aside for 15 to 30 minutes.

Heat oil in a pan for frying the fritters.  

In a plate, add rava, rice flour and salt. Mix well.

Coat each piece of breadfruit with this rava-rice flour mixture.

 Place  the rava coated breadfruit pieces on the pan and cook on low to medium  flame. 

When the fritters are cooked on one side, flip them and cook on the other side till they turn crispy.

 Transfer the breadfruit rava fry to a kitchen paper towel to absorb any excess oil.

Serve hot.
WATCH RECIPE VIDEO: