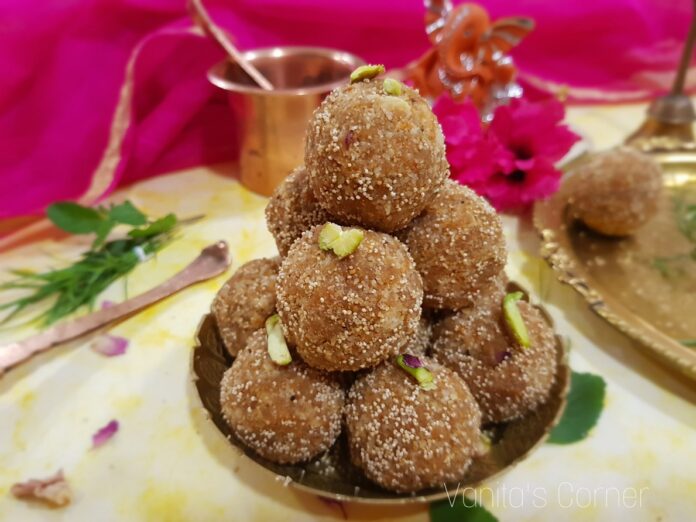 Churma Laddoo – Healthy delicious laddoos made with wholewheat flour and jaggery.
Ganesh Chaturthi, one of the prominent Indian festivals is here. It is celebrated with great pomp and fervor all over the country. There is an air of festivity everywhere. Sweet shops are loaded with variety of modaks and sweets. People prepare different types of sweets at home and offer as bhog/ prasad to please the Lord. Ukadiche Modak (steamed modak) being Lord Ganesha's favorite food,  is commonly made at most houses. Apart from modak, other sweets prepared during Ganesh Chaturthi are puranpoli, besan laddoo, churma laddoo, shrikhand, patolyas etc.
Churma Laddoo is one of the delicious laddoos made using wheat flour and jaggery. Wheat flour dough balls are fried in ghee or oil after which they are coarsely ground, mixed with jaggery and shaped into laddoos. These  laddoos made with wholewheat, jaggery and homemade ghee are known to give instant energy and hence makes for an excellent in-between snack. 
Ingredients
1 cup coarsely ground wholewheat flour (gehu ka aata)
3 tbsp semolina (sooji / rava)
1 cup jaggery, broken into small pieces (gud)
1 tsp cardamom powder (elaichi powder)
7 tbsp clarified butter (homemade ghee) for kneading the dough
3 to 4 tbsp chopped almonds, cashew nuts and pistachios (badam, kaju and pista)
2 to 3 tsp  roasted poppy seeds (khuskhus)
Clarified butter (ghee) for deep frying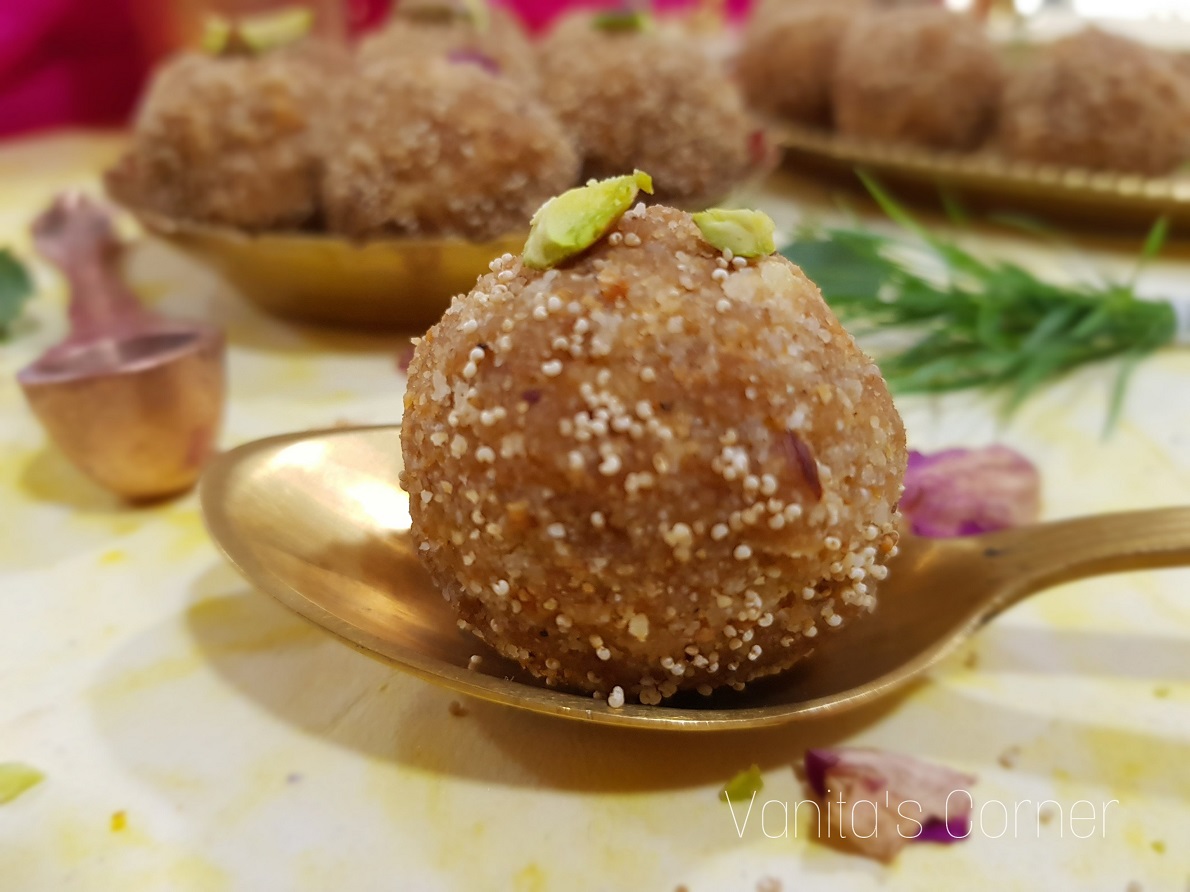 Method
In a mixing bowl, add the wholewheat flour, rava  and warm ghee. Mix well.  

Add water as required and knead.

I have used 5 tbsp ghee for kneading the dough.

Keep adding ghee, little at a time and knead well to make a stiff dough.

Keep the dough aside for 10 minutes.

Divide the dough into small balls.

Flatten the dough balls as shown in the video below.

Heat ghee in a pan.

Deep fry the flattened dough balls on a very slow flame until they turn golden brown in colour.

Each batch of dough balls will take atleast 10 minutes to fry as the dough ball needs to be cooked well from inside too.  

Drain on absorbent paper and allow them to cool.

Break the fried dough ball into small pieces.

Blend them into a coarse powder. Keep this aside.

Heat a pan and add 2 tbsp ghee.

Add jaggery and mix.

Once the jaggery melts, turn off the heat. 

Add this jaggery ghee mixture to the wheat mixture.

Add cardamom powder and chopped nuts.

Mix well and make medium sized laddoos.

In a plate, place the roasted poppy seeds.

Roll the laddoos on the poppy seeds to coat them evenly.

Store in an air tight container and serve as required.
Notes:
The wheat balls can also be fried in oil instead of ghee.

Powdered sugar can also be used in place of jaggery. In that case, powdered sugar can be added to the powdered wheat mixture alongwith ghee and then be shaped into laddoos.
WATCH RECIPE VIDEO: