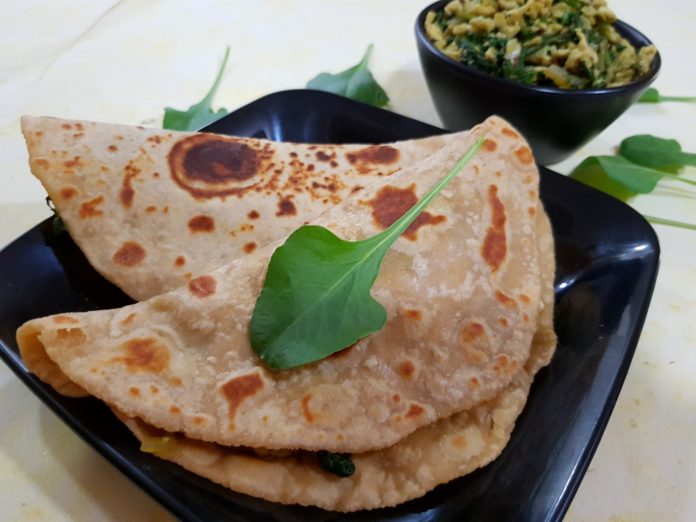 Egg Spinach Wrap is a Roti wrap stuffed with spinach and scrambled eggs. Spinach and eggs are mildly spiced using black pepper, red chilly powder  and stuffed in a roti. It is a wonderful breakfast dish to start your day on a healthy note. Take a look at the recipe:
Ingredients
For the Spinach & Egg Stuffing
2 cups spinach, chopped (palak)
4 eggs
2 tsp oil
1 large onion, chopped
4 cloves garlic, chopped
a tsp of cumin seeds (jeera)
1 1/2 tsp black pepper powder
a tsp of red chilly powder
1 tbsp grated cheese per wrap (optional)
Salt as per taste
For the Roti wrap
2 cups whole wheat flour
1 tbsp oil
Ghee to cook the rotis  (optional)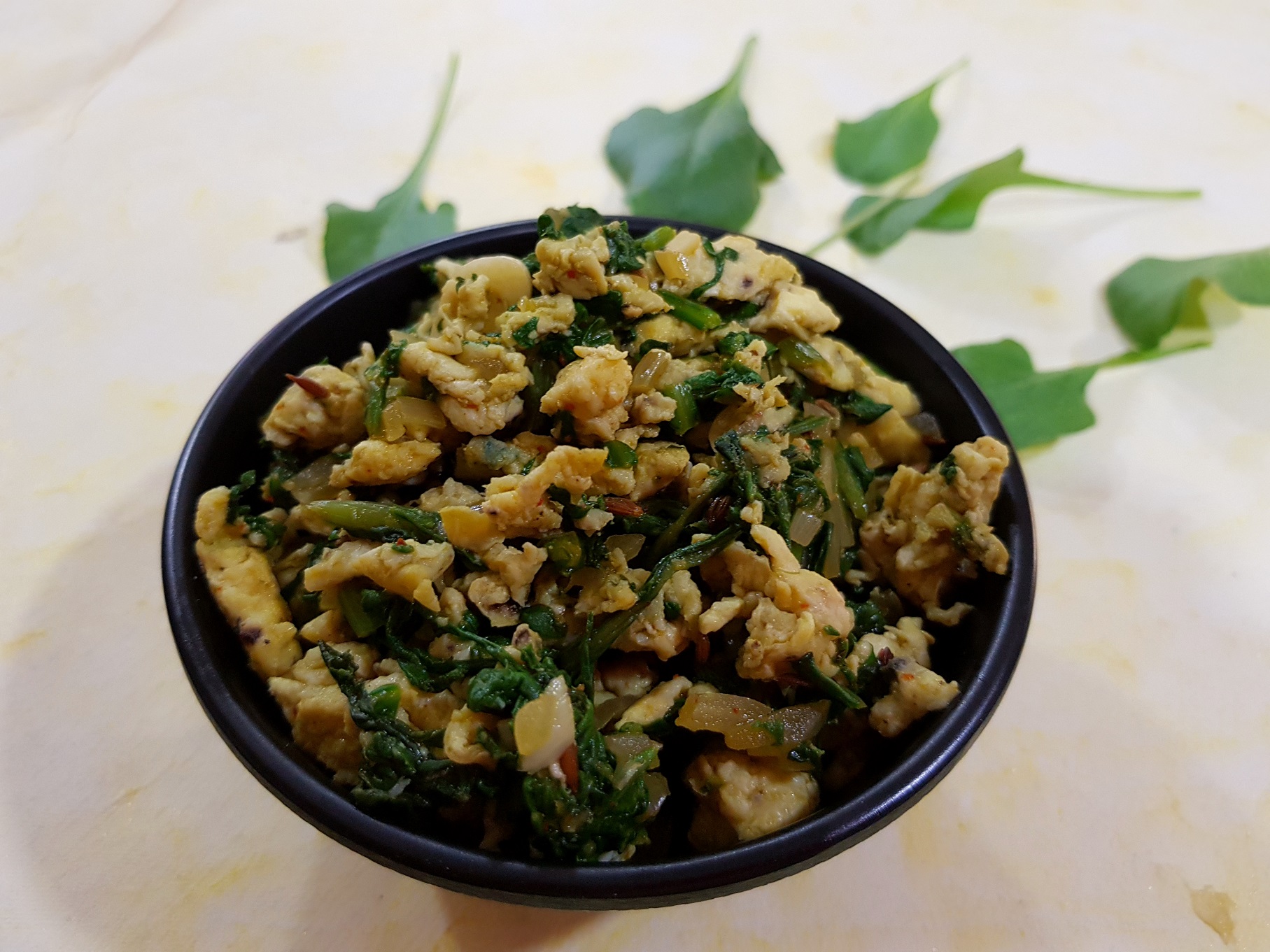 Method
Heat a pan. Add 1 tsp oil.

Add cumin seeds. When the seeds start crackling, add chopped garlic and onion.

Saute for 3 to 4 minutes.

Add chopped spinach and mix well.

Add 1 tsp black pepper powder, red chilly powder, salt and mix.

Let it cook for 4 to 5 minutes. Remove and keep it aside.

In the same pan, add 1 tsp oil.

Add the eggs. Add ½ tsp black pepper powder and keep stirring the eggs till you get scrambled eggs.

Add the cooked spinach to the scrambled eggs and mix well. Keep this aside.

To make the roti, take 2 cups of wholewheat flour in a mixing bowl.

Add  water as required and knead into a smooth dough. 

Take a small portion of the dough and roll into a medium sized roti.

Heat a pan and place the roti on the pan.

Drizzle ghee on the edges of the roti and cook on both the sides till brown spots appear on the roti.

Using ghee is optional. You can make the rotis without ghee if you wish.

When the roti is cooked, place around 4 to 5 tbsp of spinach egg mixture on one side of the roti.

Top it with 1 tbsp grated cheese. Using cheese is also optional.

Fold the roti.

Repeat the same procedure with remaining dough and spinach egg mixture.

Serve Egg Spinach Wrap immediately.
WATCH RECIPE VIDEO
Other Egg recipes : Egg Potato Curry, Stuffed Eggs, Boiled egg sandwich