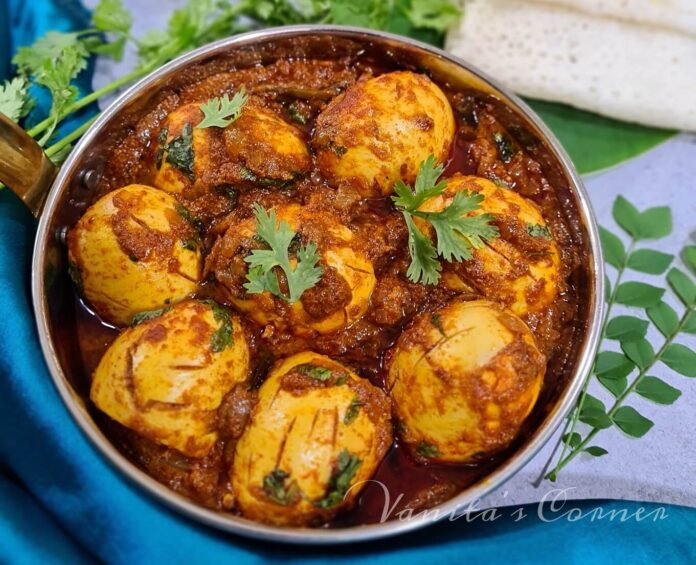 Egg Ghee Roast – Eggs cooked in a spicy Mangalorean ghee roast masala with oodles of ghee.
Ghee Roast recipes are a specialty of Mangalore.  The roasted spicy masala and generous amount of ghee is the highlight of ghee roast dishes. The ghee roast masala is versatile enough to be made with chicken, mutton, prawns,  paneer, mushrooms, eggs and so on.
Eggs cooked in ghee roast masala makes for a delicious dish and pairs well with neer dosas, appams and idiyappam. I have used homemade ghee roast powder to make Egg Ghee Roast.  Here goes the recipe :
Ingredients
8 eggs (ande)
1 cup curds (dahi)
3 tbsp ghee roast powder 
1 tbsp ginger garlic paste (adrak lehsun paste)
2 to 3 tbsp clarified butter (ghee)
2 sprigs of curry leaves (kadi patta)
2 medium onions, chopped (pyaaz)
1 tsp jaggery powder (gud)
3 tbsp tamarind pulp (imli)
salt as per taste (namak)
1 tbsp chopped coriander leaves for garnishing (hara dhaniya)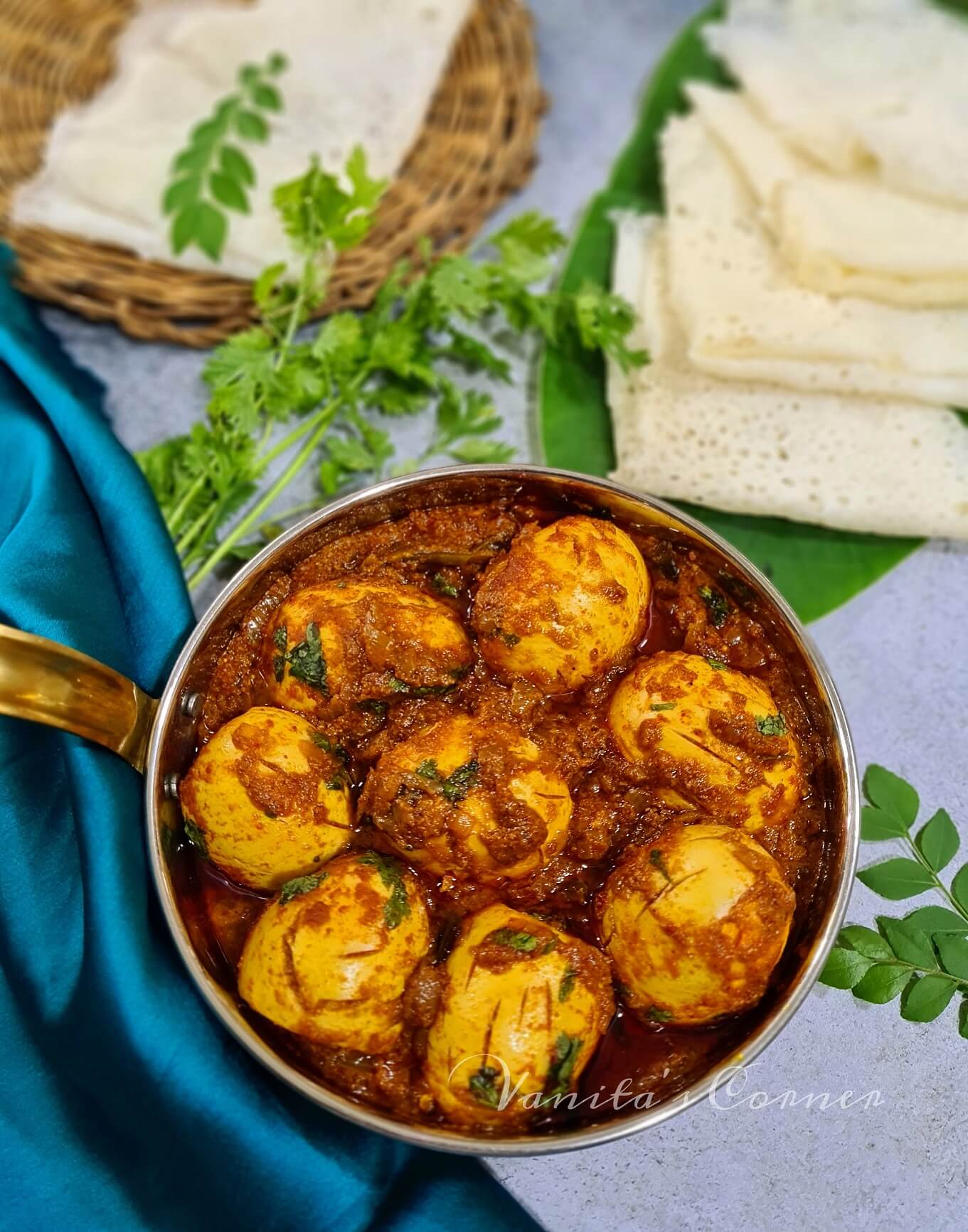 Method
In a mixing bowl, add curds and ghee roast powder. Mix well and keep aside.

To boil the eggs, place eggs in a saucepan.

Pour water into the pan and ensure that there is about 1 inch water above the eggs. Bring it to a boil.

When the water comes to a rolling boil, turn off the heat and remove the pan from the gas stove.

Cover the pan with a lid for 15 minutes. 

After 15 minutes, remove the eggs from hot water and immerse them in ice cold water.

Remove the eggs from cold water and peel the eggs. 

Prick the boiled eggs with the knife or a fork and keep aside.

Heat a pan. Add ghee.

When the ghee starts melting, add curry leaves and ginger garlic paste.

Saute for few seconds. 

Add chopped onions.

Sprinkle a pinch of salt and mix well.

Saute the onions and cook till they turn translucent. 

Add the curd mixture and mix well.

Cook on a low flame till the mixture starts releasing ghee.

Stir in the tamarind pulp and powdered jaggery. Mix well.

Add the boiled eggs.

Cover and cook for 5 to 7 minutes on a low flame. 

Finally, garnish with chopped coriander leaves.
WATCH RECIPE VIDEO:
Thank you for stopping by. If you like/ tried this recipe, leaving a comment below the post will enable more readers and cooking enthusiasts to discover these recipes. Also, if you are on Instagram, do share a picture of the dish and tag @vanitascorner to be featured in my stories.
Do follow me on Instagram, Facebook and Pinterest.
Happy Cooking!!