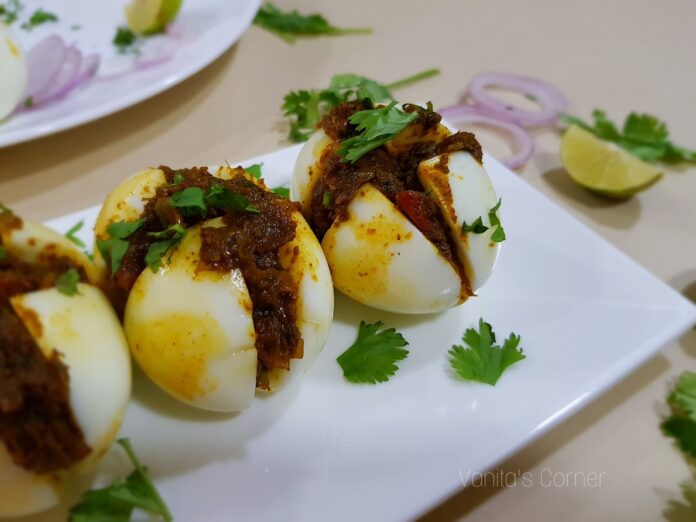 Stuffed Masala Eggs are hard boiled eggs with masala fillings.
During the month of Ramzan, Indian Express had carried an article regarding the Ramzan special dishes prepared by the Konkani Muslim community. There was a mention of a dish called Kavtacho bojar which caught my attention. The picture of the dish was tempting enough for me to know more about the dish. After doing a bit of research, I learnt that Kavtacho bojar is nothing but boiled eggs stuffed with a curried chutney. I did try making it and the dish was an instant hit with my folks at home. Though I am not aware of the authentic recipe for this particular dish, this is my version of Kavtacho Bojar.  Here goes the recipe:
Ingredients
5 eggs (ande)
¾  cup fresh coriander leaves (hara dhaniya)
3 cloves of garlic (lehsun)
1 inch piece of ginger (adrak)
a tbsp oil (tel)
1 tsp cumin seeds (jeera)
a large onion, chopped (pyaaz)
1 tomato (tamatar)
a tsp of turmeric powder (haldi)
1 tbsp red chilly powder (laal mirch)
a tsp of cumin coriander powder (dhaniya jeera powder)
½ tsp garam masala
Salt as per taste (namak)
1 tbsp chopped coriander leaves for garnishing (hara dhaniya)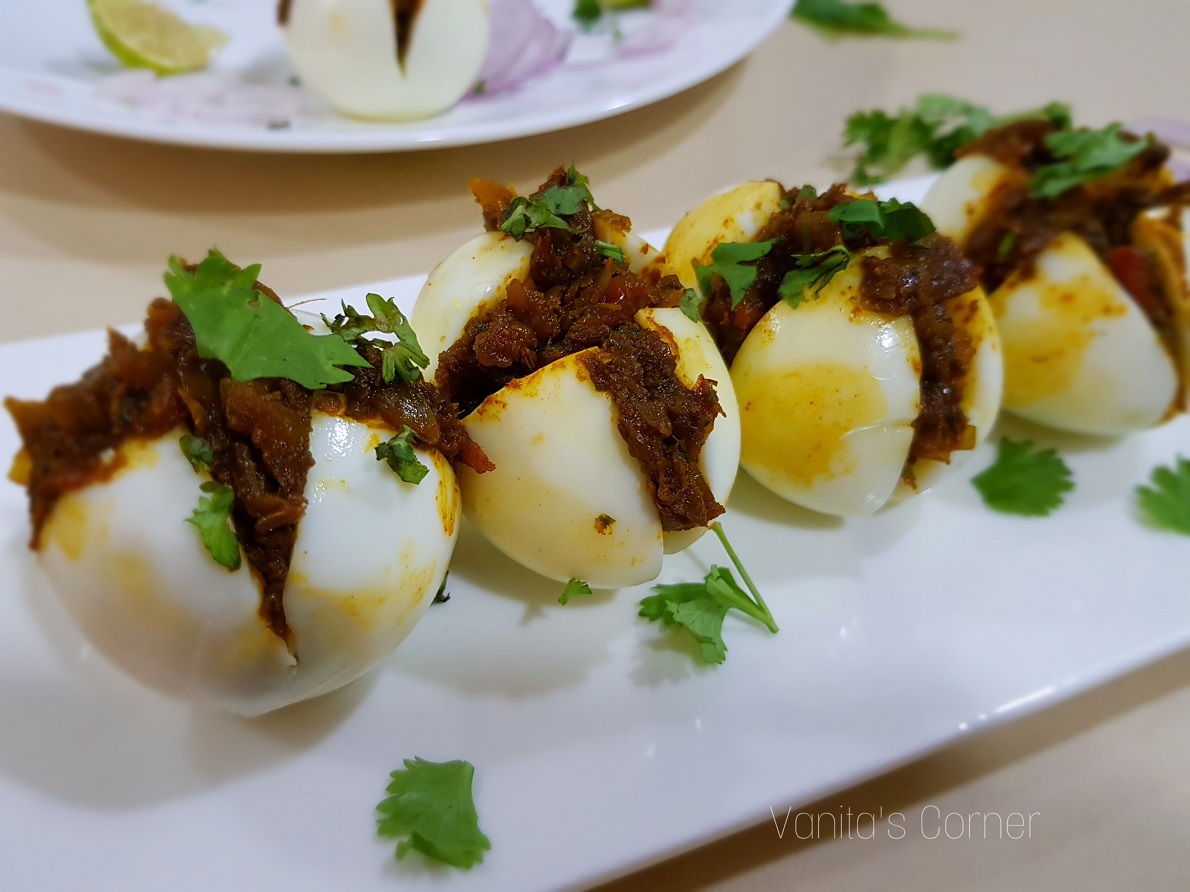 Method
Blend ¾ cup coriander leaves alongwith garlic and ginger to a smooth paste.

Keep this aside.

To boil the eggs, place eggs in a saucepan.

Pour water into the pan and ensure that there is about 1 inch water above the eggs. Bring it to a boil.

When the water comes to a rolling boil, turn off the heat and remove the pan from the gas stove.

Cover the pan with a lid for 15 minutes. 

After 15 minutes, remove the eggs from hot water and immerse them in ice cold water.

Remove the eggs from cold water and peel the eggs.

Keep  the eggs aside.

Heat 1 tbsp oil in a pan.

Add cumin seeds. When the seeds start crackling, add chopped onions.

Saute till the onions turn golden brown.

Add chopped tomatoes and saute till the tomatoes are well cooked.

Now, add the green masala paste and mix well.

Saute for 2 to 3 minutes.

Add turmeric powder, red chilly powder, cumin-coriander powder, garam masala and salt. Mix well.

If the masala is too dry, add 1 to 2 tbsp water.

Saute and cook for 3 to 4 minutes or till the masala becomes aromatic. 

Keep this masala aside. 

To stuff the masala in to the eggs, make a horizontal and vertical slit (like plus sign) on each boiled egg.

Stuff the masala paste into the eggs.

Place all the stuffed eggs on a serving plate.

Sprinkle chopped coriander over the eggs.

Serve stuffed masala eggs as a starter or side dish with your meals.
WATCH RECIPE VIDEO: 
If you love eggs, do have a look at the following egg recipes:
Egg Spinach Wrap, Egg Potato Curry, Dhaba style Egg Curry, Boiled Egg Sandwich