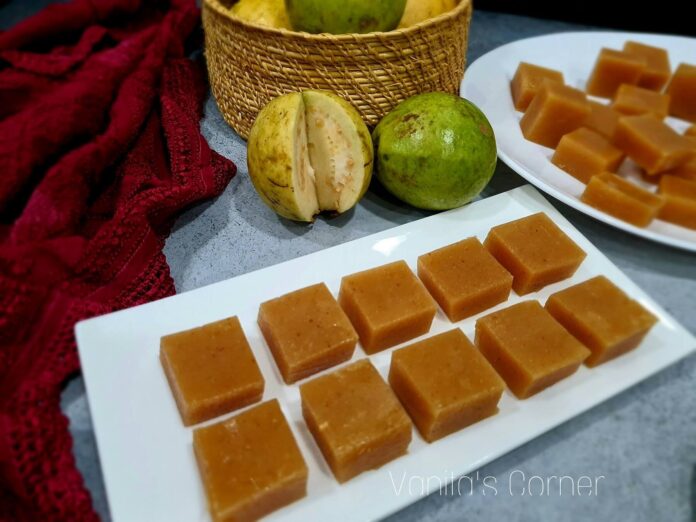 Guava Cheese, also known as Perad is a famous Goan sweet made during Christmas.
Guava Cheese is not cheese, but a chewy, fudge like sweet made with guavas and sugar. I have fond memories of having guava cheese as a child. We had a Catholic neighbour, Aunty Sylvia who used to make guava cheese during Christmas and we simply relished them. I also remember seeing guava cheese stalls at the Mount Mount Mary fair at Bandra, which we used to visit every year.
It's Christmas eve today and I had few guavas at home. So, tried my hand at making guava cheese, after taking a few tips from Aunty Sylvia, who is now based in Canada. Making guava cheese is not difficult, but is a tad laborious as it requires constant stirring to get the right consistency. Guava pulp and sugar needs to be cooked on a low flame, stirring constantly. Though it is a little tedious to make, the end result is absolutely worth the efforts.
The colour of guava cheese depends on the colour of the guava. If it is red, the colour turns out red. If the colour of guavas is white, the colour turns out light brown. I have not used any artificial colour here. You can add red food colour, if you want red guava cheese.
Guava cheese has a good shelf life and can be stored in an airtight container for long. I am told that guava cheese can last for a year, if refrigerated, though I never had a chance of keeping them for so long. They are so addictive that it gets over within no time. Here is the recipe for guava cheese:
Ingredients
1 kg ripe guavas (amrood)
500 grams sugar (cheeni)
3 tsp lemon juice (nimbu ka ras)
1 tbsp clarified butter (ghee)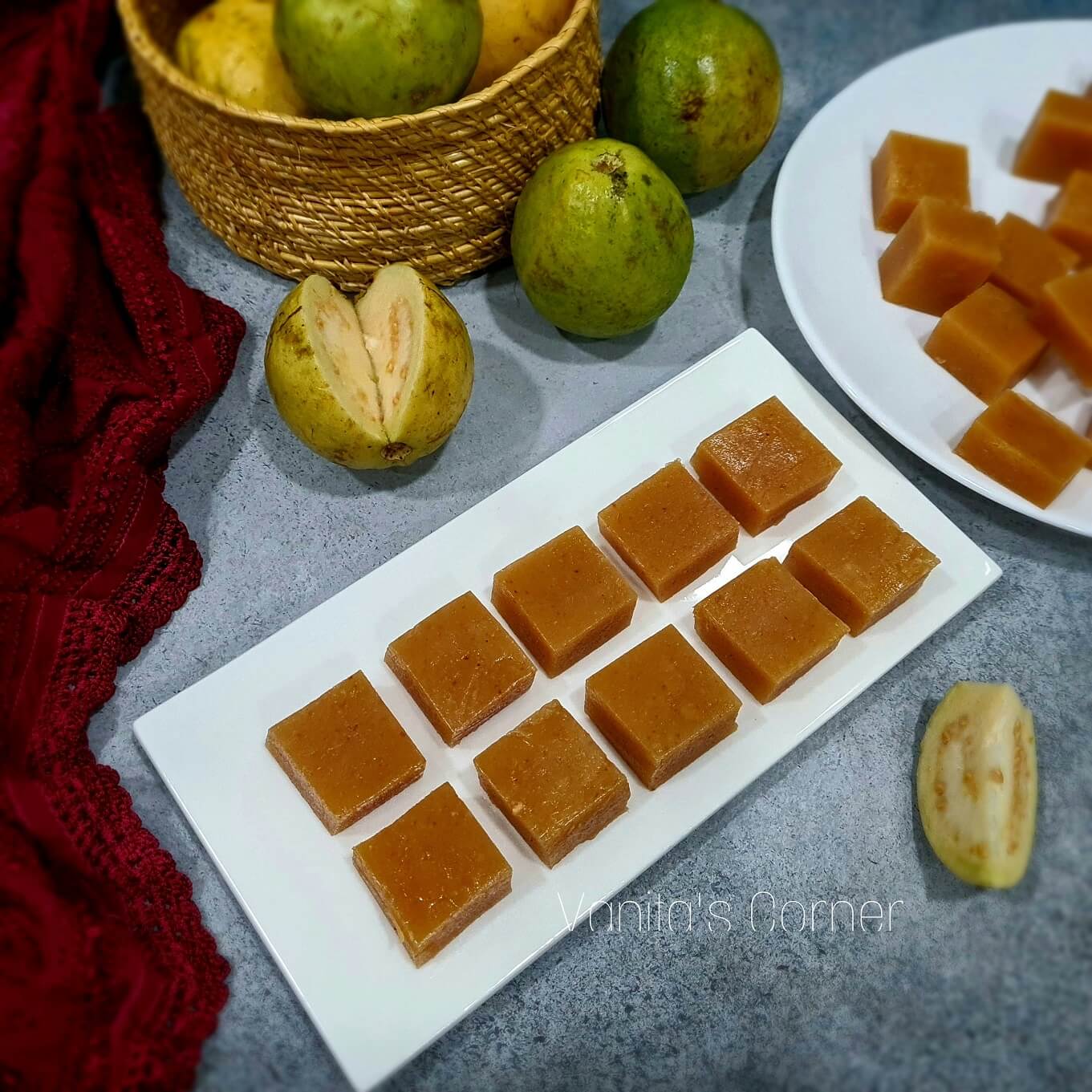 Other Christmas recipes : Kulkuls, Nevris
Method
Wash the guavas and cut each guava into 4 pieces.

Transfer the guavas to a pressure cooker.

Add a cup of water. Cook for 2 whistles.

Open the pressure cooker, after the pressure escapes completely.

Blend the softened guavas to a smooth paste.

Transfer the guava pulp to a big sieve.

Gently press the guava pulp in the sieve to separate the seeds of the guava from the pulp. Keep this pulp aside.

Weigh the pulp. I got 900 grams of guava pulp after straining.

You can add sugar as much as the pulp or less, according to your palatte.

I have used 500 grams of sugar.

Grease a tray and keep aside.

Now, heat a thick bottomed pan.

Add the guava pulp and sugar.

Keep stirring the mixture on a low flame.

Initially, it is easy to stir as the sugar will melt and there will be lot of moisture in the mixture.

As the mixture starts thickening, there will be a lot of spluttering and bubbling. Exercise caution while stirring the mixture.

If cooked on a low flame throughout, it becomes easier to stir.

When the mixture starts thickening, add lemon juice and keep stirring.

Continue stirring till the mixture starts leaving the sides of the pan.

At this point, add ghee.

The mixture will turn glossy.

To test if the mixture has reached the right consistency, put a small portion of the mixture in a small bowl of water.

If it forms a soft ball without disintegrating in the water, then it is perfectly done.

When the mixture leaves the pan and comes towards the centre of the pan, transfer it to the greased tray and spread evenly using a spatula.

Allow it to cool completely.

Cut into desired shapes.

Store guava cheese in an airtight container and serve as required.
WATCH RECIPE VIDEO:
Thank you for stopping by. If you like/ tried this recipe, leaving a comment below the post will enable more readers and cooking enthusiasts to discover these recipes. Also, if you are on Instagram, do share a picture of the dish and tag @vanitascorner to be featured in my stories.
Do follow me on Instagram, Facebook and Pinterest.
Subscribe to my youtube channel for easy video recipes.
Happy Cooking!!