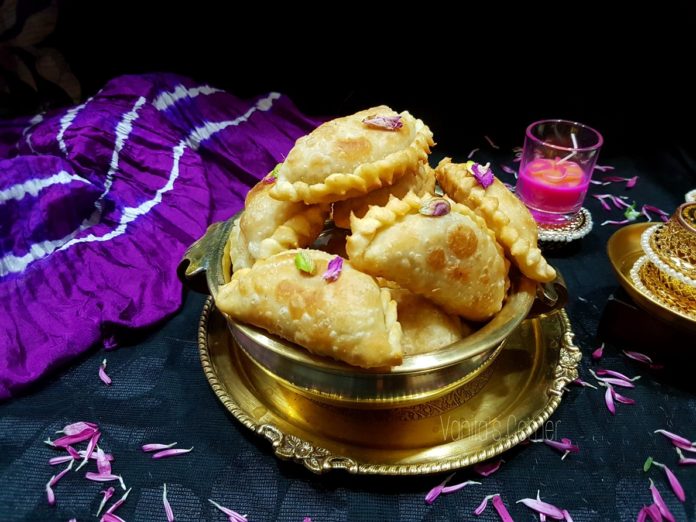 Karanji  or Nevris is a deep-fried flour shells stuffed with a mixture of roasted coconut, dry fruits, among other ingredients. Whether Diwali or Christmas, the festival is synonymous with tons of lip smacking sweets and snacks. One such sweet is Karanji / Nevris  which is an important part of Diwali faraal (snacks)/ Christmas Kuswar*.   Here's the recipe:
Ingredients
For the stuffing
1 cup Dry coconut (grated) (sookha nariyal)                        
2 tbsp White sesame seeds (til)
2 tbsp Poppy seeds (khuskhus)                                
3 tbsp Rava (semolina)                                 
4 tbsp Powdered sugar (pssi hui cheeni)
2 tbsp cashew nuts, broken into small pieces (kaju)         
3 tbsp Raisins (kishmish)                              
1 tsp Cardamom powder (elaichi powder)                            
For the outer covering
1 cup refined flour (Maida)         
3 tsp semolina (rava)
2 tbsp clarified butter (Ghee)                    
Salt  as per taste (namak)
Oil for frying the karanjis
Method:
For the stuffing:
Dry roast grated dry coconut, rava,  sesame seeds, poppy seeds one by one. 

In a mixing bowl, combine the roasted ingredients alongwith powdered sugar, cashews, raisins, cardamom powder and keep it aside.
For the outer covering
Heat the ghee and keep aside. In a mixing bowl, add maida and rava.

Pour hot ghee into it. Mix with a spoon.

Once it cools down, add salt and mix well using your fingers. 

Add water little at a time and knead to a smooth dough.

Cover the dough with a moist muslin cloth and keep aside for 30 minutes. 

Divide the dough into small round shaped balls.

Roll out one dough ball into a circle of around 4 to 5  inches diameter.

Place 2 to 3 tbsp of the stuffing in the centre of the circle and fold the circle in a semi circular shape.

Gently press the edges.

Pinch the pressed edges and make designs as desired.

Keep the karanjis on a plate greased with oil so that they do not stick to the plate.

Also, cover the plate with a moist muslin cloth to avoid the karanjis from drying. 

Make all karanjis in this manner and deep fry them.

Store in an airtight container and serve as required.
WATCH RECIPE VIDEO :
*Kuswar : Kuswar is a term often used to mention a set of Christmas goodies which are part of the cuisine of the Goan Catholic community of Goa and the Mangalorean Catholic community of Karnataka.