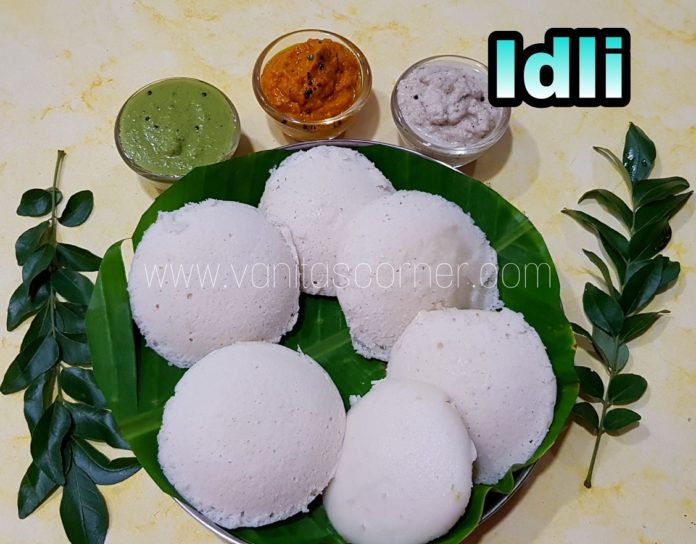 Idli is a traditional breakfast item  from South India.  I have grown up on this  staple breakfast being made at home every weekend.  Nothing can be more satiating than hot idlis served with chutney and sambar.   They are prepared by fermenting a batter of ground rice and udad dal (split black gram).    The proportion of rice and udad dal is a matter of controversy as different proportion  is  followed by different people. The proportion of rice and udad dal used in the recipe is 2:1 respectively. I have used parimal rice. However,  you can use masoori or even kolam rice.
Ingredients
2 cups Rice
1 cup Udad dal (split black gram)
1/2 cup cooked rice
Salt  as per taste
Method:
Soak rice and dal in water separately for 3 to 4 hours.
Drain and grind the rice and dal separately, using   little water, to a smooth paste. While grinding the rice, add cooked rice and blend.
Mix them in a deep vessel.
Cover and keep the batter to ferment for six to eight hours in a warm place.
After fermentation, the batter will become double in quantity and rise.
Grease the idli moulds. Pour the batter in the moulds and steam them in a steamer or idli cooker.
Steam for 10 to 15 minutes or until done.
4
Serve hot with chutney and sambar.
D   
WATCH RECIPE VIDEO
Also, I would like to draw your attention to other Idli recipes. Please check the recipes of
Instant Oats Idli, Rava Idli, Kanchipuram Idli, Green gram Idlis and Masala Idlis