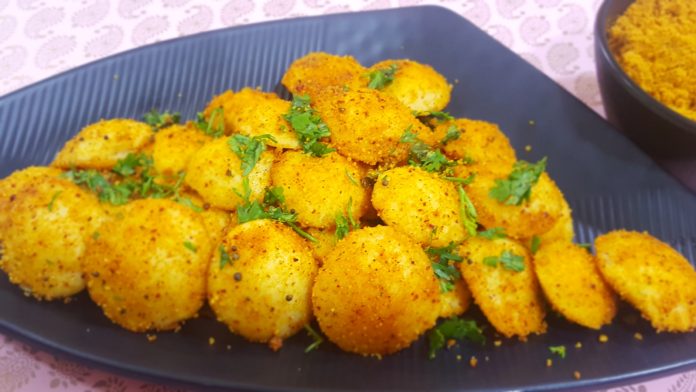 Mini masala idlis, is an interesting way to serve idlis.  Mini idli stand (having small depressions) is used to make these small idlis.  Idlis are added to a tempering of mstard seeds, curry leaves and milagai podi. It also makes a good lunch box item for kids. Here's the recipe:
Ingredients
1 cup Rice                                                           
1/2 cup Udad dal (split black gram)
2 tbsp Poha  (flattened rice)       
Salt as per taste
3 tbsp Milagai Podi
1 tbsp oil
1 tsp mustard seeds
A few curry leaves
Salt as per taste
1 tbsp fresh chopped coriander
Method
To make mini idlis
Soak rice and dal in water separately for 3 to 4 hours.

Soak the poha for 15 minutes.

Drain and grind udad dal, using very little water to a smooth paste.

Drain the rice and poha and blend them together to a fine paste using very little water.

In a deep vessel, mix the udad dal paste and rice paste.

Cover and keep the batter to ferment for six to eight hours in a warm place.  

After fermentation, the idli batter will become double in quantity and rise.

Grease the mini  idli moulds.

Pour the idli batter in the moulds and stem the idlis in a steamer or idli cooker. 

Steam for 10 to 15 minutes or until the idlis are done.

Demould the idlis.
To make masala idlis
Heat oil in a pan.

Add mustard seeds.

When the seeds start crackling, add the curry leaves and saute.

Now, add the milagai podi , salt and saute.

At this stage, add the mini idlis and mix well.

Each idli should get coated with the masala.

Garnish with chopped coriander.

Serve hot.
Further, I would like to draw your attention to other idlis recipes – Kanchipuram Idli , Moong Idlis, Oats Idlis, Ragi Idlis, Plain idli, Rava Idlis and Oats Carrot Idlis.