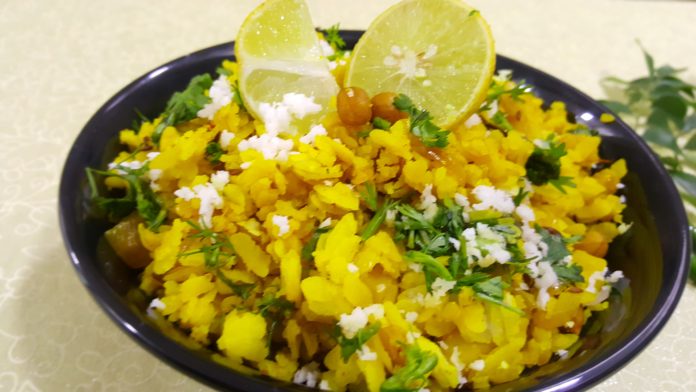 Kanda Batata Poha is a traditional Maharashtrian breakfast dish.
"Eat breakfast like a king, lunch like a prince and dinner like a pauper!" This quote emphasizes the importance of breakfast . Breakfast is the most important meal of the day. So, its necessary to feed our body with  something wholesome and healthy. Poha is one of the healthy breakfast options and is easy to make.  Here is the recipe for Kanda Batata Poha:
Ingredients
3 cups of Poha (flattened rice)
2 tbsp oil
1 tsp cumin seeds
A few curry leaves
2 green chillies
2 small onions (finely chopped)
1 potato (cubed)
1 small tomato (finely chopped)
2 to 3 tbsp peanuts
1 tsp turmeric powder
Salt as per taste
1 tbsp lemon juice
1 tbsp fresh grated coconut
1 tbsp chopped coriander
Method
Take the poha in a big bowl.

Add water and wash the poha.

Drain the water and keep the poha aside. 

Heat oil in a pan.

Add the cumin seeds.

When the cumin seeds start crackling, add the green chillies and curry leaves.

Saute and add the peanuts.

When the peanuts get cooked, add the chopped onions, cubed potatoes and chopped tomatoes.

Saute them.

Add turmeric powder, salt, little water and mix them well.

Cook covered for 8 to 10 minutes or till the potatoes are properly cooked. 

Now add the washed poha and mix well.

Add lemon juice and mix.

Garnish with grated coconut and chopped coriander.

Kanda Batata Poha is ready to be served.
WATCH RECIPE VIDEO

Some other healthy breakfast recipes are listed below:
Rava Upma, Broken Wheat Upma, Rava Idli, Ragi Idlis, Kanchipuram Idli, Neer Dosa etc.