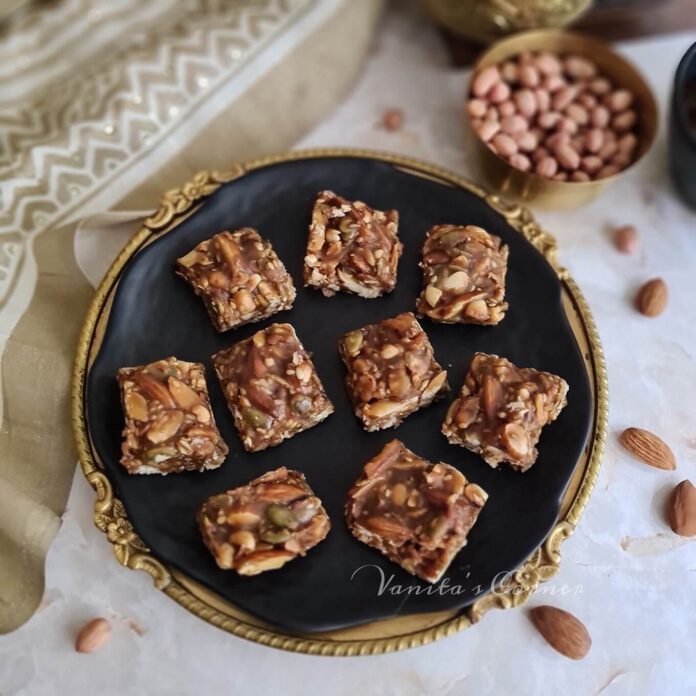 Masala Gud – Jaggery flavoured with spices and dry fruits.
Masala Gud is an iron-rich, winter-special sweet made in North India. Winters bring with them a lot of food cravings and given the rich culinary heritage of India, every region has its own winter delicacies. To name a few, we have Sarson ka Saag, Gajar Halwa, Undhiyu, Bajra Khichdi, Til laddoos, and so on. One such winter delicacy is Masala Gur, which hails from North India. It is made with jaggery, dry fruits and spices. It helps to keep the body warm in winter and is a healthier alternative to satisfy our sweet cravings. This is a variant of chikki but the texture is soft as compared to chikki.
Here is the recipe for Masala Gud:
Ingredients
300 grams Jaggery (gud)
1 cup almonds (badam)
½ cup peanuts (mungphali)
¼ cup pumpkin seeds (kaddu ke beej)
1 tbsp clarified butter (ghee)
1 tsp cumin seeds (jeera)
1 tsp carom seeds (ajwain)
1 tsp fennel seeds (sauf)
1 tbsp sesame seeds (til)
¼ tsp black pepper powder (kalimirch)
1 tbsp dried ginger powder (soonth)
¼ tsp black salt (kala namak)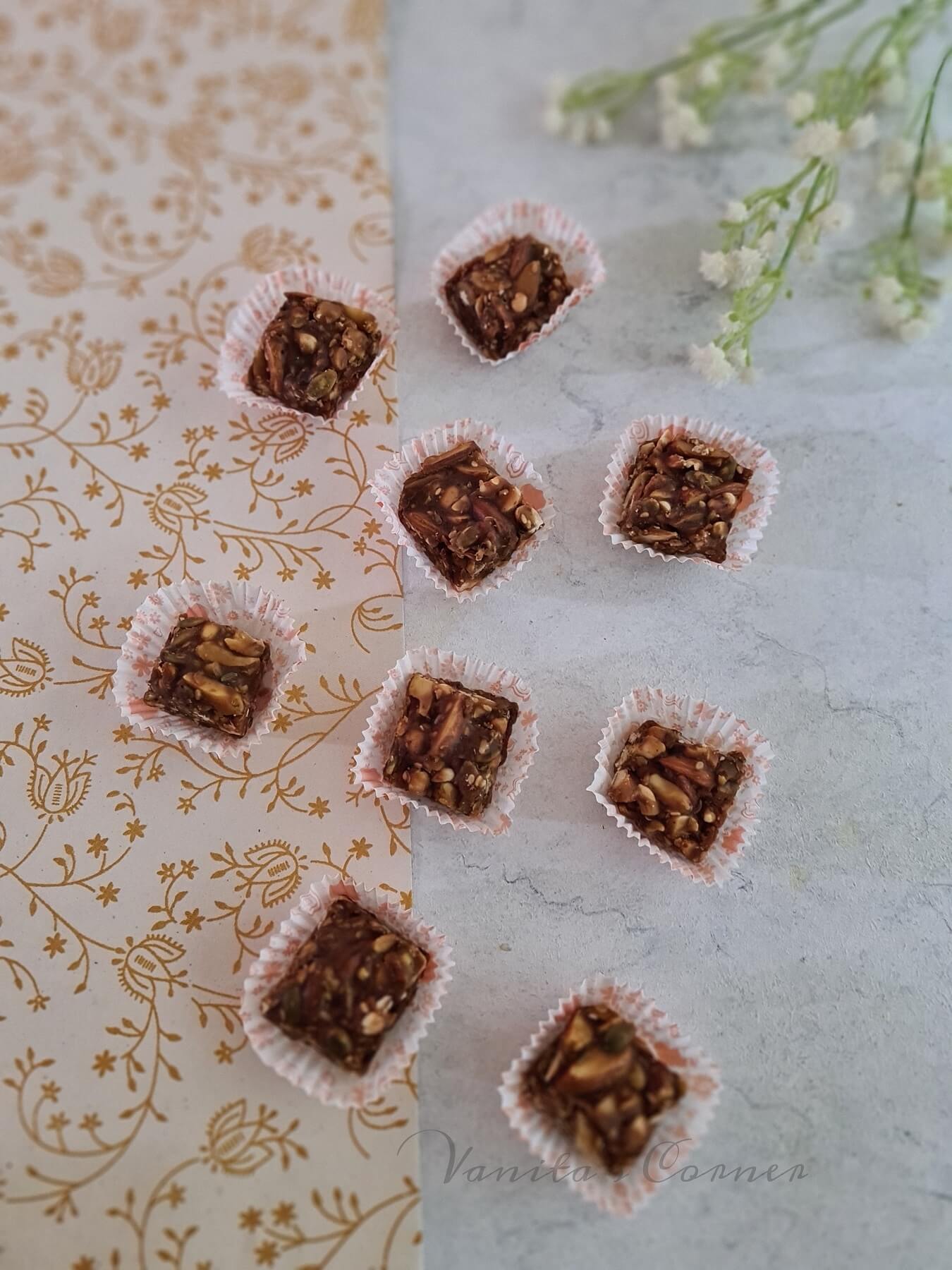 Method
Heat a pan.
Add almonds.
Dry roast the almonds till they turn crisp. Cool and chop them.
Dry roast the peanuts till they turn aromatic and crisp. Cool the peanuts. Peel and crush them coarsely.
Dry roast the pumpkin seeds and keep aside.
Chop jaggery into small pieces.
Grease a plate or a tray with ghee and keep aside.
Heat ghee in pan.
Add cumin seeds, carom seeds, fennel seeds and sesame seeds.
Saute for few seconds.
Add chopped jaggery and keep stirring on low flame.
When the jaggery melts, add chopped almonds, crushed peanuts, roasted pumpkin seeds, black pepper powder, dry ginger powder and black salt. Mix well.
Turn off the heat.
Transfer this mixture to a greased plate/tray.
Spread it well using a spatula.
Cut into pieces when it is still warm.
After it cools completely, store in an airtight container.
Enjoy after meals or whenever a sweet craving hits.
WATCH RECIPE VIDEO:
Thank you for stopping by. If you like/ tried this recipe, leaving a comment below the post will enable more readers and cooking enthusiasts to discover these recipes. Also, if you are on Instagram, do share a picture of the dish and tag @vanitascorner to be featured in my stories.
Do follow me on Instagram, Facebook and Pinterest.
Subscribe to my youtube channel for easy video recipes.
Happy Cooking!!