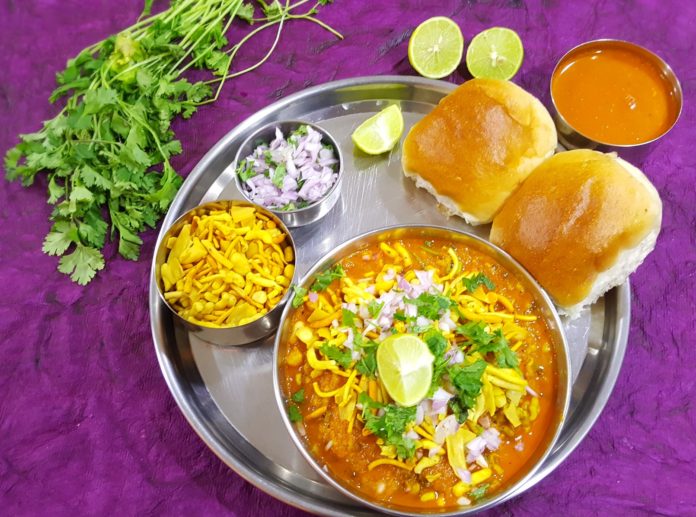 Misal Pav, originating from Maharashtra, is a spicy curry prepared with moth beans (matki) and is served with Pav. The curry is topped with crunchy farsan, chopped onions, coriander and lime. Different parts of Maharashtra has its own version of making this dish. Kolhapuri Misal is said to be the spiciest.  Most eateries serve a small katori/bowl of the spicy curry alongwith the misal pav. This spicy curry is called as kat or tarri or rassa. I once had this dish in a small eatery in Pune, where this curry was called as "shample".  It seems it is called as "shample" or 'sample' because it is a small quantity given away for free. They generally do not charge you for the extra curry when you order misal pav and so it is known as "sample'.
The wonderful contrast of texture and colours with its unique flavours make Misal Pav an amazing dish which can be served as a breakfast dish or as a snack.  It had bagged an award for "The World's Tastiest Vegetarian Dish" at the Global Foodie Hub Awards held in London in the year 2015.  To be specific, the misal pav prepared by "Aswad" an eatery in Dadar, Mumbai had bagged this award. Let's have a look at the recipe:
Ingredients
For Matki Usal
3 cups Sprouted moth beans (matki)
2 potatoes
1 large onion, finely chopped
1/2 tsp mustard seeds
1 tsp cumin seeds
A pinch of hing (asafoetida)
1 tsp turmeric powder
1 tsp red chilly powder
1 tsp garam masala
2 green chillies, finely chopped
1 tbsp ginger garlic paste
A few curry leaves
1 tbsp oil
2 tbsp fresh coriander, chopped
1 tbsp lime juice
Salt as per taste
For Kat/ Rasa (gravy)
½ cup dry coconut (scraped)
2 tomatoes, chopped
1 large onion, chopped
4 to 5 cloves garlic, chopped
1 inch piece of ginger, chopped
1 tsp turmeric powder
2 tsp red chilly powder
1 tsp cumin coriander powder
1 tsp garam masala
½ tsp mustard seeds
A pinch of asafoetida (hing)
A lemon sized ball of tamarind
2 tbsp oil
Salt as per taste
Other ingredients while serving
Pav
Chopped onions
Chopped coriander leaves
Farsan
Lemon wedges
Method
To prepare the matki usal
Pressure cook the sprouted matki with salt, with 2 cups of water for 2 whistles.

Boil the potatoes, peel and cut into small pieces.

Heat oil in a pan.

Add mustard seeds, cumin seeds, hing, curry leaves, chopped green chillies and saute.

Add the chopped onions and saute for 5 minutes.

When the onions start changing colour, add the boiled matki and potatoes and give it a mix. 

Add turmeric powder, red chilly powder, garam masala and salt.

Add a little water and cook covered for 5 minutes.

After you turn off the gas, add lime juice and chopped coriander leaves and mix.

Keep this aside.
To prepare the Kat/ Rassa/ Tarri
Dry roast the scraped coconut and keep it aside.  

Soak the tamarind in half a cup of water for 30 minutes.

Squeeze and mix the tamarind well, in the water.

Strain and discard the tamarind.

Keep the tamarind juice aside.

Heat 1 tbsp oil in a pan.

Add chopped onion and saute.

Add the chopped garlic, ginger and saute till the onion turns translucent.

Add the chopped tomatoes and cook till the tomatoes turn mushy.

Once this mixture cools,grind it to a fine paste alongwith the roasted coconut.

Now, heat a pan with a tbsp of oil.

Add mustard seeds and asafoetida.

Add the masala paste and saute for 2 to 3 minutes.

Add turmeric powder, cumin coriander powder, red chilly powder, garam masala, salt and mix well. 

Add tamarind juice, 2 to 3 cups of water and cook for around 8 to 10 minutes.

The consistency should be thin.

Once it is done, garnish with chopped coriander leaves.
How to proceed
In a plate firstly add the matki usal. Over the usal, pour the kat/rassa/gravy and top it with farsan, chopped onions, chopped coriander leaves and a dash of lime. Serve it with pav.
WATCH RECIPE VIDEO :