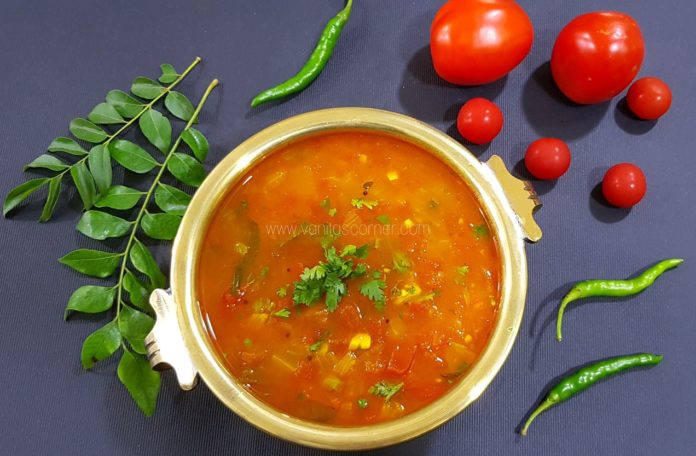 Tomato Saar is a traditional Mangalorean speciality. It is a simple "no frills" dish which goes well with rice, lemon pickle / mango pickle and papad. Non vegetarians can go for rice, tomato saar and chicken sukka combination. You can even have tomato saar as an appetiser before meals.
Each Mangalorean household has its own recipe of tomato saar. Here's the recipe that I have learnt from my mother:
Ingredients
4 Tomatoes (chopped)                                      
1 Onion (chopped)                                              
2 Green chillies                                
10 to 12 Curry leaves                                     
½ inch Ginger                                                   
4 to 5 cloves.Garlic                                                         
1 tsp Mustard seeds                                      
1 tsp Turmeric powder                 
Salt as per taste
2 tsp Oil                                               
1 tbsp Chopped coriander leaves             
Method
Heat a pan. Add 2 tsp oil.

Add mustard seeds, curry leaves, green chillies and saute.

Add chopped garlic and ginger and saute. 

Add chopped onion, chopped tomatoes and saute. 

Add turmeric powder, salt and 2 cups of water.

Cover the lid and cook it for 15 minutes. 

Open the lid and garnish with chopped coriander leaves.

Serve hot with rice, pickle and papad.
Another method to make Tomato Saar is here.
WATCH RECIPE VIDEO

Do check the recipes for Instant Lemon pickle , Instant mango pickle and Mangalorean Mango pickle.