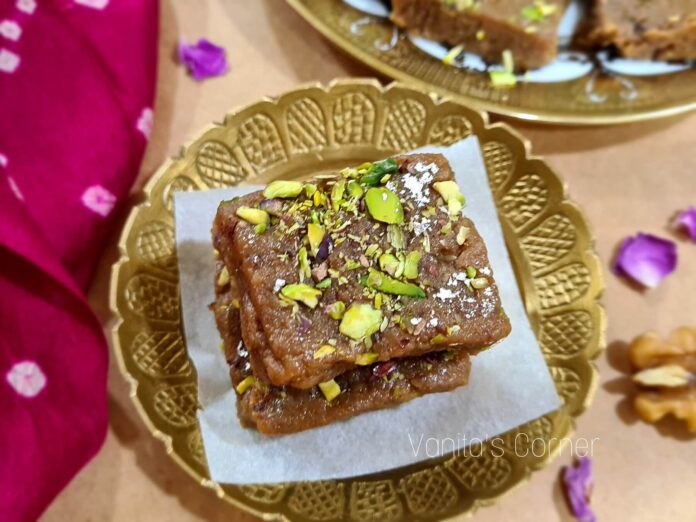 Walnut Halwa  – a rich, decadent dessert made from walnuts.
Walnut Halwa is a delicious dessert made from walnuts. This is specially made during winters as walnuts are known to keep the body warm. This also makes for a perfect dessert for festivals. Walnuts are coarsely ground and then roasted for sometime before cooking them in milk and mawa. Generally, sugar is used to make walnut halwa. But I have used jaggery in this recipe, thus making it healthier. Here goes the recipe for walnut halwa.
Ingredients
3 cups of walnut (akhrot)
1 tbsp clarified butter (ghee)
2 cups of milk (doodh)
1 cup of khoya (mawa)
2 cups of jaggery (gud), grated or broken into small pieces.
1 tsp cardamom powder (elaichi powder)
2 to 3 tsp of chopped pistachios (pista) for garnishing
Edible Silver leaf for garnishing (chandi ka vark)  (optional)
Some other interesting dessert recipes: Dry fruits barfi, Khajur Pak, Guava Cheese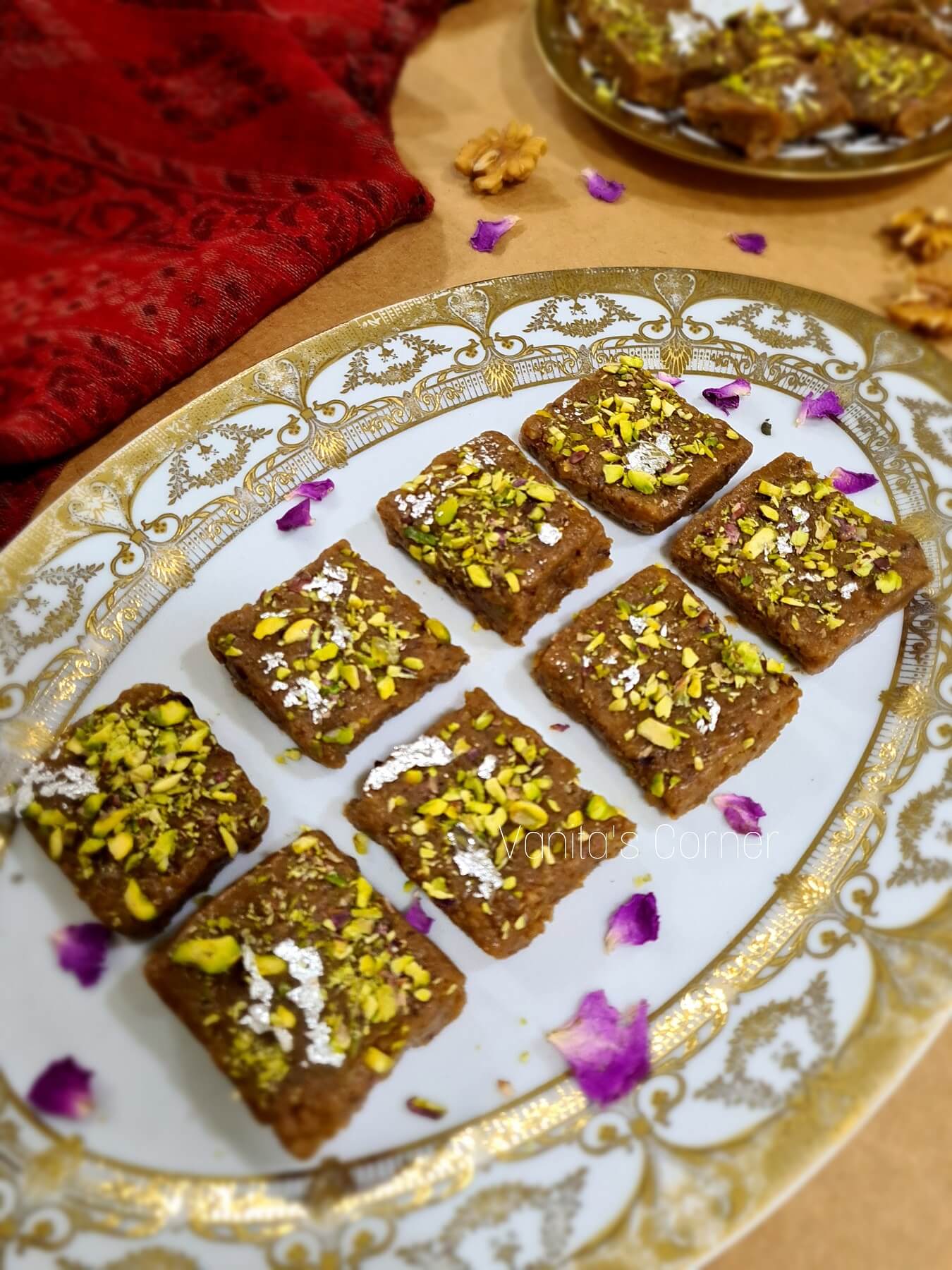 Method
Firstly, blend the walnuts to a coarse powder.

Heat ghee in a pan.

Add powdered walnuts.

Saute for 4 to 5 minutes.

Now, add milk.

Cook the mixture on a low flame, stirring continuously.

Add mawa to the mixture.

Keep stirring continuously.

When the mixture starts thickening, add jaggery.

Keep stirring till the mixture gets thick. 

When the mixture starts leaving the sides of the pan, add cardamom powder.

Turn off the heat.

Grease a tray with ghee.

Transfer the mixture to the greased tray and spread evenly using a spatula.

Garnish with chopped pistachios.

You can also garnish with edible silver leaf. 

Allow it to cool completely.

You can refrigerate the halwa before cutting into pieces.

After it cools completely. cut into desired shapes.

Walnut Halwa is ready to be served.
WATCH RECIPE VIDEO: