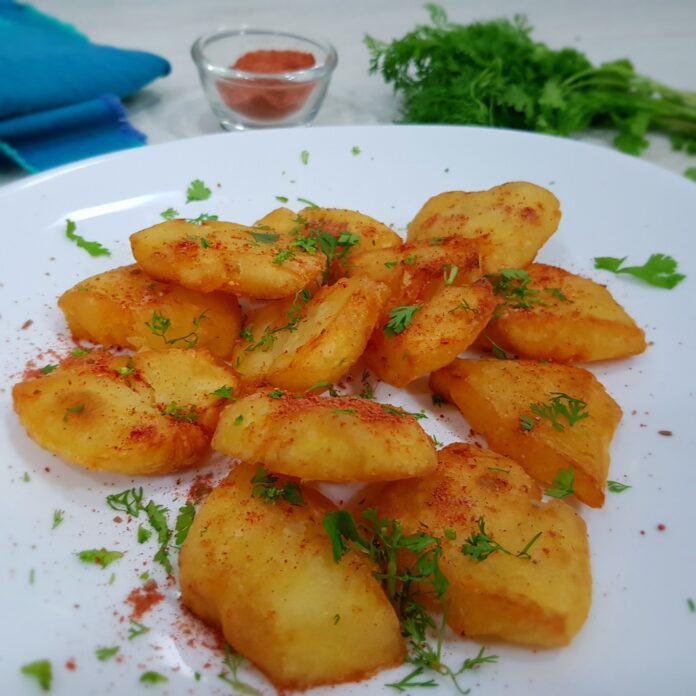 Aloo Tuk is a traditional Sindhi dish, where potatoes are double fried  and  sprinkled with spices.  This is  one of my personal favourites from the Sindhi cuisine and is very simple to make. All you have to do is peel the potatoes, quarter them, fry them partially, squash them and again deep fry the potatoes till they attain a golden hue. Once fried, sprinkle chilly powder, cumin-coriander powder and amchoor  on them and serve with rice and Sindhi dal. Doesn't that sound like an absolute comfort food? Yes…comfort food it is. Here's the recipe for Aloo Tuk.
Ingredients
4 potatoes (aloo)
Oil for frying the potatoes (tel)
½ tsp Red chilly powder (laal mirch)
1 tsp Dry mango powder (amchoor)
½ tsp Cumin coriander powder (dhaniya jeera powder)
Salt (namak)
Chopped coriander leaves (hara dhaniya) (optional)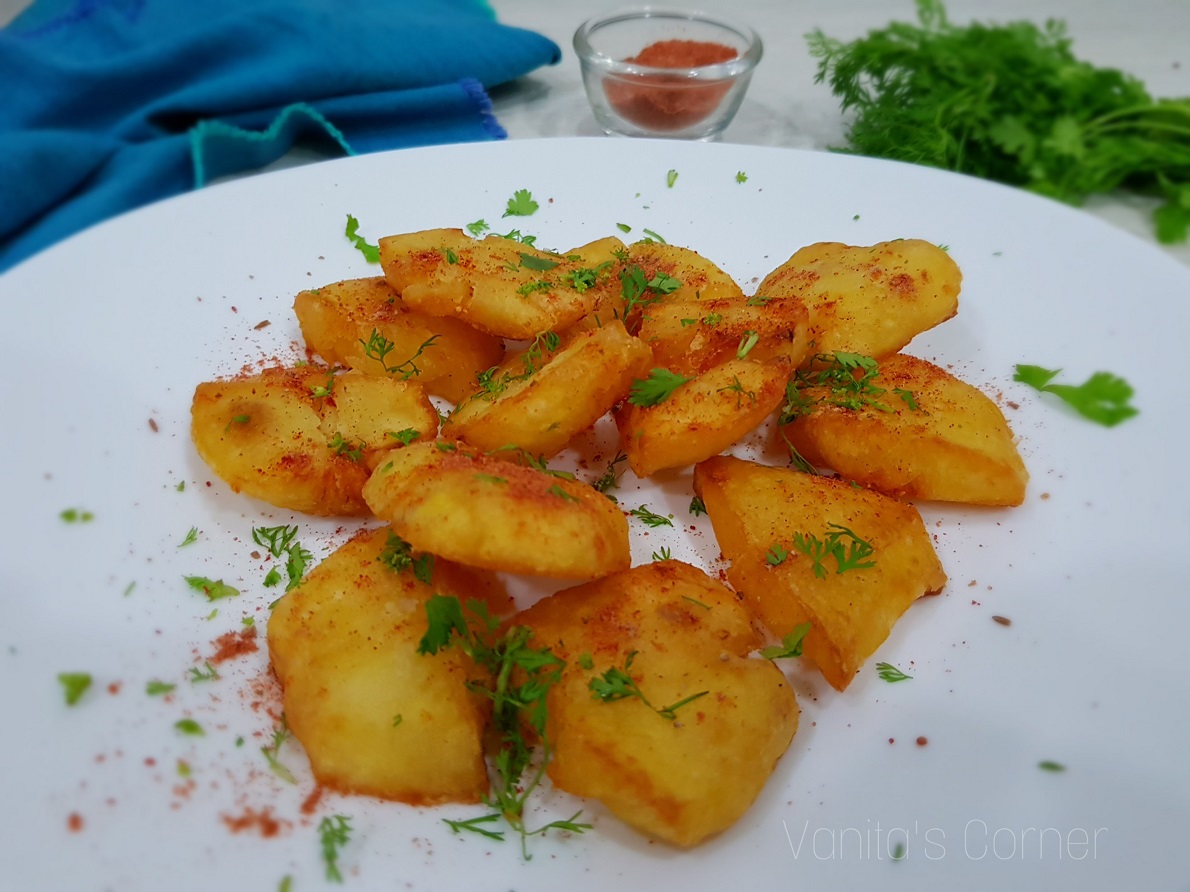 Method
Wash and peel the potatoes.

Cut the potatoes into four pieces.

Sprinkle salt on the potatoes and mix.

Keep aside for 5 minutes.

Heat oil in a pan.

Slide the potato pieces into hot oil.

Fry on high heat for few seconds.

Next, lower the heat and allow the potatoes to cook.

When the potatoes are partially cooked, remove the potatoes using a slotted spoon.

Allow the potatoes to cool for few seconds.

Next, place the potato pieces on a flat surface and gently flatten them with palm of your hands or with the help of a masher.

Now, drop the flattened potato pieces into hot oil and fry on high heat till they turn crispy and golden in colour.

Remove the fried potatoes from oil on to a plate lined with tissue paper.

Arrange the fried potatoes on a serving plate when they are still hot.  

In a small bowl, add red chilly powder, amchoor, cumin coriander powder,a pinch of salt and mix well.

Sprinkle this mixture over the fried potatoes. 

Garnish with chopped coriander. (optional)

Aloo Tuk is ready to be served.
Note:
The quantity of spice powders can be adjusted as per individual taste.

I had already added salt to the potato pieces, before frying.

Hence, I have sprinkled only a pinch of salt on the fried potatoes.
WATCH RECIPE VIDEO: