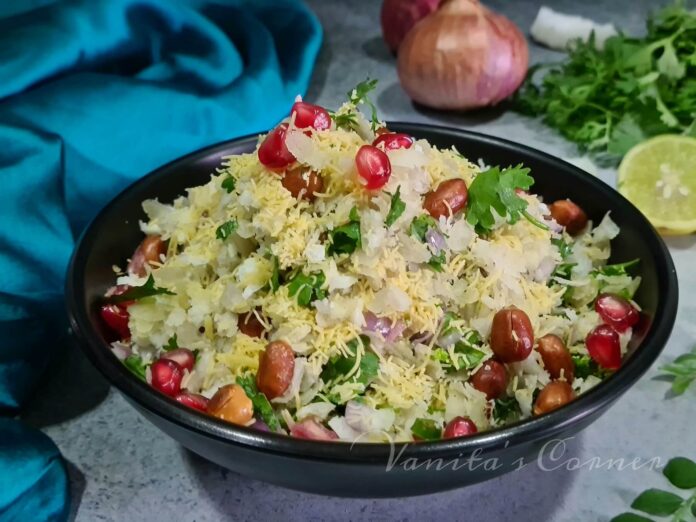 Dadpe Pohe – a traditional Maharashtrian snack that is made with raw poha (flattened rice), onions, coconut and tempered with spices.
Poha holds a special place in Maharashtrian food culture. There are variety of Maharashtrian recipes using poha such as Kande pohe, Poha chivda, dahi pohe etc. and all of these turn out absolutely delicious. Another simple Maharashtrian recipe using poha is dadpe pohe which is made by mixing raw poha with onions, grated coconut, chillies, peanuts and is allowed to rest for few minutes by placing a plate and weight on the poha. This method is called dadapne which is where the dish gets its name from. ( Dadapne in Marathi means to keep something pressed under some weight). Dadpe pohe can be served for breakfast or as a evening snack with tea. 
I have used thin variety of poha here, however  thick poha can also be used for this recipe. If using the thick variety, you can sprinkle some water or coconut water over the poha to soften them. Here goes for the recipe for Dadpe Pohe
Ingredients
2 ½ cups of thin poha
1 cup of freshly grated coconut
2 small onion, finely chopped
2 green chillies, finely chopped
½ cup chopped coriander leaves
1 tbsp lemon juice
salt as per taste
1 tsp powdered sugar
2 tbsp raw peanuts
1 tbsp oil
1 tsp cumin seeds
few curry leaves
2 tbsp thin sev  for garnishing
2 tbsp pomegranate seeds for garnishing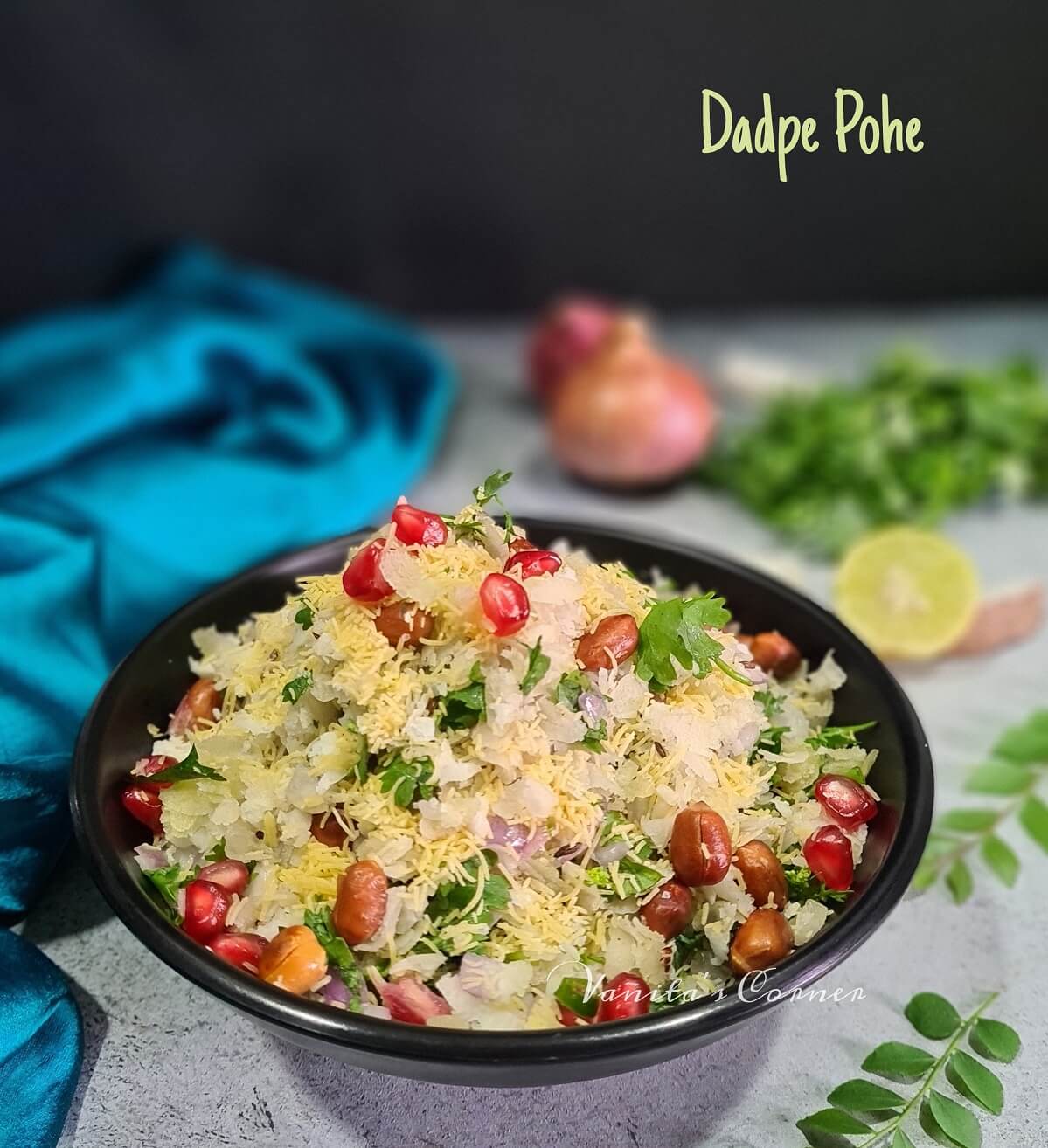 Method
Firstly pass the poha through a sieve to remove impurities, if any. Keep aside.

In a mixing bowl, add chopped onions, grated coconut, chopped chillies, salt and powdered sugar. Mix well using your fingers.

Now, add poha and mix gently.

Cover with a plate and keep some weight over the plate. Rest for few minutes. This is done so that the poha becomes soft and absorbs the flavour of onions, coconut and chillies.

In the meanwhile heat oil in a pan.

Add cumin seeds, curry leaves and peanuts.

Saute on low flame till the peanuts are raosted well.

Pour this tempering over the dadpe pohe and mix well.

Add lemon juice, chopped coriander leaves and give a final mix.

While serving, garnish with sev and pomegranate seeds.
WATCH RECIPE VIDEO: