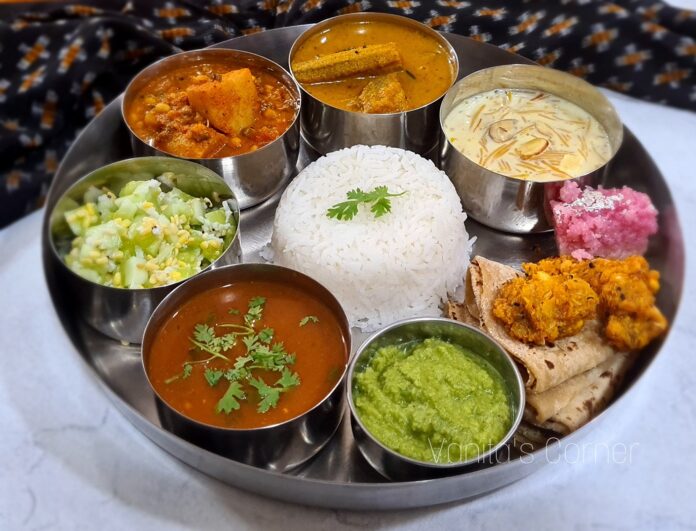 Festive Vegetarian Thali – consisting of tomato rasam, cucumber and moong dal salad, sprouted green gram and potato curry, mixed vegetable sambar, raw mango chutney, chana dal pakoda, chapatis, rice, sevai (vermicelli)  kheer and  rose coconut burfi.
The recipe for each item on the thali is given below. Click on the name of the dish to read the recipe:
Sprouted green gram and potato curry
Chana Dal Pakodas
Ingredients
1 cup split bengal gram (chana dal)
1 Onion, chopped (pyaaz)
2 to 3 tbsp chopped Coriander leaves (hara dhaniya)
1 tsp carom seeds (ajwain)
1 tsp onion seeds (kalonji)
1 tsp turmeric powder (haldi)
1 tsp red chilli powder (laal mirch)
salt as per taste (namak)
Oil for deep frying
Method
Clean, wash and soak chana dal in water for 3 to 4 hours or overnight. Blend the chana dal to a coarse paste using little water. Transfer the mixture to a mixing bowl. Add chopped onions, carom seeds, onion seeds, turmeric powder, red chilly powder, chopped coriander leaves and salt. Mix it well. Heat the oil in a frying pan. Drop spoonful of the mixture using your fingers and deep-fry a few pakodas at a time on a medium flame till they turn golden brown in colour from all the sides. Serve hot. 
Sevai Kheer
Ingredients
1 cup sevai (vermicelli)
1 litre milk
5 to 6 tbsp sugar (or as per taste)
1 tsp  ghee
1 tsp cardamom powder
2 tbsp chopped pistachios and almonds
a few strands of saffron (kesar) – optional
Method
Soak saffron in a tbsp of warm milk and keep aside for 30 mins. Heat a pan and add ghee.  Add the sevai and roast till it turns golden brown. Add milk, sugar and mix. Keep stirring the milk. Cook on a slow flame for 10 to 12 minutes. Add saffron milk, chopped nuts, cardamom powder and mix. Turn off the heat. Serve hot or refrigerate and serve cold.
Rose coconut burfi
2 cups grated fresh coconut (nariyal)
1 ½ cup sugar (cheeni)
1 ½  tsp clarified butter (ghee)
1 tsp cardamom powder (elaichi powder)
2  tbsp rose syrup
Method:
Grease a plate/thali with ½ tsp ghee and keep it aside. Heat ghee in a pan. Add the grated coconut and sugar. Saute on medium flame. The sugar should melt fully. The coconut and the sugar should blend with each other well. Add cardamom powder and mix well. Once it starts leaving sides of the pan, transfer half of the the mixture to the greased thali. Spread and level it with a spatula. To the remaining half mixture, add the rose syrup and mix well. Transfer this to the thali and spread over the white mixture. Cut them into pieces while it is still warm. Once it cools, you can serve it or store in an airtight jar.
Happy Cooking !!