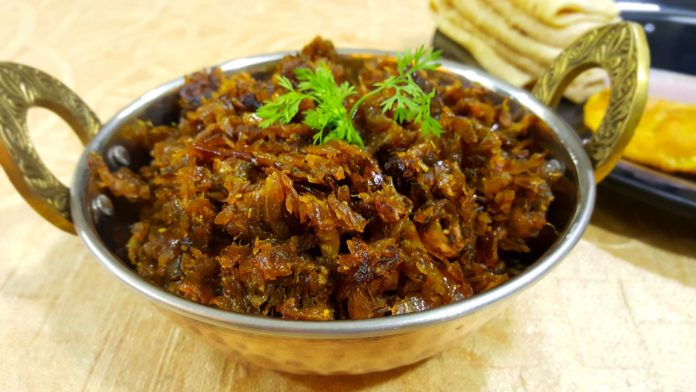 I understand that Karela is not liked by many, due to its bitter taste. But this karela sabzi is prepared with lots of onions, which makes it tasty. Since Karela has many health benefits, it is advisable to include them in our diet.  Here goes the recipe:
Ingredients
5 bitter gourd (karelas)
3 to 4 big onions (chopped)
5 tbsp oil
5 cloves garlic (chopped)
1 tsp cumin seeds
¾  tsp turmeric powder
1 tbsp red chilly powder
1 tbsp dry mango powder (amchur)
1 tsp cumin-coriander powder
3 tbsp grated jaggery
1 tsp garam masala
Salt as per taste
Method
Cut the bitter gourd into halves.

Scoop the seeds out of the halves.

Slice them thinly and put them in a bowl.

Add a little salt , mix and keep aside for half an hour.

Add water in to the bowl and allow the water to drain fully.

Squeeze out excess water and discard the water.

 Heat 3 tbsp oil in a pan.

Add the sliced karelas and saute it till the karelas change colour.

Cook covered for 8 to 10 minutes. 

Keep the cooked karelas aside.

Heat 2 tbsp oil in a pan and add the chopped garlic and saute.

Add cumin seeds and saute.

Add the chopped onions.

Let the onions cook till they turn soft and golden brown in colour. 

To this, add the cooked karelas.

Add dry mango powder, turmeric powder, red chilly powder, cumin-coriander powder, garam masala, grated jaggery, salt and mix well. 

Cook covered for 5 to 7 minutes.

Serve hot with chapatis
Note: I have used 3 tbsp oil to cook the karelas. You can use more than 3tbsp oil to cook the karelas. That way, the karelas become crispy and more tasty. Even the quantity of jaggery can be increased depending on your taste.
WATCH RECIPE VIDEO
I would also like to draw your attention to other sabzi recipes : Carrot Green Peas Sabzi, Methi Moong Dal Sabzi, Baingan Bharta, Moong aur Hare Lasun ki sabzi, Stuffed Brinjal, Palak Paneer.