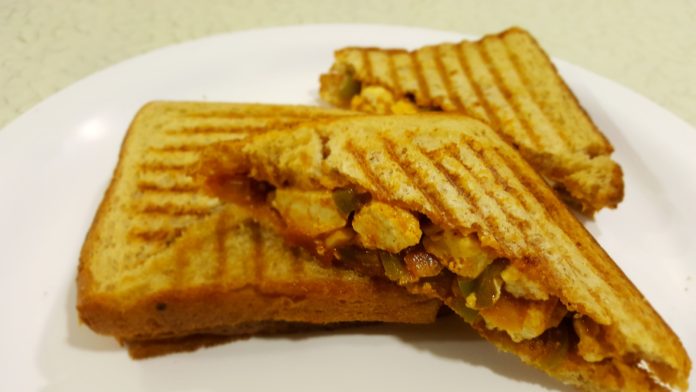 Paneer grilled sandwich is a tasty sandwich made by placing paneer stuffing between the slices of bread and then grilling them. This makes for a good lunch box recipe and is definitely a kid friendly sandwich. Here's the recipe:
Ingredients
½ cup Paneer cubes                     
¼ cup Capsicum sliced                   
1 small Onion sliced                       
1 tsp Ginger garlic paste          
1 tsp Soya sauce                          
1 tsp Red chilli sauce                 
¼ tsp White vinegar                    
½ tsp Black pepper powder     
4 Brown Bread slices          
1 tsp Oil                                           
Butter  for brushing over the bread
Method
To prepare the paneer filling, heat oil in a pan. 

Add sliced onions, ginger garlic paste and saute for 2 minutes.

Add sliced capsicum and mix it well.

Add red chilly sauce, soya sauce, vinegar and salt if required. (Soya sauce and chilli sauce contains salt).

Add the paneer cubes and saute for 2 to 3 minutes.  Paneer stuffing for the sandwich is ready.

Take two bread slices.

Place the paneer stuffing on one slice. 

Cover it with another bread slice.

Spread some butter over the sandwiches before grilling.

 Place the sandwich in a sandwich maker and grill till crisp and golden.

Remove and serve the hot paneer grilled sandwich.
Do have a look at the following sandwich recipes:
Tri-coloured Sandwich, Boiled Egg Sandwich & Vegetable Omelette Sandwich