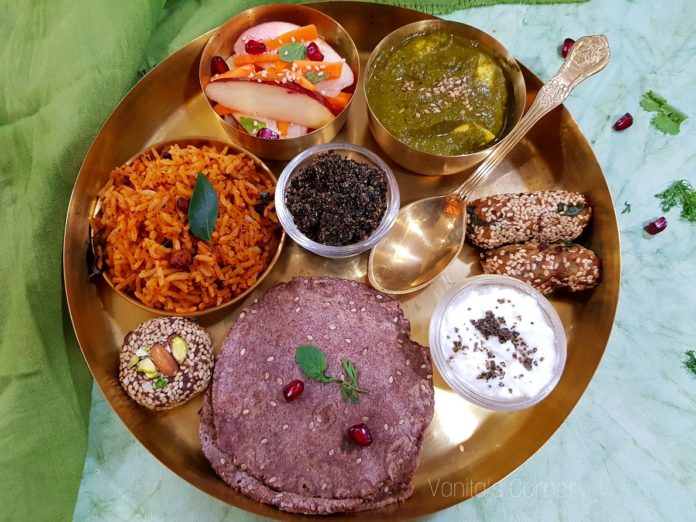 Sankranti Thali – a thali in which all the dishes have one common ingredient, sesame seeds (til).
Makar Sankranti is celebrated all across India today. Since sesame seed is an important part of Sankranti celebration, I tried to incorporate sesame seeds in every dish on my thali today.  This thali comprises of sesame rice, ragi (finger millet) roti, aloo palak cutlets, palak paneer, apple carrot salad, tilkut, date sesame laddoo and curds.
Recipe for each dish is given below: For certain recipes which are already in this blog, I have given the recipe link:
Ragi roti/ Nachni roti / Finger millet roti
Ingredients – 1 cup ragi flour,  2 tbsp sesame seeds, salt as per taste.
Method : In a mixing bowl, add ragi flour, salt and warm water. Knead the flour to a smooth dough.Make medium sized balls from the dough. Take a dough ball and flatten it using your fingers. Sprinkle some sesame seeds on it. Roll into a circle with the rolling pin.   Heat a tava and cook the roti till brown spots appear on both the sides of the roti.  Serve hot.
Curds
 Curds sprinkled with Tilkut. 
Boiled potatoes and spinach are combined together with spices and coated with sesame seeds and bread crumbs before frying
Here, after making the palak paneer, I prepared a tempering of oil and sesame seeds and poured over the gravy.
Apple carrot salad
Ingredients – few slices of apple, carrot cut into strips, pomegranate seeds, roasted sesame seeds, mint leaves, lime juice and salt.
Method : In a mixing bowl add all the ingredients and give it a mix.
Sesame Rice
Ingredients – 1 cup of cooked rice, 5 tsp sesame seeds, 1 tsp coriander seeds, 1 tsp cumin seeds,  1 tsp split black gram, 2 dry red chillies, ½ tsp mustard seeds, 1 tbsp roasted peanuts,  ½ tsp turmeric powder, 1 tsp oil, few curry leaves, 1 tbsp lemon juice, salt as per taste.
Method:
Dry roast sesame seeds, coriander seeds, cumin seeds, udad dal, dry red chillies one by one. After it cools down blend it to a coarse powder. Keep this aside. Heat 1 tsp oil in a pan. Add mustard seeds and curry leaves.  Add the ground powder, turmeric powder, roasted peanuts and saute, Now add the cooked rice, salt and mix well. Turn off the heat. Add lemon juice and mix. Serve hot.
Date Sesame laddoo
Ingredients – 1 cup chopped seedless dates (soft variety), ¼ cup sesame seeds, pistachio and almond slivers for garnishing.
Method:
Heat a pan and roast the sesame seeds till it turns aromatic. Remove and keep aside. After it cools, blend it to a coarse powder keeping aside 2 tbsp sesame seeds.  In a mixing bowl, mash the dates. Add sesame powder to it.  Mix it well. Pinch off a small portion of the mixture and roll into balls. Roll them in roasted sesame seeds.  Place few almond and pistachio slivers on the laddoo and press with your thumb. The laddoos are ready to be served.
A tasty dry chutney made with black sesame seeds.
Thank you for stopping by.