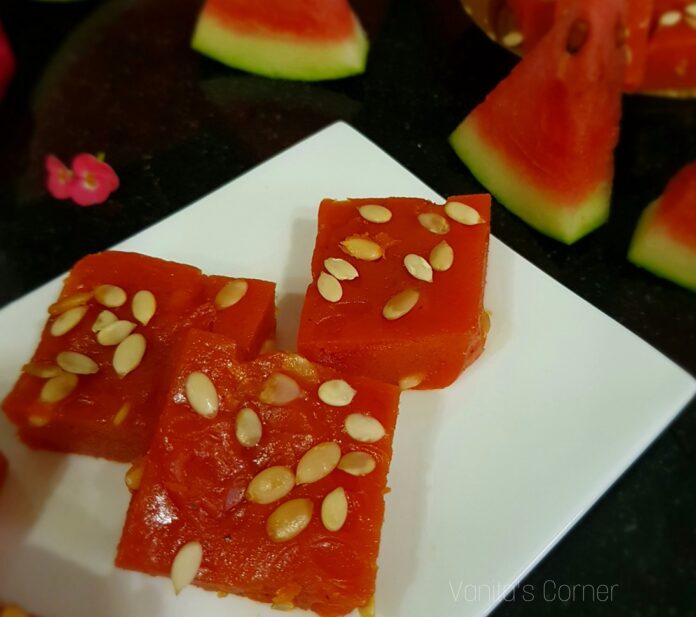 Watermelon Halwa is a variant of Bombay Halwa, but is without any artificial colours. Bombay Halwa is an Indian sweet dish made of cornflour, ghee and sugar. It is known for its vibrant colour that is obtained from saffron or artificial food colour. But watermelon halwa gets its vibrant colour from the watermelon and thus does not call for any artificial colour.
Watermelon Halwa is made by cooking watermelon juice with cornflour till it thickens and attains halwa consistency. Ghee (clarified butter) is added at regular intervals while cooking which gives the halwa a glossy look. Let us have a look at the recipe.
Ingredients
4 cups of chopped watermelon (tarbooj), deseeded
5 tbsp cornflour
4 tsp sugar (cheeni)
a pinch of salt  (namak)
5 tbsp clarified butter (ghee) (How to make ghee at home)
½ tsp of cardamom powder (elaichi powder)
3 to 4 tsp watermelon seeds (magaz) or cashewnuts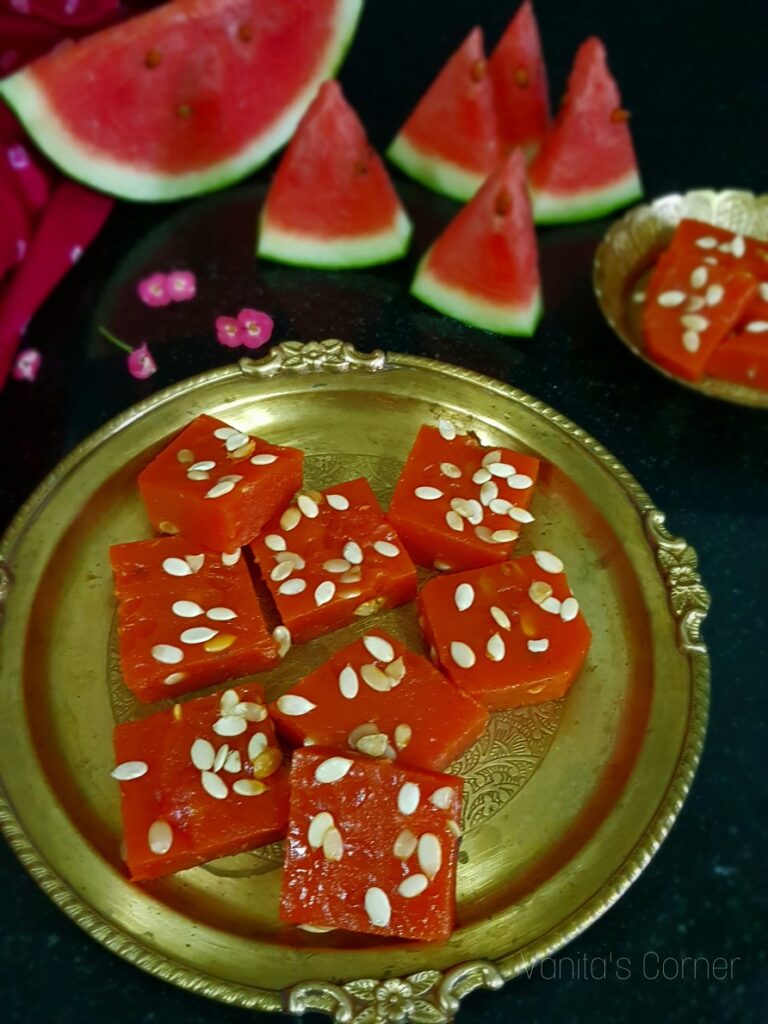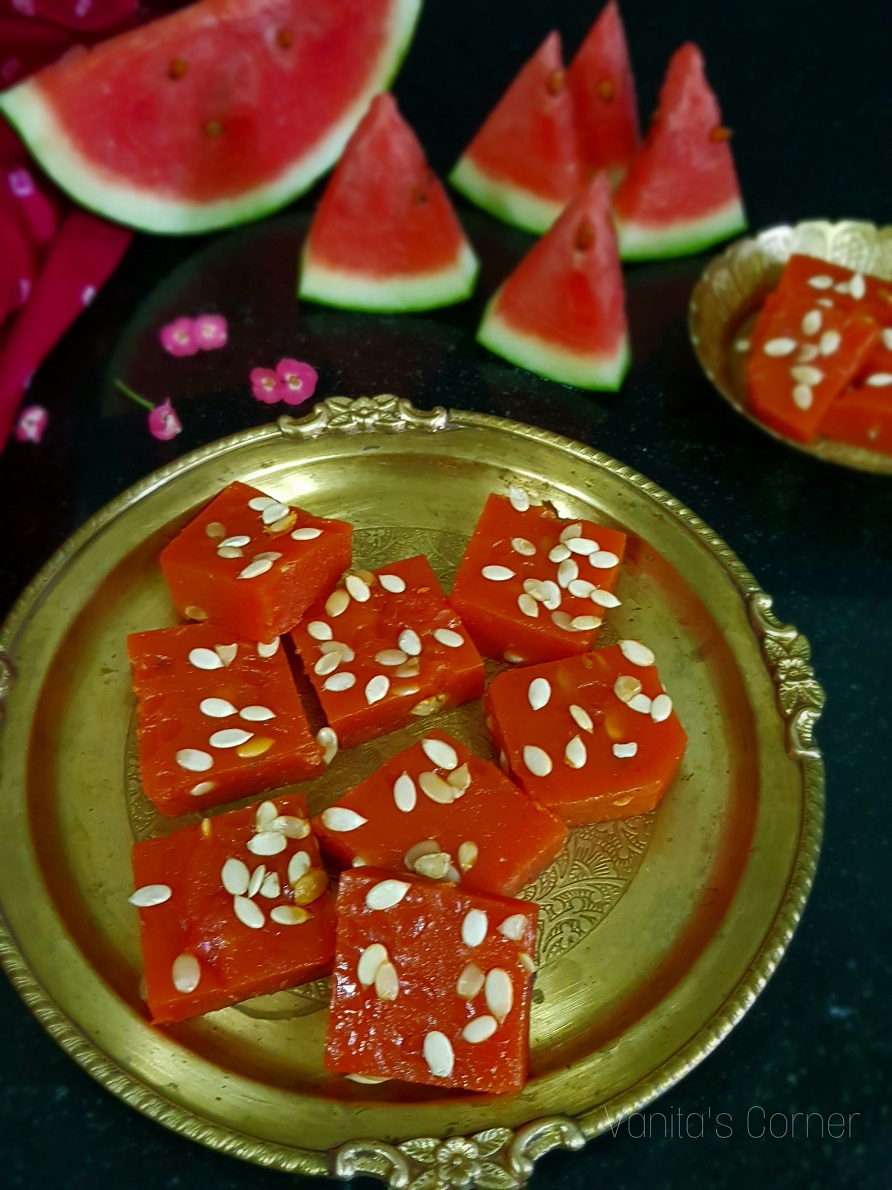 Method
Blend the chopped watermelon.

Strain the watermelon juice.

In a mixing bowl, add the watermelon juice and cornflour.

Give a good mix, using a whisk and ensure that there are no lumps.

Now, heat a pan and add watermelon cornflour mixture.

Stir in the sugar.

Keep stirring this mixture on a low flame.

Add salt and 2 tbsp ghee. Keep stirring.

The mixture will start getting thick.

Keep adding the remaining ghee, 1 tbsp at a time, at regular intervals.

The mixture will start getting thicker.

Keep cooking the halwa till it starts looking glossy.

The whole process will take around 40 to 45 minutes.

Add cardamom powder and 2 tsp of watermelon seeds and mix.

Transfer the mixture to a greased pan.

Sprinkle the remaining watermelon seeds on top.

Let the mixture cool down for 2 hours.

Once completely set, cut into pieces.

Watermelon Halwa is ready to be served.
Notes:
Instead of watermelon seeds (magaz), cashew nuts, almonds or pistachios can be used.

Quantity of sugar can be adjusted according to the sweetness of watermelon.

This is a soft halwa and does not have chewy texture like the store bought Bombay halwa.
WATCH RECIPE VIDEO:
Related Recipes
Bombay Halwa
Badam Halwa
Moong Dal Halwa
Kashi Halwa
Gajar Halwa
Walnut Halwa

Thank you for stopping by. If you like/ tried this recipe, leaving a comment below the post will enable more readers and cooking enthusiasts to discover these recipes. Also, if you are on Instagram, do share a picture of the dish and tag @vanitascorner to be featured in my stories.
Do follow me on Instagram, Facebook and Pinterest.
Subscribe to my youtube channel for easy video recipes.
Happy Cooking!!