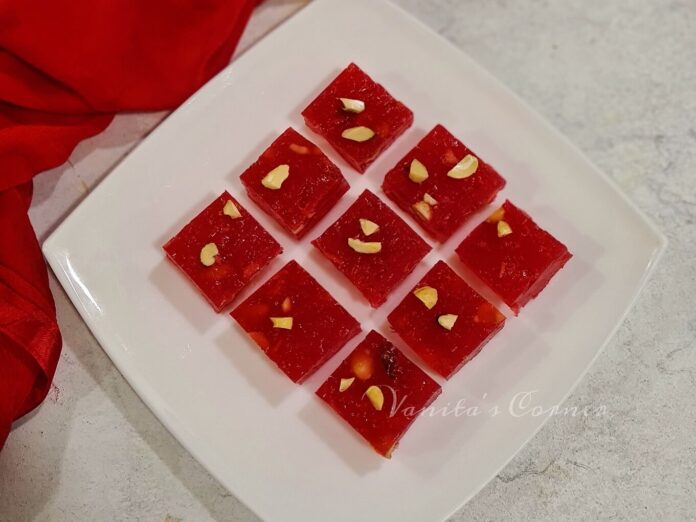 Bombay Halwa or Karachi Halwa – a chewy, glossy halwa made of cornflour.
When it comes to Indian desserts, Halwa is a very common dessert and each part of India has its own variety of halwa. To name a few, there is sooji halwa, gajar halwa, doodhi halwa, moong dal halwa, walnut halwa, kashi halwa and so on. One such halwa, which is very popular, specially during Diwali is Bombay Halwa or Karachi Halwa.
Bombay Halwa with its bright colour and dry fruits looks attractive and tastes amazing. Bombay Halwa can be easily made at home. It involves cooking of cornflour with sugar, water and ghee on a low heat, till it attains halwa consistency.  Here  is the recipe for Bombay Halwa
Ingredients
1 cup cornflour
4 cups water
2 cups sugar
1 tsp lemon juice
1 tsp cardamom powder
½ cup chopped nuts (cashew nuts and almonds)
5 to 6 tbsp ghee
a pinch of edible red colour dissolved in 1 tbsp water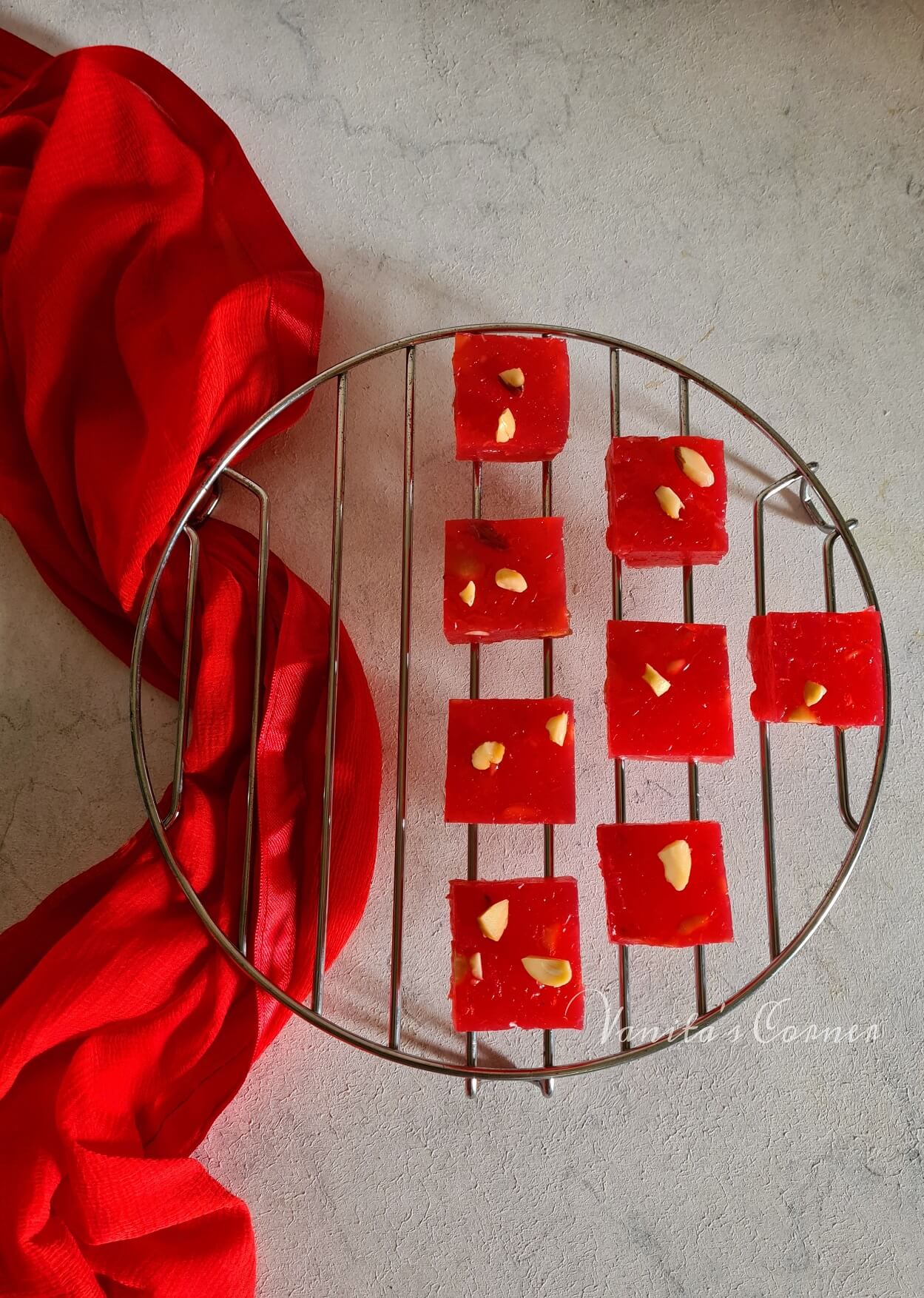 Method
In  a mixing bowl, add cornflour and 3 cups of water. Mix well.

Add red colour and mix well. Keep aside.

Heat a pan.

Add sugar and 1 cup of water.

Allow the sugar to dissolve completely.

Stir in the lemon juice. Lemon juice is added to prevent crystallization.

Add the cornflour mixture.

Keep stirring on low flame.

When the mixture starts getting thick add 2 tbsp ghee.

Keep stirring and adding the ghee gradually, in batches,  one tablespoon at a time.

Keep stirring on low heat till the mixture starts releasing ghee. 

Add  ½ cup chopped nuts, cardamom powder and mix well.

Keep stirring till the mixture starts leaving the sides of the pan.

This whole process will take around 40 minutes to an hour.   

Transfer this mixture to a greased thali or tray and spread evenly.

Sprinkle remaining chopped nuts over it  and press with a spatula.

Allow this to cool completely.   

When cooled, cut into desired shapes.
 Notes  :
You can use any food colour of your choice. If you wish to avoid food colour, you can use saffron to give a faint yellow colour to this halwa.  You may also check the recipe of watermelon halwa, which is made without using any food colour.
WATCH RECIPE VIDEO: