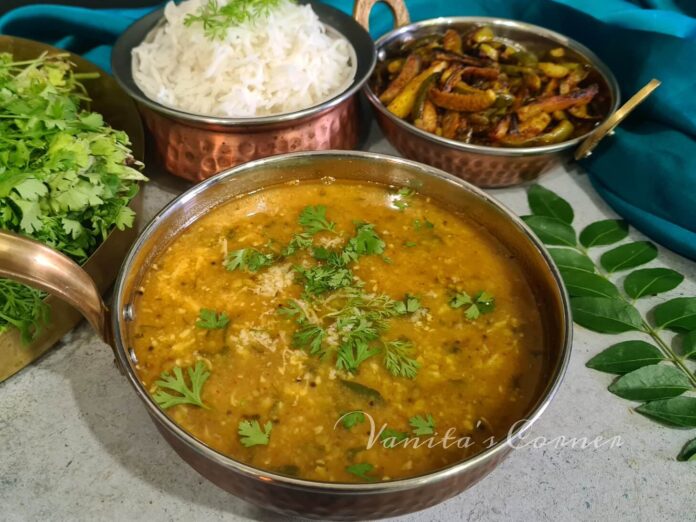 Chinch Gulachi Aamti – a classic Maharashtrian lentils preparation.
Chinch means tamarind and gul means jaggery in Marathi. Chinch Gulachi Aamti literally translates to  lentil curry  with tamarind and jaggery. The word Aamti means a curry made with a sour ingredient. Chinch Gulachi Aamti is a simple recipe which gets made quickly.  Aamti is made using lentils, either whole or skinned. For vegetarians, lentils/dals meet their protein requirement and hence some or the other dal recipes are made on a regular basis.  Indian cuisine has plethora of dal recipes.  There is no end to the number of recipes one can make with dals. Some of the dal recipes on this blog are Dal Tadka, Paach Dalinchi Aamti, Katachi Aamti, Varan, Ambat Varan, Dal Banjari, Masoor dal with vegetables, Drumstick Dal, Dal Makhni, Sabut Masoor Usal, Dal Hari Bhari and Dal Dhokli
Any dal served with a bowl of steamed rice is comforting to the soul. A steaming hot plate of Varan bhaat with metkut and ghee is something I crave for when I want something absolutely simple, yet nourishing to eat.  Whether its a hectic day at work or after a long spell of travel or to soothe an upset stomach, dal-chawal is something which most people resort to.
Chinch Gulachi Aamti is yet another dal preparation which when paired with steaming hot rice is an ultimate comfort food. This is a common preparation in Maharashtrian households.  It is a quick  and easy recipe made with few ingredients. It is a perfect amalgamation of sweet, tangy and spicy flavours.  The aamti made using tamarind, jaggery, goda masala with a garnish of freshly grated coconut and some fresh coriander leaves is just too good. Words cannot do enough justice to the taste of this aamti.
Chinch Gulachi aamti is generally served with steaming hot rice. But I can have bowls of this aamti just like that.  So, here goes the recipe for Chinch Gulachi Aamti :
Ingredients
½ cup split pigeon peas (tuvar dal)
½ tsp turmeric powder
2 tsp oil
1 tsp mustard seeds
¼ tsp fenugreek seeds (methi)
¼ tsp asafoetida (hing)
few curry leaves
3 tbsp tamarind pulp *
2 tbsp grated jaggery
1 tsp goda masala (How to make Goda masala)
½ tsp red chilli powder
salt to taste
2 tbsp fresh, grated coconut
2 tbsp chopped coriander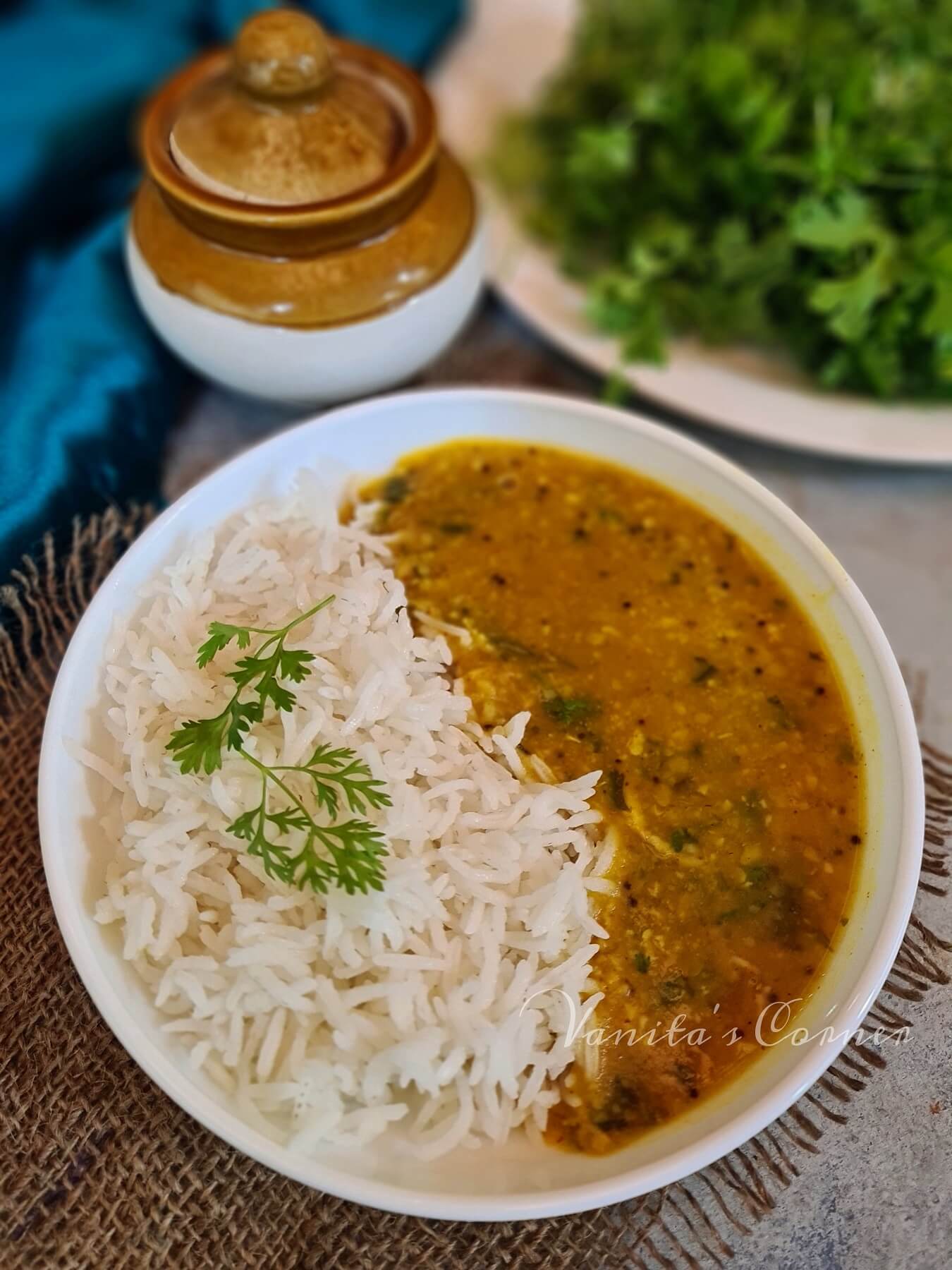 Method
Firstly wash tuvar dal and soak in water for 2 to 3 hours.

Drain the water and transfer soaked dal to a pressure cooker.

Add turmeric powder, salt and 2 cups of water.

Pressure cook for 3 to 4 whistles. 

Allow the pressure to release completely before you open the pressure cooker.

Whisk the dal and keep aside.

Heat 2 tsp oil in a pan.

Add mustard seeds, fenugreek seeds, asafoetida and curry leaves.

Saute for few seconds.

Add cooked dal.

Add ½ cup water to thin the dal down.

Add tamarind pulp, jaggery, goda masala, red chilly powder and bring it to a boil, stirring occasionally.

Simmer for 5 to 10 minutes.

Add grated coconut and  chopped coriander leaves.

Simmer for 2 minutes.

Take off the heat and serve with steamed rice.
*tamarind pulp – to make tamarind pulp, soak a lemon sized ball of tamarind in some  water for 30 minutes. Mash  the tamarind with your fingers till the pulp has been extracted.  Strain the mixture using a strainer. The soft pulp which you have strained out is the tamarind pulp.
WATCH RECIPE VIDEO: 
Thank you for stopping by. If you like/ tried this recipe, leaving a comment below the post will enable more readers and cooking enthusiasts to discover these recipes. Also, if you are on Instagram, do share a picture of the dish and tag @vanitascorner to be featured in my stories.
Do follow me on Instagram, Facebook and Pinterest.
Happy Cooking!!