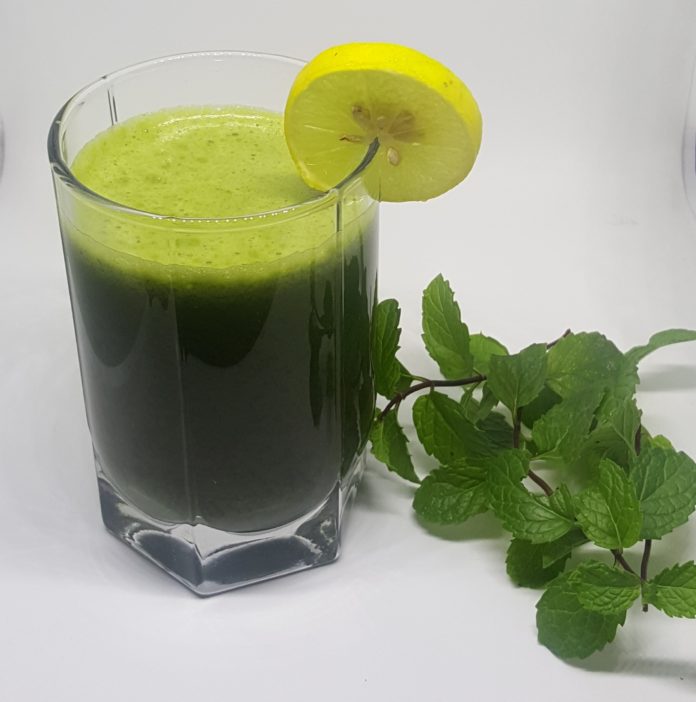 Green Detox Juice – combination of mint, coriander, cucumber, ginger.
With so many fancy eateries mushrooming  at every nook and corner, the culture of eating out has increased like never before.  With changing lifestyle, steady growth of income, greater access to restaurants, people find it easier to eat out than to cook at home. The younger generation has greater affinity to fast food.  However tasty or appealing outside food may seem, they ultimately take a toll on your health. Eating junk food, fast food or outside food on a regular basis makes one feel bloated and sluggish. That's the time when we really need a detox.  There are number of detox juices we can make at home which will help us to support digestion, boost energy and cleanse the system.  One such detox juice is this green juice which is made with simple ingredients available in our kitchen.  Lets take a look at the recipe:
Ingredients
1 cup mint leaves (pudina)
1 cup coriander leaves (dhaniya)
2 cucumber (kakdi), peeled and cubed
1 inch piece of ginger
2 tsp lemon juice
½ tsp black slat (kala namak)
Method
Wash the coriander, mint and  cucumber.

Peel cucumber and cut into cubes.

In a blender, add mint, coriander, cucumber, ginger, half a cup of water and blend to a smooth puree.

Strain the puree through a strainer.

Add lemon juice and black salt to the juice.

Serve immediately.
WATCH RECIPE VIDEO
Some other healthy juices are : Amla Juice, Mixed Vegetable Juice, Amla Cucumber juice.