If you have never experienced the joy of
accomplishing more than you can imagine,
plant a garden.
– Robert Brault
So true. Isn't it sheer joy to watch a tree grow from a tiny seed? Isn't it anything less than a miracle? Gardening connects us with nature and soothes our mind. It gives us a sense of accomplishment. It is greatly satisfying to see the first tomato on our plant, the first rose on our plant, to see the spinach growing from seeds.
When you want to start your kitchen garden, starting with simple plants like mint is a good option. Mint is one of the easiest herbs to grow. Today I will share how I grew my mint plant. I bought mint from my local vegetable vendor and planted 3 to 4 stems directly in the pot with potting soil. Within a month's time, I had good growth of mint in my terrace garden.
Step by step procedure is given below:
Take few mint stems preferably having thick stems.

Remove the mint leaves from the stem, leaving around 3 to 4 leaves intact on the upper part of the stem. You can use the leaves that you have removed in your salad or tea.
Take a pot around 7 to 10 inches deep. Fill the pot with soil and compost in the ratio 2 : 1.

Plant the mint stems around 3 to 4 inches deep into the soil.
Do not keep the pot in direct sunlight for a few days.

It is necessary to keep the soil moist till the time the stem grows roots and firms up in the soil. Do not allow the soil to dry.

Keep watering the plant daily.

After a few days, tiny leaves will start emerging on the stem.

It can then be placed under direct sunlight, though a semi shaded area is also good enough for the growth of mint.

In a month's time, you will have thick growth of mint.

You can harvest mint at any time. You can cut the top part of the mint as and when you need. The more mint you pick, the better the plant will grow.
So, growing mint is as simple as this. You can have unlimited supply of mint in your own backyard. Moreover, the joy that you derive from growing your own herbs/vegetables/plants at home is unmatched.
Happy Gardening!!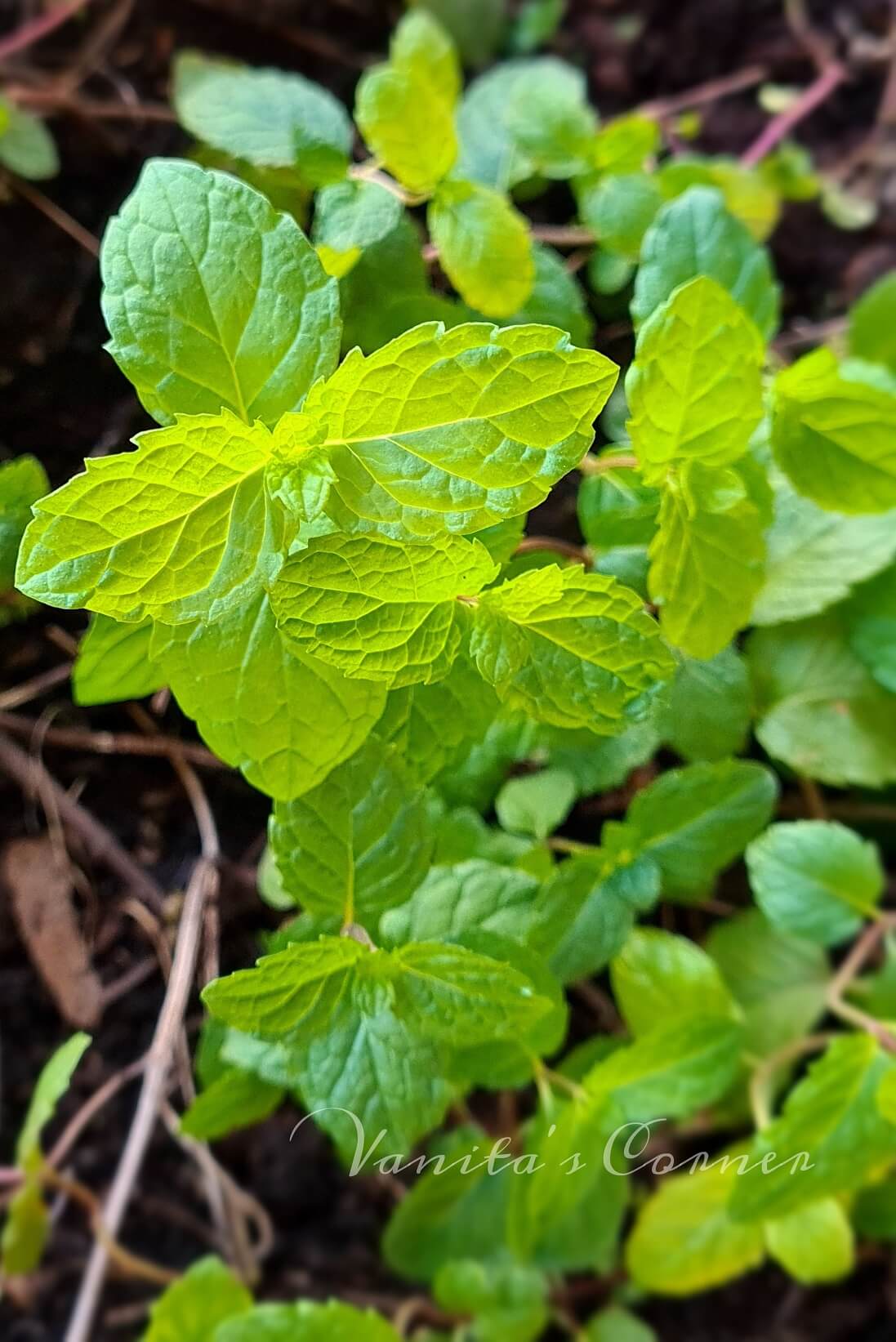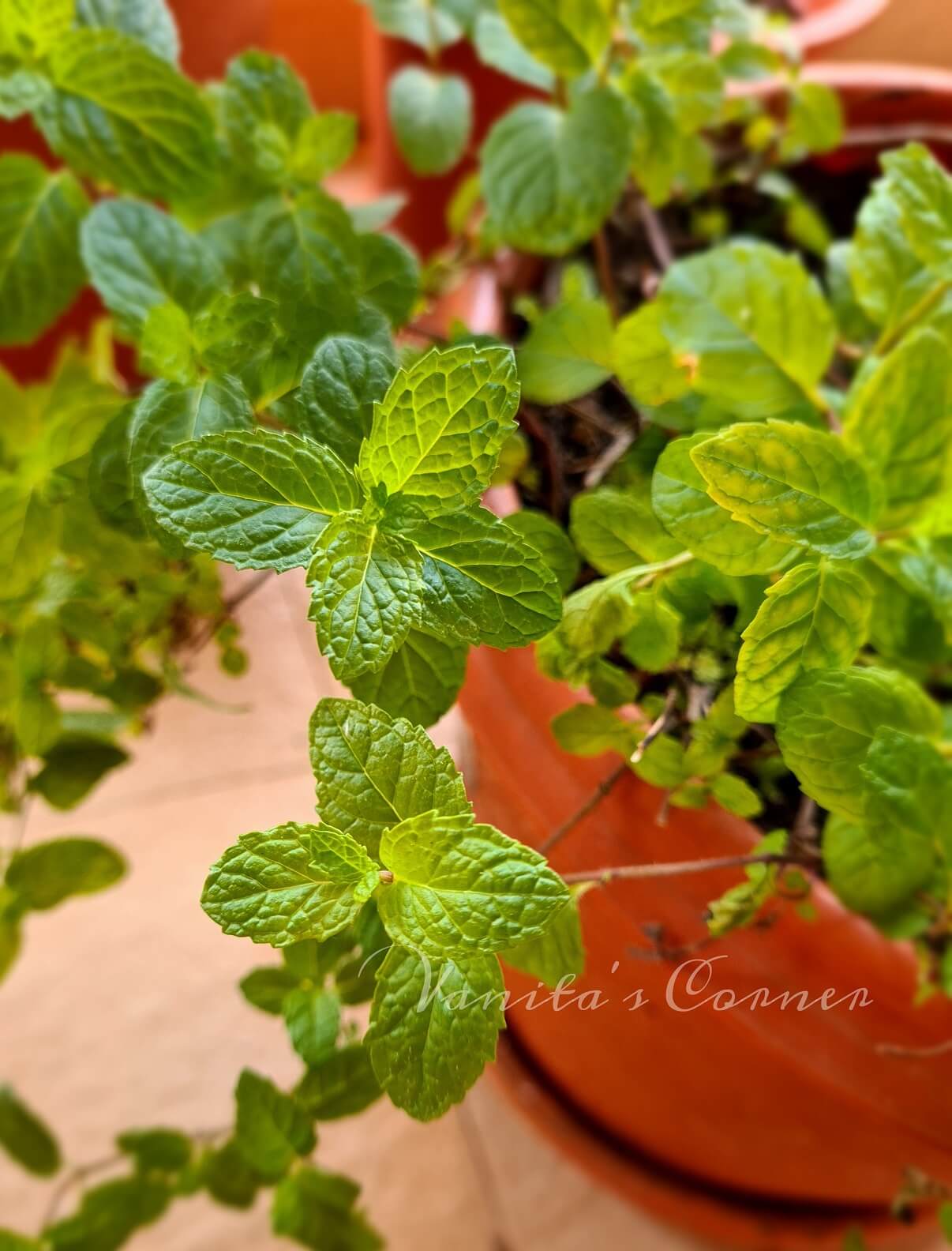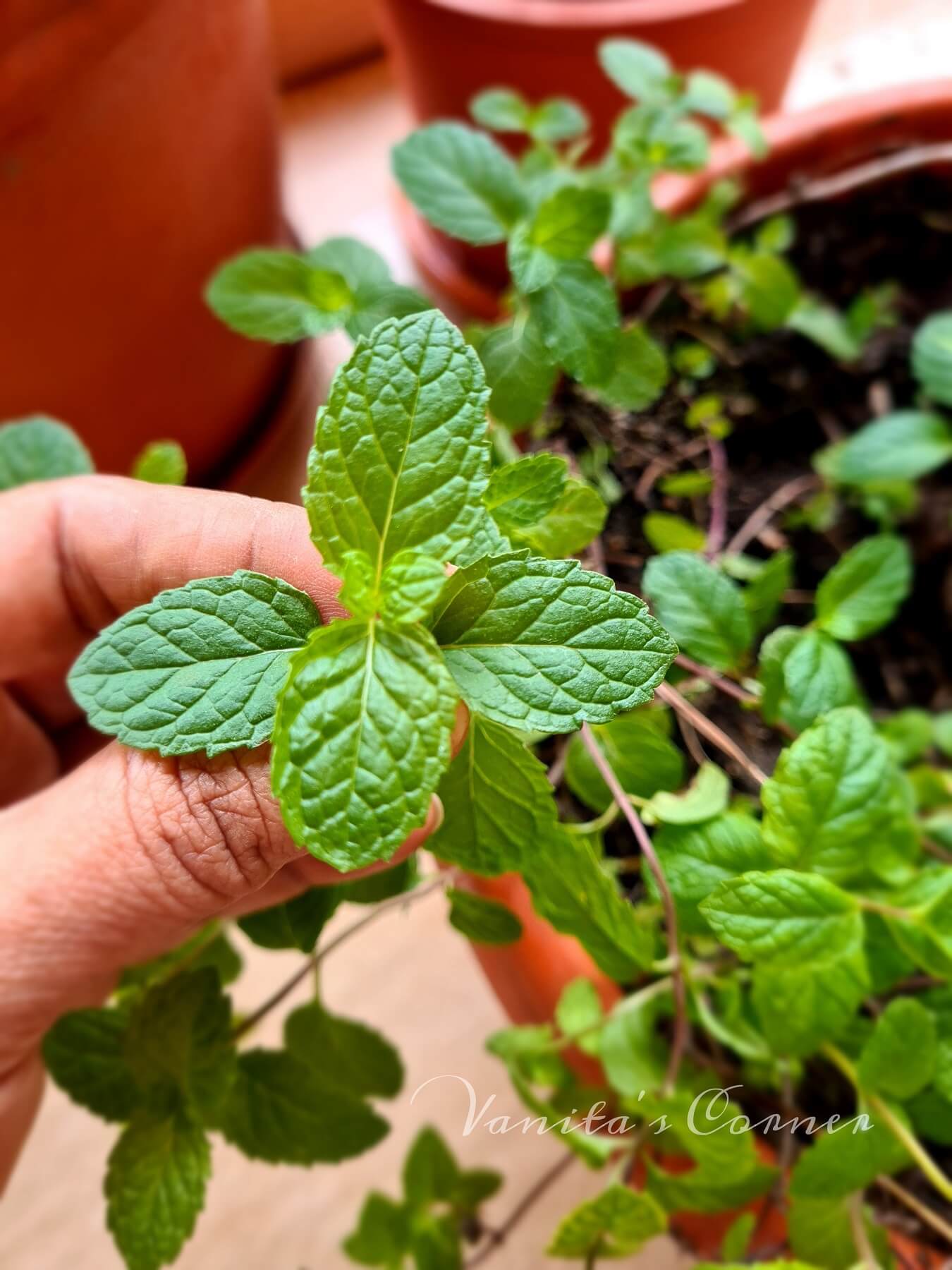 If you are interested in recipes using mint leaves, here they are. To read the recipes, click on the name of the dish below:
Mint Chutney
Watermelon Mint Cooler
Cucumber Mint Raita
Pudina Jaljeera