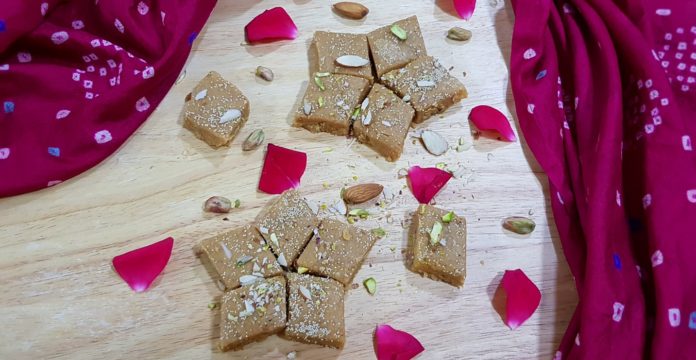 Gud Papdi is an easy to make sweet from the Gujarati cuisine. It is made with minimum ingredients that are easily available in every kitchen. Also known as Sukhdi, this is traditionally made with only three ingredients, i.e., wheat flour, ghee and jaggery. However, I have added cardamom powder, poppy seeds and powdered nuts to enhance its taste. Let's take a look at the recipe:
Ingredients
1 ½ cup wholewheat flour (gehu ka atta)
¾ cup clarified butter (ghee)
1 ½ cup grated jaggery (gud)
1 tsp cardamom powder (elaichi powder)
3 to 4 tbsp coarsely powdered almonds and pistachios (badaam, pista)
1 tbsp poppy seeds (khuskhus)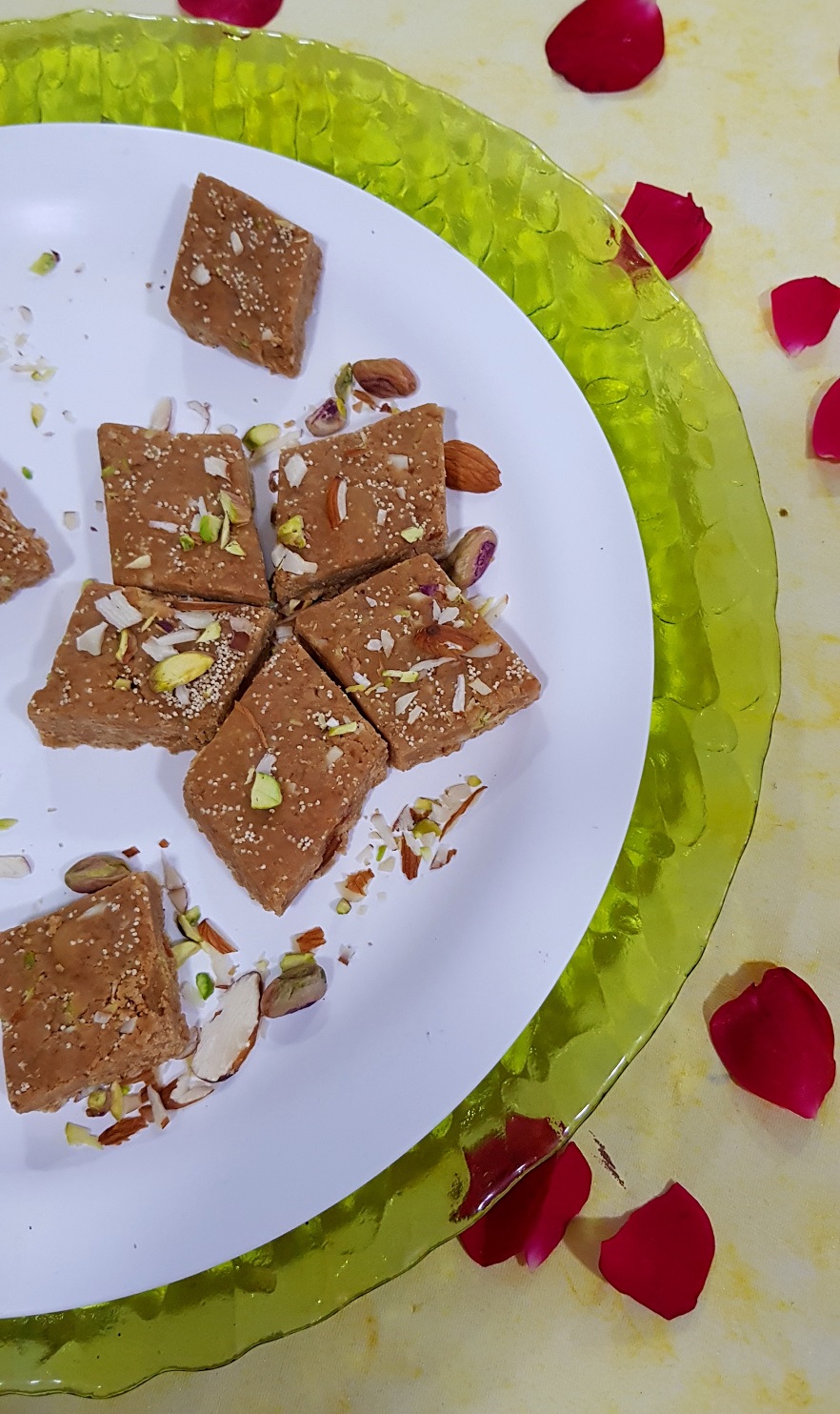 Method
Heat a pan and add ghee.

When the ghee starts melting, add the wheat flour.

Cook the wheat flour on a slow flame, while stirring continuously. 

Keep stirring till the wheat flour changes its colour and starts giving out an aroma. 

Once the wheat flour is cooked well and turned aromatic, turn off the heat.

Now, to this wheat flour mixture, add grated jaggery.

Mix well till the jaggery melts.

Add cardamom powder, almonds-pistachio powder and give a good mix.

Grease a tray/plate with ghee.

Add the wheat flour mixture to the greased tray.

Spread the mixture evenly and flatten it with the help of a spatula.

Sprinkle poppy seeds on the mixture and press evenly with the spatula.

When the mixture is still warm, using the knife slice into desired shapes.

Allow the mixture to cool completely.

When it cools completely, remove the gud papdi pieces and serve/ store in airtight container.
Note
Jaggery has to be strictly added after turning off the heat. If you cook the jaggery alongwith the wheat flour mixture, gud papdi will turn chewy.
WATCH RECIPE VIDEO: