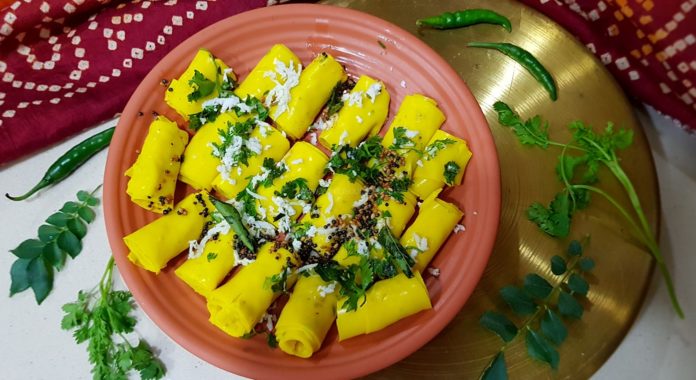 Known as Khandvi in Gujarati and Suralichi Vadi in Marathi, this is a delicious, soft, melt in the mouth snack made with gram flour and buttermilk. This is a very easy-to-make snack but can get tricky at times due to the consistency of the cooked gram flour mixture. After a few failed attempts, I have arrived at a perfect no fail recipe of Khandvi in microwave. If you follow the exact measurements and steps provided here, making of khandvi will be a breeze.  So, here goes the recipe :
Ingredients
1 cup gram flour (besan)
2 ½ cups unsalted buttermilk (chaas)
½ tsp turmeric powder (haldi)
A pinch of asafoetida (hing)
Salt as per taste (namak)
1 tsp green chillies and ginger paste (hari mirch + adrak)
For Stuffing Khandvis
2 tbsp chopped fresh coriander (dhaniya)
2 tbsp grated coconut (nariyal)
For tempering (tadka)
1 tbsp oil (tel)
1 tsp mustard seeds (rai)
1 tsp sesame seeds (til)
A pinch of asafoetida (hing)
Few curry leaves (kadi patta)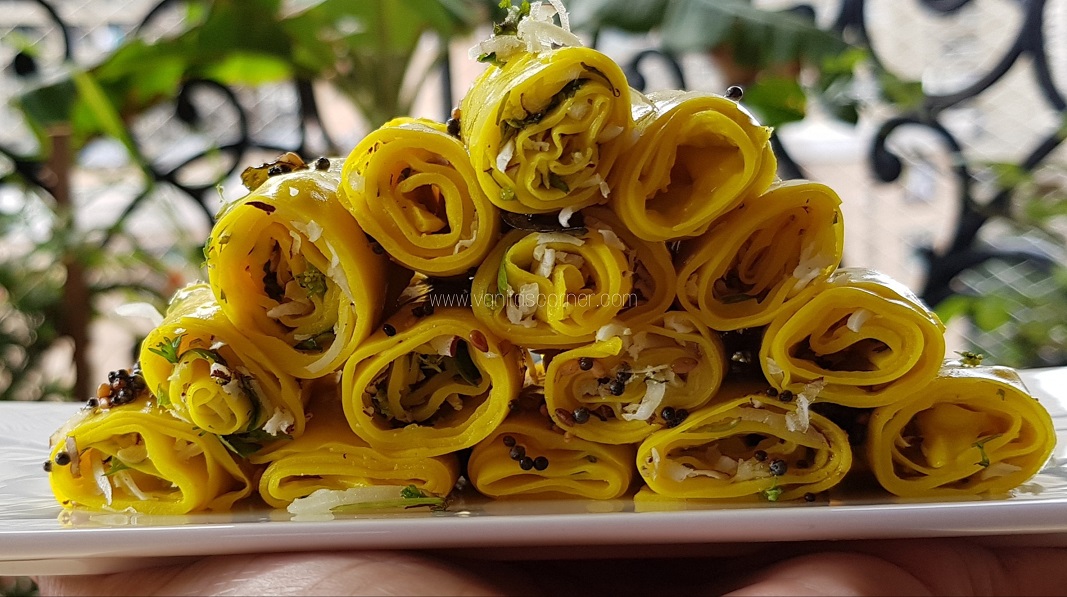 Method
In a mixing bowl, sieve the gram flour.

Add turmeric powder, asafoetida, green chilly-ginger paste and salt to it. 

Add buttermilk and whisk it well.

Microwave this mixture (on high ), 5 times, each round of 40 seconds each.

After each round of microwave, whisk the mixture well. 

After 5 rounds of cooking the mixture in microwave, you will get the batter having perfect consistency.

Spread the besan mixture on upturned steel plates with the help of a spatula (Have a look at the video below for proper understanding).

Once the mixture is spread on the steel plates, allow it to cool down.  

Cut into strips using a knife and then roll the strips. 

For making stuffed khandvi, sprinkle chopped coriander and grated coconut on the spread besan mixture and then cut and roll the khandvis. 

Once all the rolls are ready, set them on a plate.

For the tempering, heat oil in a small pan.

Add mustard seeds, sesame seeds, asafoetida and curry leaves.

When it starts spluttering, pour the tempering on the khandvis.

The khandvis are ready to be served with or without green chutney.
Note:
The proportion to remember is 1 part of besan and 2 ½ parts of buttermilk.

Buttermilk should be of medium consistency, not too thick and not too thin.

After each round of microwave cooking, whisk the mixture well to avoid any lumps in the mixture.

I always microwave the mixture for 5 rounds, i.e. each round of 40 seconds and I get the perfect consistency. But the cooking time may vary depending on the consistency of the buttermilk. But when you cook the mixture in short bursts like I have explained above, there is no way that you will go wrong. To know if the mixture is cooked perfectly, you can spread a small portion of the mixture on a steel plate and allow it to cool for a few seconds. If you are able to roll it, then the mixture is cooked perfectly. Or else, you will have to cook it further.
WATCH RECIPE VIDEO
Some other tea-time snacks: Dal Vada, Sweet Shankarpali, Methi Namakpare, Moong Dal Pakoda, Masala Pav etc.