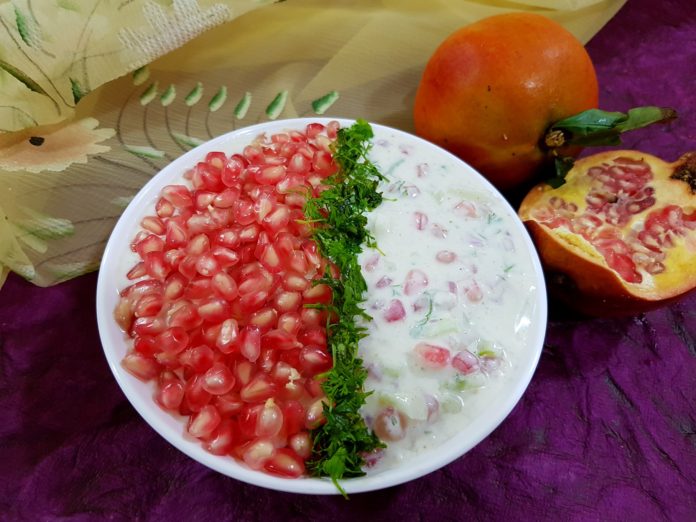 Pomegranate raita is a perfect accompaniment for all kinds of spicy dishes. Cucumber, curds, pomegranate are very cooling in nature. Hence, this raita makes for a good side dish with meals in hot summers.
Ingredients
1 ½ cups chilled curds (thanda dahi)
1 cup pomegranate seeds (anaar daana)
½ cup cucumber, finely chopped (kakdi/ kheera)
1 small onion, finely chopped (pyaaz)
2 tbsp fresh coriander leaves, finely chopped (dhaniya)
1 tsp chaat masala
Salt as per taste (namak)
For garnishing
½ cup pomegranate seeds (anaar daana)
2 to 3 tbsp chopped coriander (dhaniya)
Method
In a mixing bowl, add the curds. Whisk it well.

Add chaat masala, salt and mix it well. 

Add chopped cucumber, chopped onion, pomegarante seeds, chopped coriander  leaves and mix.

Garnish with pomegranate seeds and  fresh coriander.

Pomegranate raita is ready to be served.
WATCH RECIPE VIDEO
If you are looking for more raita recipes, do have a look at the following. Click on the name of the dish to read the recipe:
Pomegranate & Beetroot Raita, Boondi Raita, Cucumber Mint Raita and Beetroot Dip