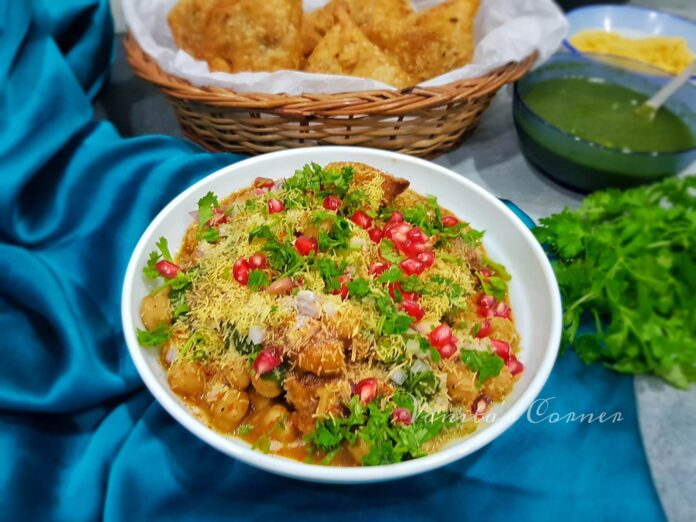 Samosa Chole Chaat – an ever popular road side chaat where samosas are served with chickpeas curry (chole) topped with spicy and sweet chutneys and sev.
Chaat refers to Indian street food /savoury snack such as bhel puri, pani-puri, sev-puri, ragda patties etc.  Samosa Chole Chaat is  popular in North India, especially in Delhi. When it comes to chaat, it involves a bit of preparation. But once you have all the elements ready, the assembling of chaat doesn't take much time. To make samosa chaat, you need samosas, chole (chickpeas curry), green chutney, tamarind chutney, chopped onions, sev and chaat masala.  Once you have all the elements ready, all you have to do is arrange a platter with a layer of chana masala. Top it with a layer of crushed samosas. Pour some chana masala over it and then top it with spicy chutney, sweet chutney, chopped onions, chopped coriander, sev and chaat masala and you are good to go.
 This makes for a perfect appetiser while entertaining guests at home. This wholesome and hearty appetiser can also be served for lunch or dinner.  I have used homemade samosas for this chaat.  If making of samosas at home seems cumbersome, you can use store bought samosas for this recipe. Let us have a look at the recipe for Samosa Chole Chaat:
Method
For Samosa Chole Chaat, we will need
Samosas
Punjabi Chole
Green chutney
Sweet Tamarind Chutney
chopped onions
Chopped coriander
sev
pomegranate seeds
chaat masala
Making of Punjabi Chole
Ingredients
For boiling the chickpeas
200 grams chickpeas (kabuli chana)
1 tbsp tea leaves (chai patti)
A piece of cinnamon stick (dalchini)
A black cardamom (badi elaichi)
2 bay leaves (tej patta)
A small piece of muslin cloth (malmal ka kapda)
Salt as per taste (namak)
For the gravy
2 large onions, finely chopped (pyaaz)
2 tomatoes, finely chopped (tamatar)
5 to 6 Garlic cloves (lehsun)
1 inch piece of Ginger (adrak)
1 tbsp clarified butter (ghee)
1 tsp oil (tel)
2 bay leaves (tej patta)
A small piece of cinnamon (dalchini)
1 tsp cumin seeds (jeera)
1 tsp red chilly powder (laal mirch)
1 tsp garam masala
1 tsp dry mango powder (amchoor)
1 tsp crushed pomegranate seeds (anaardaana)
1 green chilly, cut lengthwise (hari mirch)
2 tbsp chopped coriander leaves (hara dhaniya)
Salt to taste (namak)
For the spice powder
1 tsp coriander seeds (dhaniya)
1 tsp carom seeds (ajwain)
1 tsp cumin seeds (jeera)
10 to 12 black peppercorns (kali mirch)
5 to 6 cloves (lavang)
1 black cardamom (badi elaichi)
Method
Wash and soak chickpeas for 5 to 6 hours. 

Take a small muslin cloth.

Place tea leaves, black cardamom, cinnamon stick, bay leaves on the cloth.

Tie and make a small bundle (potli).

Transfer soaked chickpeas to a pressure cooker.

Add water and salt.

Place the spice potli in the midst of the chickpeas.

Tea leaves imparts black colour to the chickpeas.   

Close the pressure cooker and cook for 6 to 7 whistles.  

Allow the steam to escape fully before you open the pressure cooker. 

Discard the spice potli.

Keep cooked chickpeas aside.

Reserve the water in which the chickpeas are cooked.

Crush garlic, ginger and keep aside.  

To make the spice powder, heat a pan.

Add coriander seeds, carom seeds, cumin seeds, black cardamom, black peppercorns and cloves.

Dry roast the spices till they turn aromatic.

Allow the spices to cool and blend to a fine powder. Keep this aside.

Heat a pan.

Add ghee and oil.

Add bay leaves, cinnamon stick, cumin seeds, crushed ginger and garlic.

Saute for few seconds.

Now, add the chopped onions.

Sprinkle some salt over the onions.

Saute the onions, allow them to cook till they turn golden brown and gives out a nice aroma. (Adding salt to the onions, while sautéing, quickens the cooking process). 

After the onions are cooked, add chopped tomatoes.

Saute and cook till they turn soft and mushy. 

Next, add the spice powder, garam masala and give a good mix.

Now, add the cooked chickpeas alongwith the water in which it was cooked. 

Add amchoor, crushed pomegranate seeds and green chilly.  Mix well.

Check the salt. Add salt, if required. 

Cook covered for 5 minutes. 

Garnish with chopped coriander leaves.

Serve hot 
 Assembling of Samosa Chole Chaat
On a serving plate/bowl, spread a layer of chana masala.  Break a samosa into small pieces and spread over the chana masala.  Top the samosa with some more chana masala, green chutney, sweet tamarind chutney, chopped onions, chopped coriander leaves, sev, pomegranate seeds and sprinkle some chaat masala. Serve immediately.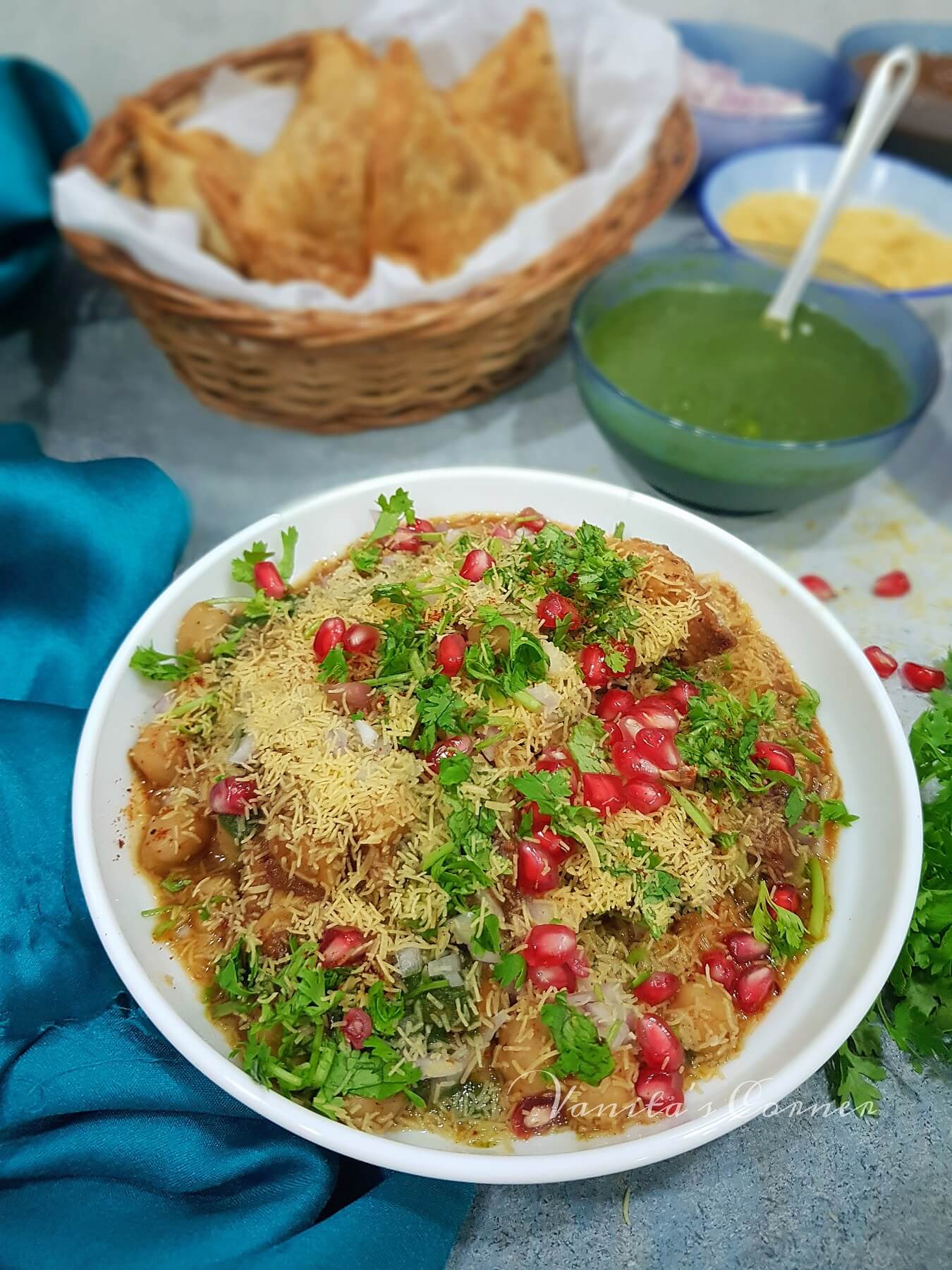 Thank you for stopping by. If you like/ tried this recipe, leaving a comment below the post will enable more readers and cooking enthusiasts to discover these recipes. Also, if you are on Instagram, do share a picture of the dish and tag @vanitascorner to be featured in my stories.
Do follow me on Instagram, Facebook and Pinterest.
Happy Cooking!!