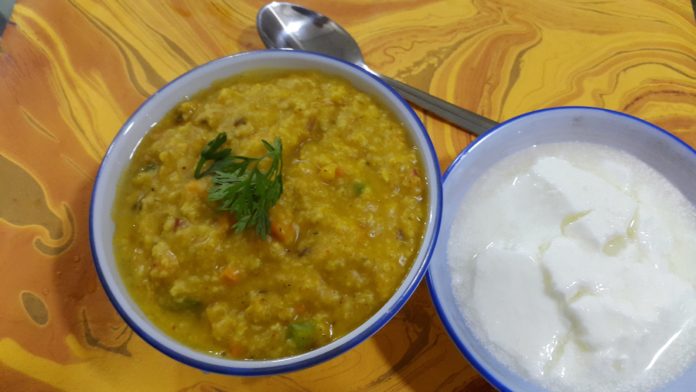 Vegetable Masala Oats is a quick and healthy breakfast dish. Healthy oats combined with vegetables makes for a great beginning to a busy day. Try this simple recipe and serve it with curds.
Ingredients
1 cup Oats                                                       
1 tbsp Chopped onion                                 
1/2 cup Chopped vegetables (carrot, capsicum,french beans)
1 tsp Cumin seeds (Jeera)                       
¼ tsp Turmeric                                              
1 tsp Chilly powder                                   
few drops of Oil                                                           
Salt as per taste
Some other Oats Recipes: Oats Porridge, Oats Dhokla, Oats Idli, Oats Carrot Idlis, Oats Mango Parfait
Method
Heat a pan.

Add 3 to 4 drops of oil.

Add cumin seeds.

Once the seeds start crackling, add onion.

Saute it for a few seconds and add all the chopped vegetables. 

Mix it well.

Add the oats  and mixwell.

Add turmeric powder, chilly powder and salt. 

Add a cup of water.  Let it cook for 5 minutes. 

If it gets very thick, you can add more water till you obtain desired consistency. 

Serve Vegetable Masala Oats with curds.