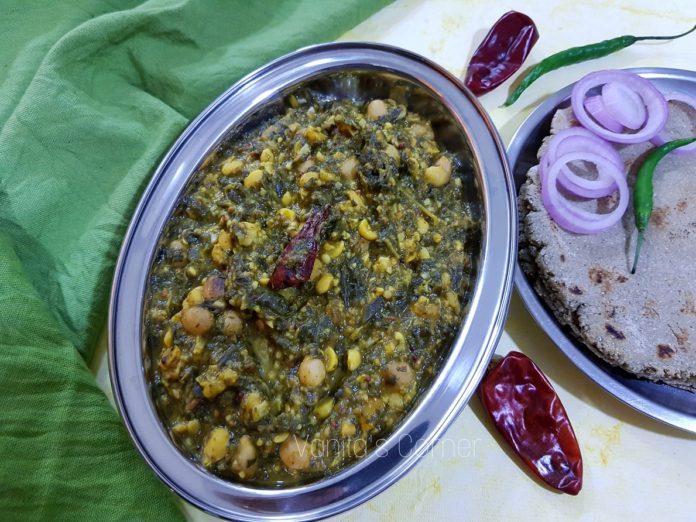 The indigenously available green leafy vegetable "Ambadi" in Marathi and Roselle in English, is one of the few leafy vegetables which can be safely consumed in the rainy season. Famous dietician and nutritionist Rujuta Diwekar in her book Indian Super Foods has labelled Ambadi as one of the super foods of India. According to her "Ambadi is rich in folic acid and iron and the tribals use ambadi to build more strength in the stomach, improve immunity and prevent diarrhoea."
Given the health benefits of Ambadi leaves, it's a pity that it is not commonly cooked by people. It is largely consumed by elder generation who are aware of its health benefits.
Sour to taste, they go well with bajra or jowar bhakris.  Here's the recipe for Ambadi Bhaji.
Ingredients
1 big bunch Ambadi leaves (Roselle leaves)
2 tsp chana dal  (split Bengal gram)
1 teaspoon peanuts
2 ½  tsp oil
10 garlic cloves (crushed)
1 tbsp besan (gram flour)
½ tsp mustard seeds
½ tsp asafoetida (hing)
1 tsp cumin seeds
½ tsp turmeric powder
1 tbsp red chilly powder
1 tbsp grated jaggery
1 dry red chilly
Salt as per taste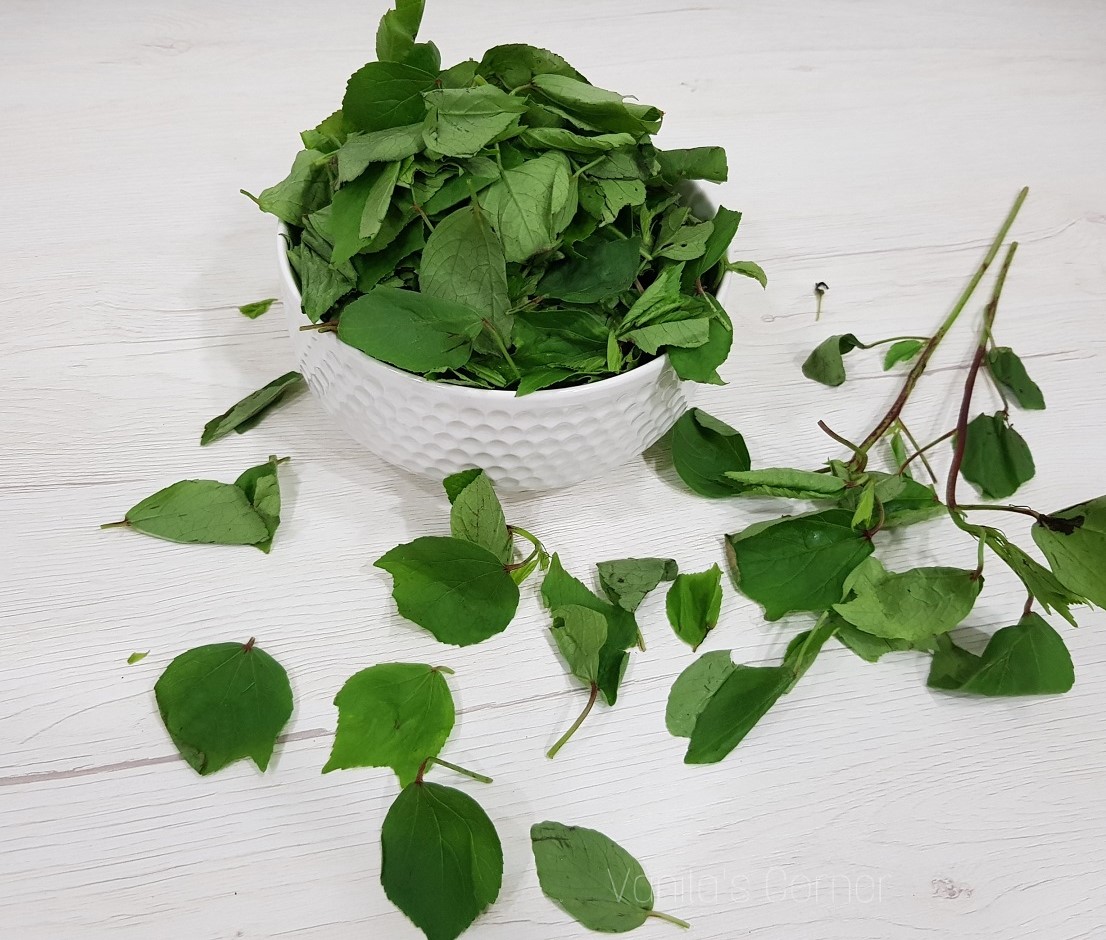 Method
Soak chana dal and peanuts for an hour.

Wash the Ambadi leaves.

Pressure cook Ambadi leaves, chana dal and peanuts with 2 cups water for 3 to 4 whistles.

When the steam escapes fully, remove the cooked ambadi leaves from the pressure cooker and keep it aside.

Heat a pan and dry roast the besan on slow flame. Roast till the raw smell goes away and you get a nice aroma from the besan. Keep this aside.

Heat  2 tsp oil in a pan.

Add mustard seeds, cumin seeds, asafoetida, half the quantity of the crushed garlic and saute till the garlic changes its colour.

Add the cooked amabadi leaves ,chana dal and peanuts. Mix well.

Add red chilly powder, turmeric powder, jaggery, salt, roasted besan and give it a good mix.

Add half a cup of water (depending on the consistency you need)  and cook covered for 5 minutes.

For the tempering, heat the remaining ½ tsp oil in a small pan.

Add the remaining crushed garlic and dry red chilly. Pour it over the cooked Ambadi bhaji.

Serve hot with bajra bhakri or jowar bhakri.
WATCH RECIPE VIDEO
If you love leafy greens, do have a look at the following recipes. Click on the name of the dish to read the recipe.
Lasooni Corn Palak , Palak Paneer, Methi Moong Dal sabzi, Palak Chole