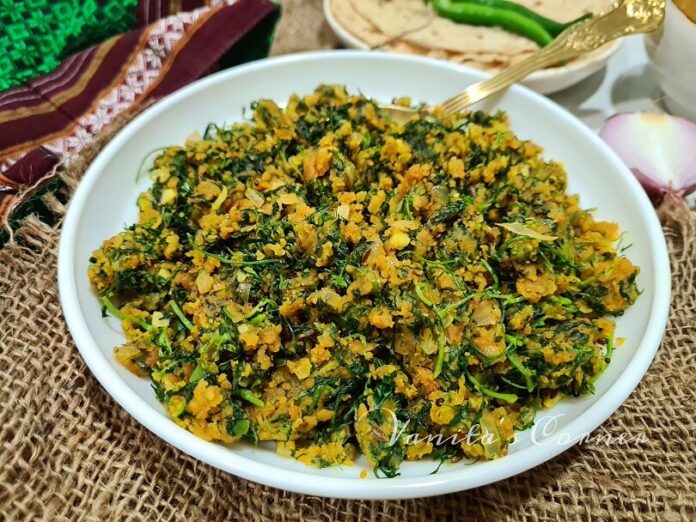 Kothimbir Zunka – a traditional  dish from the Maharashtrian cuisine made with coriander leaves and gram flour.
Zunka is a popular/staple  food of rural Maharashtra. It is a thicker and dry version of Pithla. Made with few basic ingredients, zunka tastes great with bhakris, chapatis or as a side dish with varan bhaat.  Traditionally zunka is paired with bhakris and is an important part of the rural Maharashtrian diet. Zunka bhakar is known as the farmers food as they carry this with them to the fields with chilly thecha and raw onions. From a farmer's point of view, zunka is affordable, healthy and can be easily carried tucked within a bhakri.  At its most basic version, zunka can be made with gram flour and few spices. However you can add onions, garlic, coriander to make it more flavourful and tasty.
In most Maharashtrian households, zunka holds a special place as it comes to the rescue when you run out of vegetables. Maharashtrians also cook few vegetables (such as capsicum, cabbage, spring onion) with gram flour which is known as "peeth perun keleli bhaji". Peeth Perun keleli bhaji refers to dry vegetable preparation that is made using gram flour.
Kothimbir Zunka is made using generous amount of coriander leaves. Coming to the recipe, the method of preparing kothimbir zunka is quite simple. Firstly to hot oil, spices, onion, garlic, coriander are added and sauteed. Gram flour is then added and allowed to cook. The quantity of oil used may seem large, but it is critical to keep the zunka moist. It is advisable to use a non-stick pan to make zunka so that it does not stick to the bottom of the pan. I have not used non-stick pan as I am consciously reducing the use of non-stick pan. Alternatively, iron pan/kadhai can be used to make zunka. When you cover and cook the zunka, keep turning it occasionally so it does not stick to the bottom of the pan. I have not used water in this recipe.
Zunka tastes great when it is served hot with bhakris. However I remember reading somewhere that  in rural Maharashtra, the farmers would often eat it cold with crumbling stale bhakris. Since this recipe gets made quickly, it is recommended to make it and serve immediately.
So, here's the recipe for Kothimbir Zunka:
Ingredients
3 cups of washed, chopped coriander
1 cup of gram flour (besan)
5 tbs oil
1 tsp mustard seeds
1 tsp cumin seeds
½ tsp asafoetida
3 to 4 cloves of garlic, finely chopped
2 to 3 green chillies, finely chopped
1 medium sized onion, finely chopped
½ tsp turmeric powder
2 tsp red chilly powder
salt to taste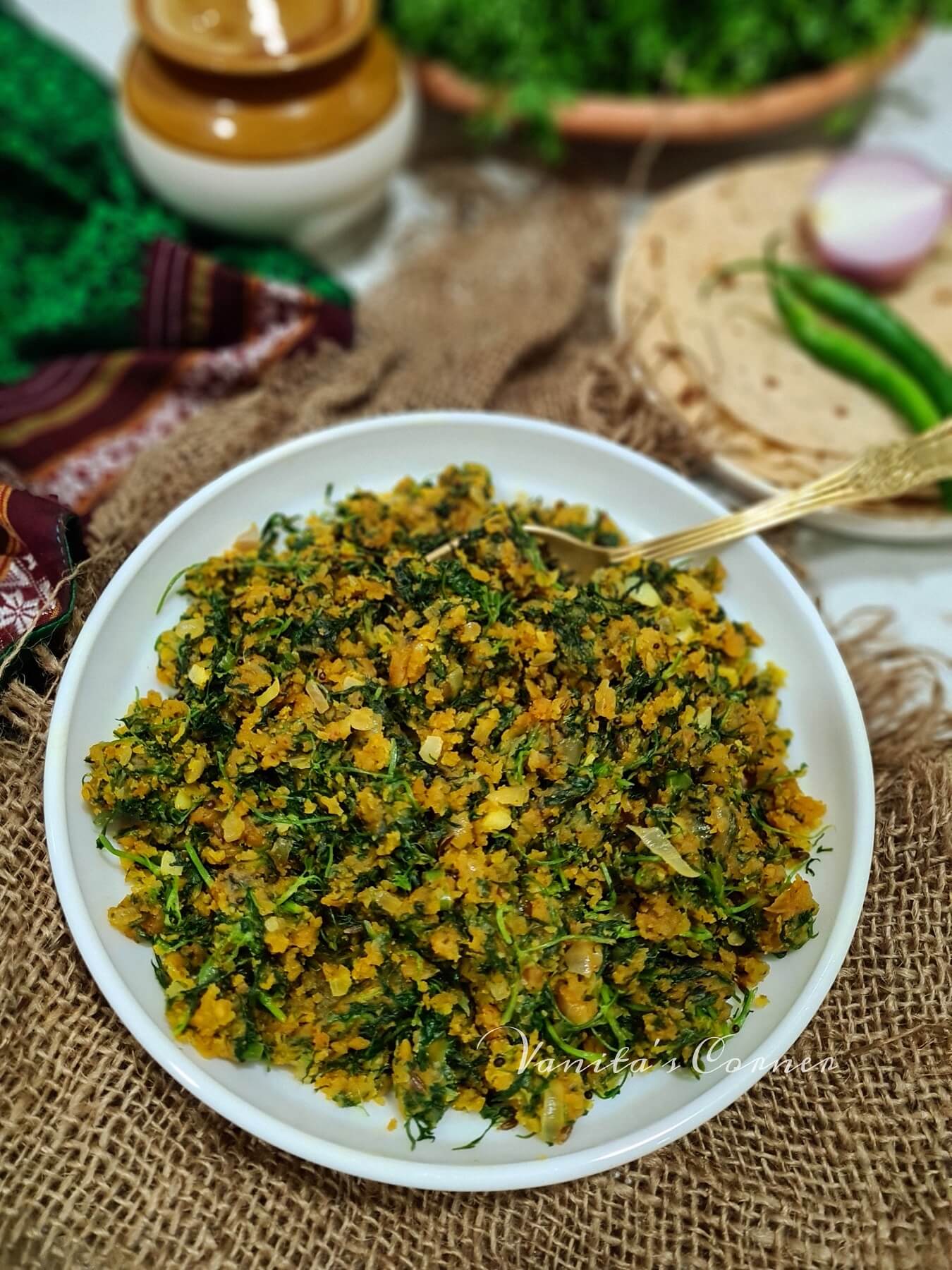 Method
Heat oil in a pan.

Add mustard seeds, cumin seeds and asafoetida.

When the seeds start crackling, add chopped garlic and chopped green chillies. Saute for few seconds.

Add chopped onions and saute till the onions become soft.

Add turmeric powder, red chilli powder and mix.

Next, add chopped coriander leaves. Saute for a minute.

Add salt as per taste.

Coriander leaves will release moisture.

Add gram flour and mix.  

Cover and cook for 7 to 10 minutes, turning the zunka after few minutes.  

Kothimbir Zunka is ready to be served with bhakris.
WATCH RECIPE VIDEO:
Some more Maharashtrian recipes : Masale Bhaat, Bharli Vaangi, Bharli Tondli, Vaalacha Birda, Ninaav, Vaalachi Khichdi, Patoli, Vaatli Dal, Bhoplyache Gharge, Narali Bhaat, Katachi Amti, Bhajani Thalipeet, Tilachi Vadi, Tikut, Kala Vatana Usal, Matkichi Usal, Misal Pav, Bhajani Chakli, Kolhapuri Bhadang, Rushichi Bhaji, Mugache Pandhre Birde and so on…
Thank you for stopping by. If you like/ tried this recipe, leaving a comment below the post will enable more readers and cooking enthusiasts to discover these recipes. Also, if you are on Instagram, do share a picture of the dish and tag @vanitascorner to be featured in my stories.
Do follow me on Instagram, Facebook and Pinterest.
Happy Cooking!!